November 05, 2013 -
Dave Miller
Muschamp should not be on the hot seat
There are plenty of Florida fans that are beyond disappointed in the team's performance throughout the 2013 season.
Despite fighting back from a 23-3 halftime deficit to Georgia this past weekend in the World's Largest Outdoor Cocktail Party in Jacksonville, the Gators fell short against the Bulldogs in a 23-20 loss. It was the team's third setback in a row, and UF is now sitting at 4-4 and in danger of actually missing the postseason because it still has games left at South Carolina and against Florida State.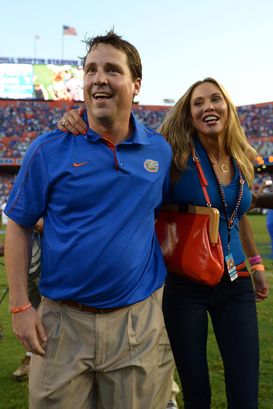 US PRESSWIREWill Muschamp deserves the time to turn around the Gators.
Because of the team's struggles, some Florida fans are hoping for a change at the head-coaching position.
While it's fair to be disappointed in the team's regression following its standout 11-2 campaign, which included a 7-1 mark in SEC play, Will Muschamp should not be in any danger of losing his job.
The heat on Muschamp is unfair. While his 22-12 mark in three seasons in Gainesville is similar to that of Ron Zook, who was dismissed after being a first-time head coach at UF and compiling a 23-14 overall record and 16-8 mark in league play, Zook never had the Gators in BCS national championship territory. In fact, he could not get over the 8-win hump in any of his three years there. Muschamp, on the other hand, put together a fantastic 2012 campaign, one in which had the Gators in the BCS title race deep into the year. Despite the lackluster loss to Louisville in January's Sugar Bowl, last season's effort was impressive considering the cupboard that Muschamp inherited was not exactly stocked. While Florida lost four in a row in Muschamp's debut 7-6 season in 2011, the job that he did last year was remarkable.
There's no question that injuries are a big part of the game, but the fact is that poor health has derailed the Gators this fall. And yet there hasn't been any quit. While moral victories don't carry too much weight in the SEC, in this case playing hard should hold some weight. Meanwhile, Gator players supported Muschamp earlier this week.
The third-year head coach has also done a very good job thus far on the recruiting trail, which should continue to help build depth in Gainesville. And the defense will always be stout on Muschamp's watch.
The real problem for the Gators — and it's been the case since Tim Tebow left — is on the offensive side of the ball. Tyler Murphy had actually played surprisingly well since replacing the injured Jeff Driskel at quarterback, but he has been battling a sprained shoulder in recent weeks. And the team still needs to find more offensive playmakers. If there's any area that Muschamp needs to improve on, it's getting more production on offense.
Next year is a big season for the Gators, and I would expect a new offensive coordinator to be in place to help solve a woeful unit that is last in the SEC in total offense, last in passing offense, 13th in scoring and 13th in rushing. But Muschamp should be given time to improve upon this season, because he showed last year that he could win on a big stage.
Dave Miller, the college football editor and writer for the National Football Post, is on Twitter @Miller_Dave.