March 10, 2011 -
Dave Miller
Muschamp to play close to the vest in debut spring at Florida
There's no question that Florida fans are disappointed in Will Muschamp's decision to close off spring practice to the public. The media? Well, we're never pleased with anything. But the decision by the new Gators head coach on Wednesday to close spring drills to the media, as well, does make our jobs a little more difficult in delivering information to the consumer.
But I can't blame the former Texas defensive coordinator and head-coach-in-waiting for this move. Not when so much is riding on the 2011 season, even if it is his first in Gainesville.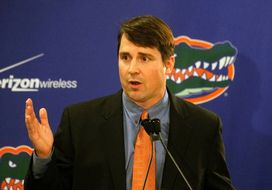 ICONWill Muschamp has closed Florida's spring practice to fans and media.
With UF coming off a disappointing year in Urban Meyer's farewell campaign, the pressure is on Muschamp to deliver a winner. Fans expect to win every year in Gainesville no matter the circumstance or the tough competition in the SEC, even when the team is being led by a first-year coach.
Spring practice, which begins March 16, is Muschamp's initial opportunity to put his stamp on the 2011 Gators. And he wants no distractions whatsoever.
"With a new coaching staff here teaching our system, we feel like minimizing our distractions is important," Muschamp stated through a university press release on Wednesday.
"We realize there's high interest from the fans, and we are extremely appreciative of the support The Gator Nation gives us. We hope they understand this decision's been made in the interest of helping our program be successful on Saturdays this fall by allowing our team to learn and develop together in this type of environment."
So for what is believed to be the first time in school history, the public eye won't be able to evaluate the 15 spring practices that culminate with the team's annual spring game on April 9 — the first date anyone outside of the school will get a chance to see the upgraded Gators up close.
Not only will we miss out on the early days of the Muschamp era, but there's a lot of intrigue as to how new coordinator Charlie Weis will run the offense with a big question mark under center as well as how new defensive coordinator Dan Quinn will employ a plethora of young talent.
However, as important as it is to start implementing new schemes on both sides of the ball, the establishing of relationships between the players and coaches will be even more critical for success this year and down the road. If Muschamp believes in any way that the public eye may interfere in that — as paranoid as it may be — Gators fans should trust in their new leader.
While fans may be in foul moods because of Wednesday's news, the only thing they care about is how they feel on Saturdays next fall. Winning cures everything.
And for Muschamp, winning starts on the practice field next Wednesday — whether anyone outside of the school is witness to it or not.
Email dave.miller@nationalfootballpost.com or follow me on Twitter at Miller_Dave