December 30, 2010 -
Dave Miller
Music City Bowl preview: North Carolina-Tennessee
It wouldn't be a North Carolina football game in 2010 if Butch Davis' squad once again wasn't undermanned. But the Tar Heels are used to winning with a depleted roster, since expectations were tempered following an NCAA investigation regarding player-agent relationships as well as academic violations. Tennessee, meanwhile, went unbeaten in November to become bowl eligible in Derek Dooley's first season in Knoxville after a rough first two months of the season. The Vols will enjoy a home-field advantage in this one — just another obstacle for the Tar Heels.
Here's a closer look at the Tar Heels and Volunteers.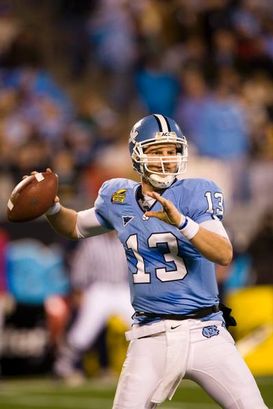 ICONT.J. Yates has answered his critics with a stellar senior season.
North Carolina (7-5, 4-4 ACC): With the exception of a disastrous four-interception effort against Virginia Tech, quarterback T.J. Yates really shined during his senior season after being the subject of much criticism throughout his career in Chapel Hill. His veteran savvy will be needed in this game, especially with the Tar Heels being so thin at running back after starter Anthony Elzy was suspended. Elzy had stepped up big time, starting the final three regular-season games and logging 531 all-purpose yards combined against Virginia Tech, NC State and Duke — including a career-high 118 yards rushing against the Blue Devils and a career-high 178 yards receiving against the Wolfpack. Shaun Draughn will be expected to pick up the load, and UNC cannot afford to lose his services to injury again.
Defensively, the Tar Heels will be without starting linebacker Bruce Carter because of injury, so career reserve Herman Davidson will likely get the nod in his place. Carter, who was a 2010 finalist for the Butkus Award, has seven blocked kicks in his career and scored twice on interception returns. But this UNC defense is deep, and although it isn't as talented because of various personnel losses, it has the ability to fluster Tennessee's true freshman quarterback Tyler Bray — as good as he looked the final month of the season.
Tennessee (6-6, 3-5 SEC): And Bray certainly looked good in his four starts, leading the Vols on a four-game winning streak into the postseason. He has surprising poise for a youngster, and he has very good pocket presence behind a solid offensive line. He's undefeated as a starter, throwing 12 touchdowns and only four interceptions while racking up 1,234 passing yards in those games, and he led the nation in November with 24 completions of 20 yards or longer. Running back Tauren Poole, who has 11 touchdowns on the ground, is six yards away from reaching 1,000 on the season, and the newfound balance on offense for the Vols is a big reason why they have converted over 45 percent of their third-down opportunities in the last eight games. With a talented group of receivers in veterans Denarius Moore and Gerald Jones, along with Justin Hunter and Da'Rick Rogers, the Vols are fun to watch once again.
Tennessee has limited opponents to fewer than 250 yards passing in three of the last five games, and after notching only 10 sacks in the first eight games, the defense has recorded 13 sacks in the last four. Getting pressure on Yates will be huge, especially with a vulnerable Tar Heels rushing attack. If Tennessee can be stout on first and second downs, the Vols will take their chances on defense. There is sure to be a lot of orange in the stands in Nashville, so Dooley's bunch will look for every opportunity to take advantage of that environment.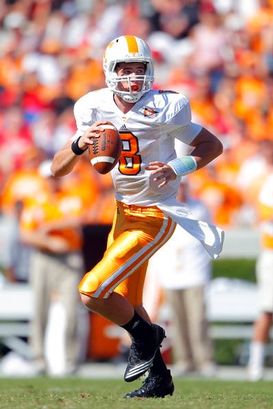 ICONTyler Bray has helped give Tennessee's offense a spark.
Tennessee could have gone in the tank after the rough start to the season, but the seniors stuck with Dooley's vision and played hard. Perhaps more importantly, the staff was able to get good production from key freshmen. The Vols are excited to be in this game, but keep an eye on two things: How does defensive coordinator Justin Wilcox's unit play early on in the contest? He's been on the radar for the same position at Texas. Will that distraction manifest itself on the field? Also, the Vols have been prone to special-teams blunders. We've already seen this postseason how crucial special teams play is after long layoffs. Will a key turnover swing the momentum of the game?
Odds and ends
• Despite being border states, North Carolina and Tennessee haven't met since 1961, though they previously met every season from 1945-61.
• Tennessee has won 15 straight games in Nashville — 14 of those, however, came against Vanderbilt.
• The Vols are just 3-6 in their last nine bowl games, including an 0-3 mark against the ACC (they lost in the Chick-fil-A bowl to Virginia Tech, Clemson and Maryland).
• The Tar Heels have lost their last three bowl appearances and haven't won a bowl game since the 2001 season. However, they have won three of their last four bowls against the SEC.
Email dave.miller@nationalfootballpost.com or follow me on Twitter at Miller_Dave