January 31, 2012 -
Dave Miller
National Signing Day preview
We are less than 24 hours away from National Signing Day, an event where high school football prospects across the country sign their national Letters of Intent to play at the colleges of their choice.
At the end of the day, many of the traditional major powers will have compiled the best crop of talent. But there will be some upstart programs making headway, as well.
There are plenty of intriguing storylines ready to unfold, but here are some of the biggest things to keep an eye on throughout Wednesday as teams look for renewed energy and a burst of momentum heading into spring practice.
Can Alabama hold onto its current No. 1 ranking?
Winning its second BCS national championship in three years will make it awfully difficult for Texas, Florida State or any other major program to put together a better class than Nick Saban and Alabama have entering Signing Day. The Crimson Tide sit solidly at No. 1 after receiving verbal commitments from the nation's top safety Landon Collins and athlete Cyrus Jones, whose biggest upside perhaps is as a lockdown cornerback. Geno Smith is a Top 5 corner nationally, and getting running back T.J. Yeldon to flip from Auburn was huge, as he could turn into a strong between-the-tackles runner after putting more weight onto his wiry frame. Explosive receivers were also brought into the fold in Eddie Williams and Chris Black, both from the Sunshine State. Texas, however, remains right on the Tide's heels for that top slot. But the BCS title gives the program the best momentum heading into the final stage.
Is LSU closing strong?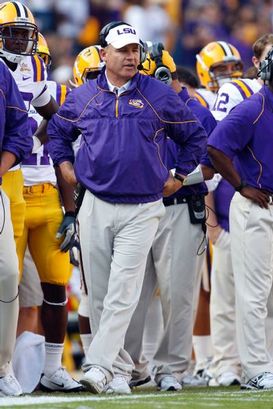 ICONLes Miles received some good news on the recruiting front Monday night.
With the aforementioned Collins spurning LSU for Alabama and top-rated dropback quarterback Gunner Kiel decommitting and enrolling at Notre Dame, the Tigers have had to lick their wounds and rebound from some tough news over the last few weeks. On Monday night, that's exactly what they did when 6-3, 270-pound quarterback Jeremy Liggins decided to spurn both Ole Miss and Mississippi State and choose Baton Rouge. He also had offers from Alabama, Auburn, Arkansas, Georgia, Tennessee and USC. Because he's so athletic despite his big frame, some teams recruited Liggins to play defensive line or tight end. But he is intent on lining up under center, and he has been compared to former Central Florida star Daunte Culpepper. Les Miles was also able to snag safety Corey Thompson on Monday night after he switched his commitment from Texas A&M. This stopped the bleeding for the Mad Hatter, whose class was called into question by some up to this point. The team lost Top 20 offensive tackle Patrick Miller to Auburn and Top 15 athlete Davante Bourque, who was recruited as a running back, to Tennessee. There was concern that the Tigers could have been headed for their lowest team recruiting ranking since 2005, but it should be noted that the state of Louisiana had a down year in terms of high-star prospects. Perhaps Monday night's news could lead to a stronger finish than many had first anticipated.
The top uncommitted talent
There is an abundance of top players not yet committed to a school. Here are the Top 20 high school recruits who have yet to give a verbal.
1. WR Dorial Green-Beckham: 6-6, 220 pounds, Springfield, MO; Hillcrest High School
2. DT Eddie Goldman: 6-4, 310 pounds, Washington, DC; Collegiate Academy
3. OT Andrus Peat: 6-7, 300 pounds, Tempe, AZ; Corona Del Sol High School
4. WR Stefon Diggs: 6-0, 185 pounds, Olney, MD; Our Lady of Good Counsel High School
5. ATH Davonte Neal, 5-10, 175 pounds, Chaparral High School; Scottsdale, AZ
6. OLB Kwon Alexander, 6-2, 215 pounds, Oxford High School; Oxford, AL
7. OLB Josh Harvey-Clemons, 6-4, 210 pounds, Lowndes High School; Valdosta, GA
8. OT Kyle Murphy, 6-6, 270 pounds, San Clemente High School; San Clemente, CA
9. OL Jordan Diamond, 6-6, 290 pounds, Simeon High School; Chicago, IL
10. CB Tracy Howard, 5-11, 175 pounds, Miramar High School; Miramar, FL
11. WR Thomas Johnson, 6-0, 180 pounds, Skyline High School; Dallas, TX
12. CB Ronald Darby, 5-11, 176 pounds, Potomac High School; Oxon Hill, MD
13. WR Nelson Agholor, 6-1, 180 pounds, Berkeley Prep School; Tampa, FL
14. DT Leonard Williams, 6-5, 265 pounds, Mainland High School; Daytona Beach, FL
15. OT Avery Young, 6-5, 292 pounds, Palm Beach Gardens High School; Palm Beach Gardens, FL
16. ATH Ricardo Louis, 6-2, 200 pounds, Miami Beach Senior High School; Miami Beach, FL
17. DE Darius Hamilton, 6-3, 245 pounds, Don Bosco High School; Ramsey, NJ
18. ATH Joel Caleb, 6-2, 205 pounds, Clover Hill High School; Midlothian, VA
19. DT Korren Kirven, 6-3, 270 pounds, Brookville High School; Lynchburg, VA
20. DT Aziz Shittu, 6-2, 275 pounds, Buhach High School; Atwater, CA
How committed are the recruits who have given a verbal?
Year after year, big names make a last-second switch to a new school on National Signing Day. Who could decide to change his mind on Wednesday? Here are a few names to keep an eye on — and this is purely speculation.
Defensive End Mario Edwards: The nation's top defender is committed to Florida State but recently had a great visit to LSU. However, don't expect the 6-4, 297-pounder to decommit from the Seminoles. He is currently the top prize in FSU's class, which also features blue-chip pass rushers Chris Casher and Dante Fowler Jr., and is set on enrolling in Tallahassee and thriving under coordinator Mark Stoops, who has seen his unit rack up 88 sacks in the last two seasons.
Safety Landon Collins: His mother wants him to stay in-state and enroll at LSU. His girlfriend is reportedly heading to Alabama because Nick Saban promised her a job in his office. Which woman will win out? Collins is currently committed to play in Tuscaloosa.
Defensive End Dante Fowler Jr.: While Edwards is not likely to go anywhere, could Fowler Jr. end up decommitting from FSU? He has continued to talk to other coaches and recently took an official visit to Florida. Can Will Muschamp add him to the Gators' class?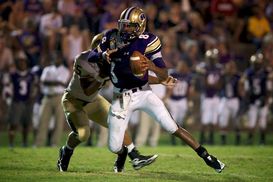 Even if Jameis Winston remains committed to Florida State, will he even see the field in Tallahassee?
Quarterback Jameis Winston: One of the top dual-threat signal-callers in the country, Winston says he remains committed to Florida State. But Stanford head coach David Shaw informed Winston this weekend that he had been cleared by the admissions office at Stanford. Will that be enough to sway him from the 'Noles? Keep in mind that no matter where he lands Winston may not even end up on the gridiron. He could be a first-round pick in June's MLB draft, and he said it would be difficult to walk away from first-round money.
Wide Receiver Bralon Addison: Addison is a Texas A&M commit who could thrive in Kevin Sumlin's offense. However, he visited Oregon last weekend with friend Chance Allen, so you never know if Addison will fall in love with Nike University and land in Eugene.
Note: Safety Shaq Thompson would have made this list, but as many expected he decommitted from Cal earlier Tuesday and is headed to Washington. The Golden Bears' top recruiter Tosh Lupoi left for Seattle a few weeks back, and many felt that his departure would end up being a death blow to Jeff Tedford's current crop. Will Cal's loss of Thompson lead to more decommitments?
Also keep in mind that NO verbal commitment is official until that player signs his Letter of Intent tomorrow.
The waiting game
Athlete Davonte Neal, a 5-10, 175-pounder from Chaparral High School in Scottsdale, AZ, is expected to take his last official visit to Arizona on Feb.11 — 10 days after Signing Day — before deciding which college he will attend. The receiver/cornerback loves Ohio State and has also had good conversations with Notre Dame, Oklahoma and North Carolina. He has said that schools have told him that they will wait on a decision, but how long will he drag out this process? The two-time Gatorade Arizona Player of the Year's top two schools are believed to be Notre Dame and Ohio State, but many Wildcat fans are hoping that Rich Rodriguez can land the explosive athlete.
Moving on up?
Keep an eye on these programs on National Signing Day, as they have a chance to move up in the team recruiting rankings if they're able to snag an uncommitted prospect or two and possibly even get a top commit to flip: Florida, Florida State, Auburn, Georgia and Miami.
Also keep an eye on Arkansas. The Razorbacks checked in at No. 24 in the current NFP Top 25 team recruiting rankings, and Bobby Petrino's program has a chance to jump up if top wide receiver Dorial Green-Beckham commits to play in Fayetteville. The Hogs also remain in play for top athlete Davonte Neal and offensive tackle Jordan Diamond.
Other notes
— Jim L. Mora and his staff have done a tremendous job at UCLA in a short amount of time, and they hope that they can still squeeze in one more top commit. However, with 26 players currently committed, the Bruins would at this point have 94 scholarship players on the roster. That means that nine players — either commits or current Bruins — must be removed before spring practice begins.
— Barring an unforeseen disaster, Ohio State and Michigan will have compiled Top 10 classes. Expect that to continue as long as Urban Meyer and Brady Hoke are running the show in Columbus and Ann Arbor, respectively.
— Meet one of the new faces of NCAA enforcement. This is for real.
— SEC coaches are adapting to the league's new 25-player signing limit.
Buckle up because National Signing Day is always a wild ride...
Email dave.miller@nationalfootballpost.com or follow me on Twitter at Miller_Dave