March 21, 2012 -
Dave Miller
NCAA could learn from NFL's suspensions of Williams, Payton
The NCAA was essentially handed a manual of how to act in times of crisis when Roger Goodell's stern punishment was handed down Wednesday to the New Orleans Saints and former defensive coordinator Gregg Williams.
The governing body's Committee on Infractions could learn a lot from the NFL suspending Saints head coach Sean Payton for the 2012 season, general manager Mickey Loomis for eight games and former defensive mastermind and current St. Louis Rams DC Williams indefinitely. The Saints will also lose their second-round draft pick this year and in 2013, the club was fined $500,000, and linebackers coach Joe Vitt has been suspended for six games as well. Payton's year-long suspension, meanwhile, means he will lose his roughly $7 million salary in 2012.
The NFL took the bounty program run by the New Orleans franchise very seriously — and rightfully so.
While the Saints very likely weren't the only team participating in such practices, something needed to be done. Just like something needs to be done about many of the off-the-field problems occuring in the world of college football.
It's true that the NCAA does not have subpeona power, which makes it difficult to do as thorough of an investigation as we would like when violations of NCAA rules occur. But more could have and should have been done to programs such as Ohio State and North Carolina — especially when USC's sanctions are taken into account even if the NCAA says that it doesn't weigh one school's infractions against another.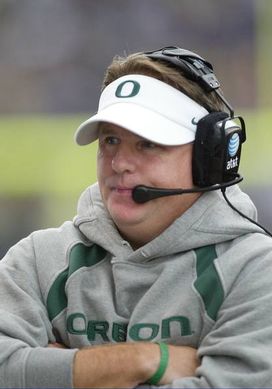 ICONWe still don't know the sanctions facing Chip Kelly and the Ducks, but they likely won't be severe.
While it's true that cooperation with the NCAA once an investigation begins definitely helps lessen impending penalties, should that even be the case? While the NCAA's rulebook isn't always black and white, much of the wrongdoing occuring in recent years does not fall into the gray zone. Even in Eugene, Oregon head coach Chip Kelly knew right from wrong when dealing with Willie Lyles.
Are the penalties levied against the Saints too harsh? Possibly.
But just once the NCAA should be so harsh, step out and get criticism for a different reason: doing too much to curb the cheating that goes on all too often at well too many programs across the country.
Reports out of Miami have stated that the Hurricanes may avoid severe penalties for their transgressions detailed in that explosive Yahoo! Sports report. And that would be great for Al Golden, who didn't deserve to be put in a tough situation when immediately hired after the 2010 season. But Rams head coach Jeff Fisher has been put in a bind right now as well, losing Williams for 2012.
Sometimes, swift and harsh action is needed to make a point.
The question is whether the NCAA is listening.
Email dave.miller@nationalfootballpost.com or follow me on Twitter at Miller_Dave