July 20, 2010 -
Dave Miller
NCAA crackdown 2010
Here at the National Football Post's Daily Jolt offices, we prefer our coffee on the stove top and not from the electric drip machine. We're just old-school that way.
Here's what's happening this Tuesday in The Morning Percolator...
…Who said that July was a dry month for college football news? What an incredible last few days we have had surveying the college landscape after it was generally assumed all would be quiet until fall camps opened up in a few weeks. But with NFP sources saying that North Carolina athletic department officials are very concerned that stud defensive tackle Marvin Austin will be suspended for the entire 2010 season, the ACC race will be dramatically affected — as well as potential pro careers. Austin, who led a parade of Tar Heels returning to Chapel Hill for their senior seasons, allegedly violated NCAA rules in receiving extra benefits from agents, middlemen and marketing representatives, according to sources. While losing Austin would be a big enough blow, investigators also interviewed wide receiver Greg Little, safety Deunta Williams, cornerback Kendric Burney and linebackers Bruce Carter and Quan Sturdivant early last week. Whether or not Austin is the ultimate fall guy for them all remains to be seen, but this could be an absolute disastrous situation for head coach Butch Davis and the Tar Heels, who had their sights set on an ACC championship. I don't see how Austin would be the only one to have to serve time on the sideline, so what looked to be a filthy defense heading into 2010 could get severely decimated.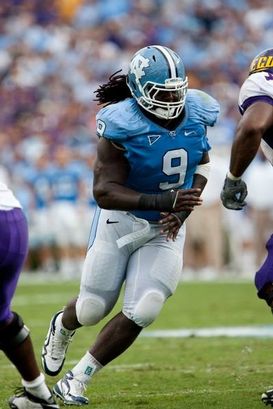 ICONPerhaps Marvin Austin should have made himself available for the 2010 NFL Draft after all.
This UNC saga also reportedly is affecting South Carolina tight end Weslye Saunders, a close friend of Austin and other Tar Heels players, as he is under investigation by NCAA officials for similar rule violations involving agents. Saunders is one of the best tight end prospects in the nation, and he surprised Gamecocks coaches by returning for his senior season. Head coach Steve Spurrier's reaction to possible improper activity with agents for Saunders or any other Gamecock: "We're not going to look the other way like possibly Southern California did." Now how great is that, folks? I am still pulling for Spurrier to get his first SEC championship game appearance with the Gamecocks, but the far-fetched dream will get even more unlikely if Saunders misses any significant time.
Then came yet another story of potential violations on Monday, where Florida and NCAA officials are investigating whether Maurkice Pouncey, who was selected by the Pittsburgh Steelers in the first round of April's draft, accepted $100,000 from a rep of an agent during down time between the SEC championship game and the Sugar Bowl. Florida first reported the information to law enforcement officials and then the NCAA after the school became aware of the allegations. Because the offensive lineman, who entered the draft after his junior season, played in the Sugar Bowl, he could be retroactively ruled ineligible for the game — possibly costing the Gators the victory.
There's no question that the behind-the-scenes activities at USC involving Reggie Bush led to the NCAA taking a no-holds-barred approach to eliminating as much of the extracurricular activity that goes down at college campuses as possible.
While the NCAA can only do so much, it is at least certainly scaring some big-time programs these days.
You gonna eat that last piece?
…So is Notre Dame becoming the party capital of the world or what? Nate Montana and some of his Fighting Irish teammates had a little fun last Friday night at an off-campus party, as Montana, wide receivers Robbie Toma and Tai-ler Jones, linebacker Steve Filer, kicker Nick Tausch, cornerback Lo Wood, and offensive linemen Chris Watt and Tate Nichols were arrested on misdemeanor charges of underage drinking at an off-campus party in St. Joseph County. Now I think we can all agree that ND head coach Brian Kelly, every other college head coach and pretty much every person in America knows that underage drinking occurs on campuses across the country. But it must be extra tough on Kelly, who is trying to establish a newfound focus on discipline in South Bend.
Follow me on Twitter at Miller_Dave
Ready for fantasy football? Click here to purchase the 2010 Total Access Pass/Draft Guide from the NFP.