January 28, 2013 -
Dave Miller
NCAA investigation not slowing Miami's recruiting
The Miami (FL) football program caught a break last week when it was announced that the NCAA uncovered issues of improper conduct during its 22-month investigation following the Nevin Shapiro accusations in the damning Yahoo! Sports report.
While it remains to be seen just how much the NCAA was able to corroborate with former players and coaches, there's no question that the bungling by the NCAA's investigative team helps the Hurricanes' cause as they await their official Notice of Allegations from the governing body.
And that's good news for head coach Al Golden and his staff.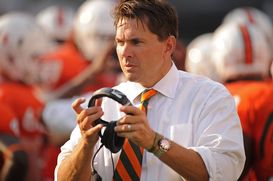 US PRESSWIREAl Golden is putting together another strong class at The U.
While Golden's program is unquestionably hurt by negative recruiting from rival programs, he was still able to put together a very good class last February despite having to deal with still-looming sanctions.
In 2012, the Hurricanes were able to put together a very large and deep class despite being not even six months removed from one of the largest scandals in college sports. The 'Canes closed well and ended up with a Top 10 haul, surprising the nation by luring away defensive back Tracy Howard from Florida. Golden showed exactly what he can do with a full recruiting calendar, unlike in his first season when the timing of his hire cut everything short.
Ten players from 2012 were ranked as either a four- or five-star recruit according to Rivals.com, and running back Duke Johnson showed just how valuable he can be with his impressive freshman campaign. In addition to Howard and Johnson, safety Deon Bush and defensive end Jelani Hamilton highlighted a strong class.
So what's in store for the Hurricanes' 2013 class?
Golden and his staff believe they have the program's quarterback of the future in Kevin Olsen, a 6-2, 195-pound pocket passer from New Jersey who is the brother of former Miami tight end Greg Olsen. He may not have some of the tremendous physical tools that a lot of other blue-chip prospects have, but he has the type of frame to add weight and physically mature into an elite signal-caller. He makes good decisions with the football and is a very good athlete for the position.
The 'Canes also continue to address the defensive side of the football, looking to add depth to all three levels. New Jersey defensive end Al-Quadin Muhammad highlights a haul that also features local Miami recruits Artie Burns, an intriguing cornerback, and Jamal Carter, who could play offense, defense or special teams but likely projects best as a safety. New Jersey defensive tackle Hunter Knighton and junior college linebacker Devante Bond also are part of this solid 2013 haul.
And Golden and Co. may not be done yet.
If they can continue to persuade recruits that NCAA sanctions will not be crippling, star players such as Matthew Thomas, the best uncommitted linebacker in the nation, remain in the mix. Defensive tackle Keith Bryant was once a commit but has since backed off. However, he still has Miami listed as one of his finalists, and the 'Canes would love to be able to plug him in at DT. Other top recruits still interested in the 'Canes include running back Alex Collins and wide receiver Stacy Coley.
As of now, Golden has been able to comprise a Top 25 haul, which is certainly impressive considering the program's uncertain future. But with a few breaks, this group could sneak its way closer to Top 15 territory.