July 17, 2010 -
Dave Miller
NCAA is giving UNC the USC treatment
As the NFP's Aaron Wilson reported Thursday, the NCAA has made inquiries at the University of North Carolina regarding interactions players may have had with middlemen, marketing representatives and agents.
On Thursday, UNC athletic director Dick Baddour released the following statement on the situation:
I can acknowledge that representatives from the NCAA have been to Chapel Hill to speak with some of our student-athletes. However, they have instructed us to maintain the confidence of this review by not discussing it publicly. We have cooperated fully with the NCAA and will continue to do so.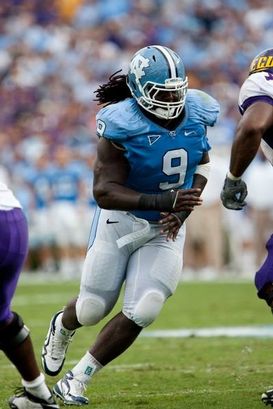 ICONMarvin Austin was interviewed at length by the NCAA this past week.
According to sources, allegations have been made about illegal extra benefits — including rent, jewelry and travel — being given to top NFL prospects on the Tar Heels, primarily through marketing reps. While investigators have found no wrongdoing up to this point, there is plenty of angst in Chapel Hill as the Heels are considered serious contenders to reach the ACC championship game.
With several highly regarded future pros on the Tar Heels roster — particularly on defense with tackle Marvin Austin and outside linebacker Bruce Carter — it's no wonder why the campus would be an attractive destination for agents looking to represent a talented crop of players, many of whom surprised the college football world when they elected to return for their senior season.
As Wilson wrote, Austin was interviewed at length and investigators have interviewed several others this week, as well, as they attempt to gather more information.
While it's too early for Tar Heels fans to start thinking about basketball again, the timing of this investigation — while never a good thing — couldn't be worse in light of the NCAA coming down hard on USC after discovering that Reggie Bush received improper benefits while he was a student-athlete in 2004 and 2005. With the Trojans being made an example of by the NCAA, expect a thorough investigation to take place throughout the Tar Heels' program.
Now we all know that it's nothing new for agents to make their way onto college campuses when a school has a future pro. But for a team loaded with so many future NFL players, UNC is an attractive program for a lot of interaction to take place. Often, there are fine lines between proper and improper communication. The problem is that many of these players don't know any better. That's where they could be taken advantage of and get into trouble. What did or did not happen in Chapel Hill remains to be seen.
Message to UNC players: Tell the truth, the whole truth and nothing but the truth. We certainly saw what happened to former Oklahoma State star wideout Dez Bryant when he was evasive with the NCAA last season. Anytime there is any contact with agents and boosters that may seem shady — heck, even when someone buys a player a pizza at the local restaurant — the NCAA will be on the prowl.
Even before the NCAA releases any information, many will point the finger immediately at head coach Butch Davis, who is entering his fourth season as leader of the UNC program. Keep in mind, however, that Davis has always been leery of agents and how difficult it is to deal with them at the major college level. Whether a blind eye was turned or not remains to be seen, but no head coach can babysit his players 24-7.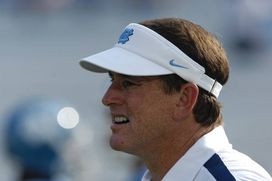 ICONButch Davis has always been leery of agents around his players.
I'll let this story develop before speculating on the impact that any possible punishment could have on the Tar Heels' fortunes for 2010 and beyond, but this is a big year for Davis. He's been bringing in talented recruiting classes since his arrival, which has prompted many to argue that he should have had more success than back-to-back 8-5 marks the last two seasons. If UNC, which returns eight All-ACC performers, can get better play from the quarterback position to match its filthy defense this fall, we could indeed see the ACC championship banner in Chapel Hill.
But first thing's first. Davis has to hope that the NCAA doesn't turn UNC into USC.
Follow me on Twitter at Miller_Dave
Ready for fantasy football? Click here to purchase the 2010 Total Access Pass/Draft Guide from the NFP.