December 01, 2010 -
Dave Miller
NCAA rules Newton is eligible to play at Auburn
For those who were hesitant to put Cam Newton on the Heisman ballot because of an ongoing investigation into his recruitment, you no longer have to be concerned about his eligibility at Auburn.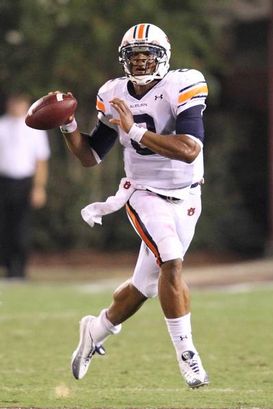 ICONCam Newton was cleared by the NCAA on Wednesday.
The NCAA ruled that the Tigers quarterback is eligible to play in the SEC championship game against South Carolina, despite the fact that the NCAA says his father broke rules by shopping his son to another school. Of course, various reports stated that Cecil Newton and middlemen representing Mississippi State discussed a pay-for-play plan to get Cam Newton to play in Starkville for the Bulldogs.
In a statement released on Wednesday, the college sports governing body concluded that a violation of Newton's amateur status had indeed occurred. Auburn declared Newton ineligible on Tuesday and requested his eligibility be reinstated.
On Wednesday, the dual-threat signal caller was cleared to play without conditions.
Two things: 1) Will there be any longterm issues for Auburn and/or Mississippi State in the future, similar to USC when it was ruled that the Trojans should have known what was going on with Reggie Bush? 2) Does this potentially lead to parents trying to cut deals in recruiting so long as the player himself isn't involved?
While this case is closed in terms of Auburn's 2010 campaign, expect some fallout after the season.
Check out the brand-new NFP Message Boards and let your voice be heard on all things college football.
Email dave.miller@nationalfootballpost.com or follow me on Twitter at Miller_Dave