August 11, 2010 -
Dave Miller
NCAA targeting Brown to discuss Kiffin
The father of Tennessee running back Bryce Brown said Wednesday that NCAA investigators have asked to speak to his son about Lane Kiffin's recruiting practices when the current USC head coach was running the program in Knoxville.
"They said they want to talk about the recruiting practices of Tennessee under Kiffin," Arthur Brown said. "We have nothing to hide. We have no need to be deceptive. If we made a mistake I can say it would not have been intentional. But I think this is about more than Bryce."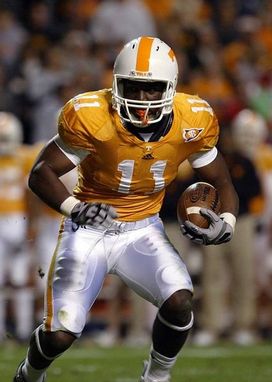 ICONWill Bryce Brown get his release from Tennessee to play with his brother at Kansas State?
Arthur Brown, however, has delayed the request as of now because of preparations for an appeal for Bryce to be granted a transfer from Tennesssee. But he said his family will cooperate with investigators. The Browns had a teleconference with officials from Tennessee on Wednesday.
Vols head coach Derek Dooley denied Brown's request for a transfer to Kansas State.
Brown's brother, Arthur, transferred to K-State following two disappointing years at Miami. The Brown family is from Wichita.
"As with the other players who have asked for a release, I went through the same process with the same criteria with Bryce," Dooley said at the time of his decision. "These are the three key factors — what their personal investment into the program was, did they have their heart into it and did they give it a good, fair shot. No. 2, the harm that their departure creates for the organization. No. 3, how they handle it as a professional.
"I've done that with every one of these guys — with Aaron (Douglas), with Todd Campbell, with Nick Stephens, Nick Lamaison and now Bryce. So now my decision based on those three factors with Bryce is not to release him."
Officials from the university told the Browns they would take 15 days from the request for appeal, meaning the result of the process should be known on or before Aug. 21.
Brown, one of the country's top recruits entering the '09 season, plans to enroll at Kansas State and begin classes on Aug. 23. However, if Dooley's decision is not reversed, the running back will not be on scholarship this season, forcing the family to pay his tuition. Brown rushed for 460 yards and three touchdowns on 101 carries in his first season in Knoxville.
Follow me on Twitter at Miller_Dave or send your college football questions to dave.miller@nationalfootballpost.com
Click here to purchase the Total Access Pass / Fantasy Draft Guide from the NFP and receive a free Deuce Brand watch while supplies last.