August 15, 2011 -
Dave Miller
NCAA to descend upon Miami to ask questions
Did Al Golden just inherit a mess in Coral Gables?
While such a doomsday scenario may be premature, Miami is the latest program to deal with the NCAA as officials from the sport's governing body will be at the school Monday to discuss potential violations regarding impermissible benefits, according to InsideTheU.com.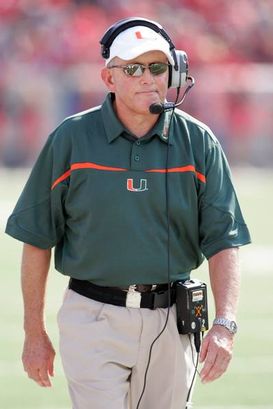 ICONThe allegations made by a Miami booster stretch back to the Larry Coker era.
The NCAA is reportedly interested in comments made by former Miami booster Nevin Shapiro, who contributed $150,000 to the athletic program before pleading guilty in June for running a $930 million Ponzi scheme. He was sentenced to 20 years in prison
In April 2010, Shapiro said that he planned on writing a "tell-all book" about his involvement with former Hurricane players. His involvement with the program stretched back into the Larry Coker era and continued while Randy Shannon coached the squad. According to the report, Coker "was blissfully ignorant" to Shapiro while Shannon hated him and did not want to be associated with the rogue.
Current NFL players Devin Hester and Jon Beason are just two of a number of players reportedly with a connection to Shapiro, but the cited source in the InsideTheU.com report does not believe there is any documentation linking Shapiro to any former players. However, a source confirmed to CBSSports.com that Miami is "in big trouble" because of these claims and that Shapiro would be able to back up his allegations, which primarily include football players receiving money and other benefits. But a source in the CBSSports.com report said there was no connection between the current Miami staff and the booster.
NCAA representatives reportedly will meet with "a number" of people at the school to asses the situation and see if there was any possible wrongdoing. The NCAA has a four-year statue of limitations regarding violations, so that could be a huge factor if the 'Canes are found of any wrongdoing.
Email dave.miller@nationalfootballpost.com or follow me on Twitter at Miller_Dave