September 12, 2011 -
Dave Miller
ND's Kelly: 'I still believe we'll be a good football team'
Disastrous.
That's the only way to describe Notre Dame's start to a season in which many felt the Fighting Irish had an outside chance of making a BCS bowl game.
But head coach Brian Kelly's second season in South Bend began with an uninspired loss at home to South Florida and a shocking comeback victory by Michigan in Ann Arbor.
Now, Kelly must keep his team focused after putting itself in a huge hole with Michigan State on its way to town this weekend.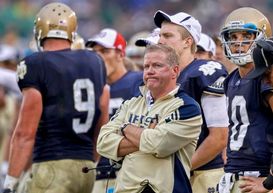 ICONBrian Kelly and the Irish are 0-2 and have to face Michigan State on Saturday.
"I think when we came out of preseason camp we felt like we had the chance to be a good team," Kelly said during a teleconference Sunday. "And so when you put that modifier in front, 'chance,' to be a good team, I can see those things in practice, I can see those things in the development of our players. But that chance to be a good team is everything you just mentioned — those turnovers, the little detail things. And until we can clean up those detail things, we can't be a good team.
"I still believe in this team, I still believe we'll be a good football team. But the chance to be a good team is all the things that we're doing right now. We're not giving ourselves a chance to be a good football team."
Kelly's offense has been able to move the football, racking up 1,022 yards of total offense in the two games. But 10 turnovers and 17 penalties have helped the Irish find ways to put themselves in position to fail. And against the Wolverines, their pass defense was woeful, as they allowed three touchdowns through the air in the fourth quarter as well as Jeremy Gallon's 64-yard gain with eight seconds left that set up the winning score.
ND must clean up its mistakes, especially with the veteran Spartans coming to town. Certainly, the tough schedule isn't giving Kelly's squad a break.
"We've made so many mistakes against two pretty tough teams coming out," Kelly said. "Again, as you see the schedule, Ohio State's playing Toledo. I mean, teams are playing easy games early on in the schedule. We don't get that luxury. We gotta go play in front of 115,000, and those mistakes get, obviously, they're more glaring against opponents that are physically pretty good as well.
"I believe that we're gonna be a good football team. We won't be until we clean up the little things that keep popping up on Saturdays."
Email dave.miller@nationalfootballpost.com or follow me on Twitter at Miller_Dave