August 09, 2014 -
Dave Miller
Nebraska loses three defenders for the season
It's not even mid-August, yet the Nebraska defense is already battered and beaten.
After learning that cornerback Charles Jackson will miss the new season with a knee injury that requires surgery, the Cornhuskers announced that safety LeRoy Alexander has been suspended for the year.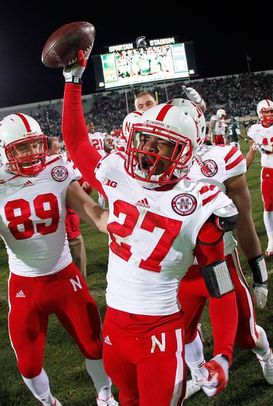 Charles Jackson is one of three Husker defenders who will miss the season.
But the bad news didn't end there.
Late Friday night middle linebacker Michael Rose posted on Instagram that he suffered a serious knee injury and would also miss the season. Rose noted that he would find out more information on the injury Saturday, but it appears to be a torn ACL.
After playing primarily on special teams the last two seasons, Jackson was the odds-on favorite to play the nickel spot this season. The Cornhuskers will likely need to rely on JUCO transfer Byerson Cockrell in that role now.
Alexander played in 13 games last year and was a likely starter at safety. He made 34 tackles in 2013. Meanwhile, Rose had 66 tackles last season, which set a school record for a freshman. Seventeen of those tackles came against Iowa. Josh Banderas should now get the nod in the middle.
Unquestionably, these injuries affect the Huskers' depth and athleticism as they look to claim the Big Ten West division with a schedule that features road tests against Michigan State and Wisconsin.
Dave Miller, the college football editor for the National Football Post, is on Twitter @Miller_Dave.