September 13, 2010 -
Dave Miller
Neuheisel looking for answers at UCLA
So much for UCLA taking over Los Angeles in light of USC's off-the-field drama. The way things are going thus far, the Bruins may be lucky to even win a game.
The offensive woes continued Saturday night for Rick Neuheisel's bunch in the Bruins' awful shutout loss to Stanford in their home opener. And the fingers are being directly pointed at the quarterback position, as Neuheisel has reopened the competition under center for the starting gig.
The head coach announced Sunday that starter Kevin Prince and backup Richard Brehaut will be evaluated this week in practice by himself and offensive coordinator Norm Chow, as the staff looks to jump start an offensive attack that is among the worst in the nation through the first two games of the season.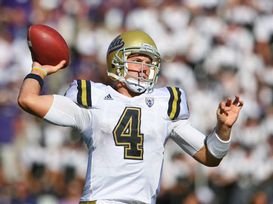 ICONKevin Prince has completed just 15 of 38 passes for 159 yards with a touchdown and three interceptions on the season.
The Bruins' passing efficiency rating of 68.52 ranks last among the 120 Football Bowl Subdivision teams, and they also are among the bottom 10 in the country in passing offense (100.5 yards per game), total offense (273 yards per game) and scoring (11 points per game).
Prince has started the first two games, but it's clear that the rust from missing so much time during fall camp is becoming too much to overcome. And it's evident that his injuries are affecting his play.
Limited by a sore shoulder last week after coming back from a strained oblique, Prince has completed just 15 of 38 passes for 159 yards with a touchdown and three interceptions on the season. In Saturday's 35-0 loss, he had only 39 yards passing before leaving because of the shoulder after a third-quarter fumble. Brehaut relieved him and completed five of nine passes for 42 yards.
Off to its worst start since 1997, UCLA isn't just plagued by issues under center. The offense has converted just 4 of 22 third-down opportunities, and the unit has seen numerous dropped passes by a receiving corps that had been expected to be one of the team's strengths. Costly penalties have also hurt the squad.
While its new Veer-like Pistol offense didn't exactly overwhelm observers throughout the offseason, Neuheisel insists the unit's woes have nothing to do with the scheme.
"Why we're struggling is not because of the Pistol," he said. "It has nothing to do with the Pistol. We are not throwing and catching, (we have) ill-timed procedural penalties...We've just got to eliminate stupid mistakes."
Could UCLA be staring at an 0-3 start? Houston visits the Rose Bowl on Saturday, although Cougars QB Case Keenum did suffer concussion-like symptoms following the team's win over UTEP Friday night and is day-to-day.
Follow me on Twitter at Miller_Dave or send me an email at dave.miller@nationalfootballpost.com
Click here to purchase the Total Access Pass / Fantasy Draft Guide from the NFP.