September 19, 2011 -
Dave Miller
Neuheisel, UCLA take another step back
Last season's romp over Texas in Austin must seem like a long time ago for UCLA head coach Rick Neuheisel.
Not only did the Bruins get trounced in their rematch this past weekend, but the program under the fourth-year leader is not making the advances necessary to give UCLA fans any hope that things will change in Westwood.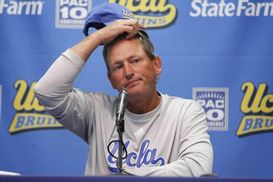 Will things ever get better for UCLA under Rick Neuheisel?
Before the loss to Mack Brown's squad, UCLA at least showed signs that a minor bowl game was a distinct possibility this fall, which likely would have bought Neuheisel another year on the sideline. While they didn't look like a great team after two weeks of the season, they certainly didn't look terrible.
On Saturday afternoon at the Rose Bowl, however, UCLA looked like a terrible football team.
The Bruins allowed the Longhorns to rack up almost 300 yards on the ground, were unable to create turnovers or get pressure on Texas quarterback Case McCoy and once again received a terrible performance from their own signal-caller Kevin Prince, who threw three interceptions in the first quarter.
Neuheisel, who is 3-8 since the win in Austin last September, started Prince despite Richard Brehaut showing last season that he is the better option at quarterback. It's clear that Prince, when healthy, isn't going to efficiently run this offense. And he missed most of the first two games this fall with a concussion and shoulder injury, allowing Brehaut to get most of the playing time. Yet Neuheisel started Prince against the Longhorns instead, likely because he directed the offense in the team's win at Texas last season.
The game that seems so long ago.
Defensively, new coordinator Joe Tresey's unit has given up 104 points in their first three games, and it's a wonder why this defense hasn't played better or with more consistency in the Neuheisel era. Is it due to a lack of focus or motivation? Are the players just not up to par?
Mistakes such as returning from a timeout with 12 men on the field and getting called for holding to wipe out a long kickoff return didn't help matters against UT either.
When Neuheisel arrived at his alma mater to lead the program after the 2007 season, he made it clear that the Bruins were going after USC on the field and on the recruiting trail. But he's 0-3 against the Trojans and now 16-24 overall in Westwood. And things don't look like they're going to improve any time soon.
Another game like the one against the Longhorns and Neuheisel may not get a fourth attempt against rival 'SC -- or many more Saturdays on the sideline in Westwood.
Email dave.miller@nationalfootballpost.com or follow me on Twitter at Miller_Dave