November 28, 2010 -
Dave Miller
New BCS Standings
The new BCS Standings were released Sunday night, and there's a new No. 1 team in the nation.
Auburn jumped Oregon after its amazing come-from-behind win in the Iron Bowl on Friday, and the Tigers now have a lead of .0002 over the Ducks. Oregon defeated Arizona Friday night to remain unbeaten, as well, while TCU finished its regular season undefeated after beating New Mexico Saturday.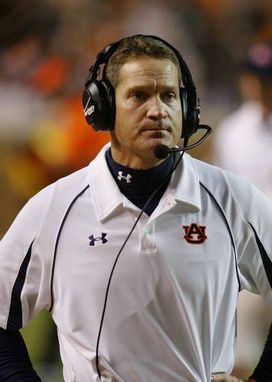 ICONGene Chizik and the Tigers are No. 1 this week.
Here is the BCS formula — how these rankings came about: Harris Interactive Poll (1/3) + USA Today Coaches' Poll (1/3) + Computer rankings (1/3). The BCS national championship game pits the top two in the final BCS Standings.
The BCS Standings — Top 10
1. Auburn .9779
2. Oregon .9777
3. TCU .9167
4. Stanford .8413
5. Wisconsin .8185
6. Ohio State .7632
7. Arkansas .7189
8. Michigan State .6980
9. Oklahoma .6780
10. LSU .6067
A few thoughts:
*Only teams in the top 14 of the final BCS standings with 9 wins can qualify for an at-large berth to a BCS game, so it's interesting to keep an eye on Nos. 11-14: 11. Boise State 12. Missouri 13. Nebraska 14. Oklahoma State
*Don't worry Stanford fans, as it looks like a BCS game is in your future. With the Cardinal expected to remain in the top 4, they must be selected for a BCS contest (top 4 entails automatic selection).
*TCU has a comfortable lead over Stanford, so it looks like the Horned Frogs are poised to jump up if Auburn or Oregon stumbles. But would the voters look again at their resume and decide that they aren't as deserving as a Stanford, Wisconsin, etc.? It seems crazy, but the human element of the BCS could still be a factor. Or could Auburn still hold off TCU even with a loss in the SEC championship game?
If TCU does not make it into the BCS national championship game, it will be going to the Rose Bowl, as the Rose must select the highest non-AQ team in the standings.
*Barring something unforeseen, Wisconsin will be going to the Rose Bowl over Ohio State. And Oklahoma has won the tiebreaker of being highest in the BCS standings and will be playing in the Big 12 title game next week.
Email dave.miller@nationalfootballpost.com or follow me on Twitter at Miller_Dave