November 21, 2010 -
Dave Miller
New BCS Standings
The new BCS Standings were released Sunday night with the top five teams remaining the same for the third straight week.
Oregon and Auburn stayed at No. 1 and No. 2, respectively, after enjoying their bye weeks. TCU, meanwhile, held off Boise State to remain No. 3 despite the Bulldogs' impressive shutout victory over Fresno State Friday night. Boise does continue, however, to gain ground on the Horned Frogs.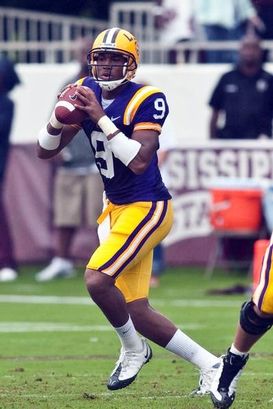 ICONSaturday against Ole Miss, LSU QB Jordan Jefferson showed that he may be able to move the ball through the air after all.
LSU, which needed to rally to beat Ole Miss, kept its hold on No. 5.
Here is the BCS formula — how these rankings came about: Harris Interactive Poll (1/3) + USA Today Coaches' Poll (1/3) + Computer rankings (1/3). The BCS national championship game pits the top two in the final BCS Standings.
The BCS Standings — Top 10
1. Oregon .976
2. Auburn .968
3. TCU .900
4. Boise State .886
5. LSU .819
6. Stanford .776
7. Wisconsin .769
8. Ohio State .715
9. Oklahoma State .682
10. Michigan State .606
A few thoughts:
*Only teams in the top 14 of the final BCS standings with 9 wins can qualify for an at-large berth to a BCS game, so it's interesting to keep an eye on Nos. 11-14: 11. Alabama 12. Arkansas 13. Oklahoma 14. Missouri. Meanwhile, Nebraska dropped to No. 15.
*According to ESPN's Rod Gilmore, the Rose Bowl is strongly considering bypassing Stanford and selecting TCU if Boise State is able to reach the BCS title game. Of course, the Rose Bowl must select the highest non-AQ team in the standings this season. However, if Boise State or TCU made the title game, it would not be obligated to take the next-highest non-AQ.
*Ohio St. is not as strong as it would like to be in the computers because their best wins have come against teams with 4 losses. This likely will end up costing the Buckeyes a spot in the Rose Bowl.
Email dave.miller@nationalfootballpost.com or follow me on Twitter at Miller_Dave