December 31, 2011 -
Barry Dorey
New Year's Eve bowl rundown
We continue our bowl coverage here at the NFP with a look at the five games taking place on New Year's Eve.
Meineke Car Care: Texas A&M (6-6) vs. Northwestern (6-6) at Noon ET on ESPN
The Aggies will be playing without Mike Sherman, who was let go after a disappointing 6-6 campaign. Defensive coordinator Tim DeRuyter will serve as interim head coach, but how focused will he be after accepting the head-coaching gig at Fresno State where he will replace longtime head coach Pat Hill?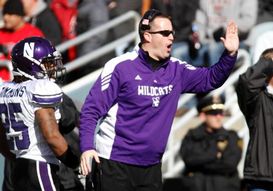 ICONPat Fitzgerald will be looking to lead NU to its first postseason win since the 1949 Rose Bowl.
Meanwhile, the Wildcats will be looking for their first postseason win since the 1949 Rose Bowl. Certainly, Pat Fitzgerald, who has led NU to a program-record fourth consecutive bowl appearance, will have his squad motivated. But it will essentially be a road game for the 'Cats in Houston at Reliant Stadium, though NU has played well away from home under the former All-American linebacker.
While Kevin Sumlin is a players coach, he won't officially take over the program until after the game. And players loved Sherman. What will be the team's mental state? Keep in mind that this is the same team that couldn't close out contests in the second half all season long, particularly in showcase games against Oklahoma State and Arkansas. Five times this season the team had halftime leads of double digits and every time the squad lost. So its mental state is fragile.
Still, there's no denying the talent of running back Cyrus Gray, quarterback Ryan Tannehill and fine receivers Ryan Swope and Jeff Fuller playing behind a sound offensive line. A&M will score — especially against this defense, one that will be playing without top corner Jordan Mabin — but can its own defense stop an NU offense that will have a healthy Dan Persa running the show? While he wasn't able to do much with his legs this season as he recovered from his Achilles injury, he still led the Big Ten in passing at over 240 yards per game and he completed nearly 75 percent of his passes with 17 touchdowns.
Keep an eye on: Kain Colter. The NU all-everything offensive performer has played quarterback, receiver and running back this season. In case Persa goes down, he's someone who can fill in and this offense won't miss a beat. He's also emerged as a legit receiving weapon.
Sun: Georgia Tech (8-4) vs. Utah (7-5) at 2 p.m. ET on CBS
This will be the second meeting between Georgia Tech and Utah, with the only other matchup being the 2005 Emerald Bowl when Utah defeated a ranked Georgia Tech team 38-10. Both teams will be making their second trip to El Paso. The Yellow Jackets defeated Texas Tech in 1970 and Utah shut out New Mexico on New Year's Day in 1939.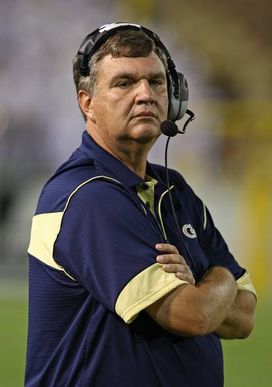 Can Paul Johnson's triple-option offense finally click in the postseason?
The Yellow Jackets come in with nation's No. 3 rushing offense, but it will face the Utes' No. 7 rushing defense. The nice thing for GT fans is the fact that Paul Johnson's offense actually had some semblance of a passing attack this year with Tevin Washington at quarterback and top receiving target Stephen Hill. A balanced offense will be necessary as the Yellow Jackets are trying to snap a six-game losing streak in bowls. And under Johnson, this triple-option attack has been grounded in the postseason.
After a 6-0 start, the Jackets cooled off considerably and lost four of their last six games. While they do have the ability to throw the ball, Utah would love to contain the rushing attack and grab an early lead. If Tech is forced to throw the football more when it's trailing, Kyle Whittingham's defense will have the advantage.
The Utes had an up and down year in their first season in the Pac-12, recovering from an 0-4 start in league play to win four consecutive games and find themselves in the middle of the South division race despite losing starting quarterback Jordan Wynn for the season with a shoulder injury. But a strong defense and terrific play from junior-college transfer running back John White helped quarterback Jon Hays transition into his new role as the starter and end the year with a bowl game despite ranking No. 110 in the country in total offense. But if it wasn't for turnovers, they likely would have been able to claim a winnable Pac-12 South. Their regular season ended with an awful loss to Colorado, which snapped a 24-game road losing streak with the win.
Keep an eye on: GT's ground attack vs. Utah's rush defense. Simply put, this is the most important "game within the game." The Jackets were third in the nation in rushing while the Utes finished seventh in rushing defense. Georgia Tech rushed for 44 touchdowns this fall while Utah allowed only six rushing scores. Something has to give in this one.
CONTINUE TO PAGE 2 FOR MORE BOWL PREVIEWS