November 22, 2011 -
Barry Dorey
Newfound comfort
Arizona has never reached a Rose Bowl game in the history of its football program.
With the hiring of Rich Rodriguez as its new head football coach, news confirmed by athletic director Greg Byrne via Twitter, the Wildcats get a leader who at least knows what it takes to reach a Bowl Championship Series contest.
The 48-year-old former West Virginia and Michigan head coach, who currently works as a college football analyst for CBS, has become more known for his three-year, 15-22 tumultuous tenure in Ann Arbor than the stellar 60-26 mark he recorded in seven seasons in Morgantown. It was in his final three campaigns with the Mountaineers that he led his alma mater to top 12 finishes and two BCS bowl games, where WVU defeated Georgia and Oklahoma, both champions of their leagues. And if it wasn't for a Paul Rhoads-led Pitt defense in 2007, he would have played for a national championship.
There were a variety of reasons why things didn't work out in Ann Arbor, but there are many reasons why a marriage with Arizona could work for both parties. Let's take a closer look at this hire...
It's a basketball school. And it's not Michigan.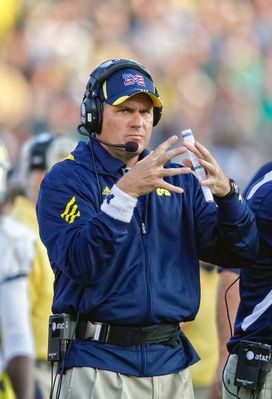 ICONRich Rodriguez went 75-48 in 10 years as head coach at West Virginia and Michigan.
Although Arizona fans yearn for the school's first-ever trip to Pasadena, they're always comforted by the fact that basketball season will always arrive to soften the blow if their football team has a down year. Meanwhile, at Michigan, fans clamor for Big Ten titles and national championships every season. Just working in an environment where the expectations are different will allow Rodriguez to smoothly transition into his new gig after the disappointing tenure in Ann Arbor.
Byrne certainly expects grand results -- and so does Rodriguez -- but the expectations are more reasonable in Tucson than they were at Rich Rod's last stop. Oh, and he doesn't have to worry about being a "Michigan Man." Is there even such a thing as an "Arizona Man?"
He already has a quarterback in place to run his system.
One of the biggest reasons for his rough tenure at Michigan was the fact that Rodriguez didn't have the right quarterback to run his offense until Denard Robinson broke out with his fantastic 2010 season. But it wasn't enough in the eyes of Wolverines AD David Brandon for Rodriguez to save his job. Although Arizona will lose star Nick Foles after this season, Rodriguez will inherit dual-threat quarterback Matt Scott, who has the skills to run the spread offense Rodriguez will employ in Tucson. It's the same scheme that was successful during his time running Clemson's offense, as West Virginia's head coach and in his final season with Michigan.
Scott, who will be a senior in 2012, played well in relief of Foles last fall before redshirting this season. He should be able to serve as the bridge to the next signal-caller of Rodriguez's offense, but it will be essential for Rodriguez to stock up on quarterback depth in this upcoming recruitig cycle. With Byrne dismissing Mike Stoop and hiring Rodriguez now, it will help the program on the recruiting trail moving forward.
CONTINUE READING ABOUT ARIZONA'S RODRIGUEZ HIRE ON PAGE 2