November 09, 2010 -
Dave Miller
Newton: 'It really doesn't bother me that much'
In light of the various reports that questioned his recruitment at Mississippi State and his academic record at Florida, Auburn quarterback Cam Newton maintained that all of his focus was on Georgia, the Tigers' opponent this week.
No restrictions were imposed by the school when the signal caller met with the media Tuesday. Of course, Newton was asked about the reports of a former college football player accusing an agent of trying to sell Newton's services to Mississippi State and a story that came out last night that said he cheated at Florida.
Here are some highlights from Newton's media session: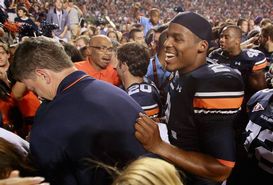 Cam Newton maintained that his focus is on Georgia and nothing else.
In general, on the two reports coming out
"Am I hurt? No. Am I curious? A little bit. But it really doesn't bother me that much. I'm a blessed individual."
"I'm not here to bash anyone. I'm here to go to school and win football games at Auburn. My sole focus right now is to win this football game coming up on Saturday."
On the academic charge
"I'm not going to entertain something [that] happen[ed] three months, six months, but two years ago. I'm not going to talk about it, beating a dead horse."
On Florida head coach Urban Meyer denying that he leaked the story about Newton's academics to the media. Newton believed his former coach.
"Absolutely. The coach that I knew, the one I once committed to, a man of integrity, I would hope he wouldn't say anything like that."
On public perception possibly affecting his Heisman Trophy chances
"I'm not up here to impress anybody trying to win Brownie points. I'm going to continue what I've been doing. I don't want to think about the Heisman Trophy. My whole focus right now is trying to beat Georgia."
Email dave.miller@nationalfootballpost.com or follow me on Twitter at Miller_Dave