February 19, 2013 -
Dave Miller
NFL Combine: Intriguing players to watch
The real kickoff to the NFL Draft season begins this week in Indianapolis, as most of college football's best players from this past season will look to improve their stock in front of NFL personnel at Lucas Oil Stadium at the NFL Scouting Combine.
Before management teams of NFL franchises make the tough decisions in April at New York City's Radio City Music Hall, their draft selections will be partly formed by how individuals perform under heavy scrutiny this week.
Whether it's how he performs in numerous drills, in front of the media during an interview or on the Wonderlic test, a player can either elevate or devalue his stock as each prospect will be compared to one another in areas of strength, speed and mental makeup, among many other factors.
With that in mind, here are the players who intrigue me most as we head into a big week at Lucas Oil Stadium starting February 20.
Syracuse QB Ryan Nassib: The 6-2, 229-pounder has shot up draft boards because there are no standout signal-callers such as Andrew Luck or Robert Griffin III this season. Many draft analysts believe Nassib would be a second- or third-rounder in traditionally QB-heavy drafts, but those same experts think he will ultimately be a first-rounder because of the weak class at the position. Could Buffalo, which is led by former Orange head coach Doug Marrone, roll the dice at pick No. 8? Maybe not, but the Bills could look to trade down. No matter what, a strong performance in Indy could erase a lot of doubts about Nassib's NFL future.
LSU DE Barkevious Mingo: The former Tigers standout was expected to have a dominant junior campaign, but for whatever reason he didn't seem as focused in 2012 as he was in his sophomore year. And that has raised some eyebrows a bit because he participated in more snaps this past fall. The 6-5, 240-pounder, who is projected by many analysts to play outside linebacker in a 3-4 defense, is still considered to be a Top 10 pick by a lot of draftniks. But teams have questions about his drop in productivity in 2012, so he has a lot of answering to do. His athleticism is second-to-none, and he has the type of intangibles that can make NFL personnel men drool. And that's part of the reason why the Combine is a big deal for players such as Mingo who have something to prove.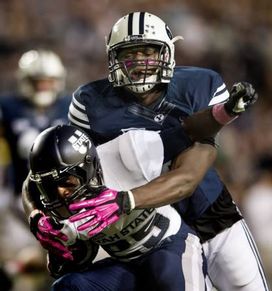 US PRESSWIREEzekiel Ansah has a very high ceiling, but there is still a lot of room for development.
BYU DE Ezekiel Ansah: The 6-6, 270-pounder lined up everywhere this past season — outside linebacker, defense end and defensive tackle. With the year that J.J. Watt had for the Houston Texans in 2012, a lot of teams are looking for that next athletic freak defensive lineman. That's why Ansah is so intriguing. The former track star and basketball player has a high ceiling, but there is still a lot of room for development, especially with his technique and array of pass-rush moves. But his Combine numbers will get people talking.
Central Michigan OT Eric Fisher: After being the talk of Senior Bowl week, the 6-8, 305-pounder is positioned to be a Top 10 pick if he continues to impress in Indy. Fisher has good athleticism and a frame that will allow him to add weight. Analysts believe that he could turn into a bookend tackle if he gets stronger. As a senior, he started every game at left tackle. But the rave reviews he received against some of the top senior pass rushers in the nation in Mobile really turned heads.
Florida State QB E.J. Manuel: Manuel is an intriguing QB because not a lot of draft analysts can get a hold on where exactly he will be selected. Despite his vast array of experience in Tallahassee, some wonder if he has what it takes to win the big game — the 'Noles generally have been considered disappointments the last two years after a lot of preseason hype. But the athletic 6-5, 240-pounder will fare well in all of the skills tests in Indy. The question is how impressive will he be when he competes on his day to throw.
North Carolina G Jonathan Cooper: Most everyone will agree that Alabama's Chance Warmack is the best offensive guard in this draft. But it's Cooper that has a lot of scouts talking. The 6-3, 295-pounder has great athleticism for an interior lineman, so he could put up some eye-popping numbers for that position. Offensive guard isn't a flashy role, but NFL teams know that a very good prospect at that spot is a safe draft pick.
Michigan State RB Le'Veon Bell: The former Spartan wrote on Twitter a few weeks back that he is trying to get down to 228 pounds after checking in at roughly 244 this past season. The main challenge for Bell is convincing NFL personnel that he can be a No. 1 back at the next level. He is a strong runner, but his lack of top-end speed could scare teams away, as some believe that he is destined to be just a goal-line option.
Michigan ATH Denard Robinson: The 6-foot, 197-pound former Wolverines quarterback is making the transition to receiver, and it has been a rough one thus far. It will be a long time — if ever — before "Shoelace" becomes a natural pass-catcher, but he needs to be able to put a rough Senior Bowl week behind him. He has all the athleticism in the world, so that bodes well for him moving forward. But his route-running and catching ability need a lot of work. Medical evaluations will also be important for him because he injured his right elbow during the 2012 season and still was not a full-go during the Senior Bowl.