February 26, 2011 -
Dave Miller
NFL Combine notebook
INDIANAPOLIS — This weekend's college football notebook has a bit of a different look, as the National Football Post continues its coverage from the NFL Scouting Combine in Indianapolis.
So before we get into what's happening on campuses across the country, let's check in on the latest buzz from Indy concerning some of the top prospects for the 2011 NFL Draft.
Heard at the podium
If things don't work out for Alabama quarterback Greg McElroy at the next level, there's no doubt that he will be successful in whatever venture he chooses for his career. He's just that smart, well-educated and level-headed. McElroy, who met with the media on Friday afternoon, won't be able to work out this week in Indy because he is still recovering from the fractured second metacarpal he suffered during the Senior Bowl last month. With Alabama's pro day approaching on March 9, it's not likely that the signal-caller will be able to participate in that either. McElroy isn't one of the top-tier quarterbacks in the draft and will be drafted mostly because of his winning pedigree, work ethic and leadership ability. But whichever team lands him will be ecstatic because he's an impressive individual from a college program that, as McElroy noted, is run like a professional organization under Nick Saban. He isn't in the same category as Cam Newton, Blaine Gabbert or Jake Locker, but the former Crimson Tide star can be a valuable backup for a long time.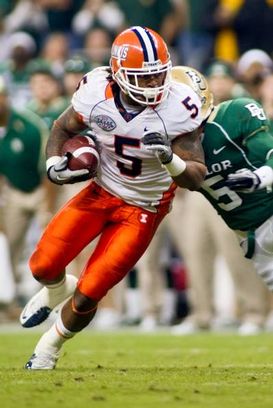 ICONMikel Leshoure wants to be the first back taken in April's draft.
Illinois running back Mikel Leshoure made it known that he wants to be the first back taken in April's draft. He believes coming out after his junior season is the right move after exceeding his expectations on a personal and team level in 2010. Describing himself as a complete back, the 6-foot, 230-pounder cited Steven Jackson as the NFL player he most closely resembles. "I love the way he plays," he said. "He reminds me of myself."
"I definitely feel like I'm a complete back. I feel like I can run, I can pass block, and I'm very confident with my hands," he explained. "Not only in the short, five-to-ten yard routes, but I feel like I can beat some of the safeties and linebackers downfield."
Leshoure followed the lead of former Illini back Rashard Mendenhall by coming out after his junior season, and it's possible that he can have a similar impact on a team as Mendenhall has had on the Steelers.
North Carolina quarterback T.J. Yates made quite an impression during his media session on Thursday afternoon. The 6-4, 220-pounder had an up and down career in Chapel Hill but was finally able to shine during his senior year — vitally important for Butch Davis' squad as it dealt with serious personnel issues due to the multiple NCAA investigations and injuries. Yates, who is projected to be a late-round pick in April, finished 2010 with 3,418 yards, a 66.8 completion percentage and a 19-to-9 touchdown-to-interception ratio. But the thing that stood out most this past season was his leadership ability in the face of adversity. "It was definitely challenging to be a leader on the team with all of the player personnel losses and off-the-field drama," he told reporters at the Combine. But Yates was proud of the way the Tar Heels rallied to salvage their season after an 0-2 start and happy the offense was able to hold its own and help out a defense that was supposed to carry the team before the suspensions took their toll. Yates hopes to prove to NFL personnel that his arm is strong enough and that he has the ability to make the intermediate throws at the next level.
Wisconsin quarterback Scott Tolzien raved about tight end Lance Kendricks, who is currently No. 4 on the NFP Big Board at the tight end position. "He's a complete tight end," Tolzien noted. "He can do it all." The Badgers signal-caller also had high praise for tackle Gabe Carimi, as he cited not only his great talent but his work ethic as well. Carimi, of course, made headlines earlier in the day for proclaiming himself as the best tackle in the draft.
Colorado offensive tackle Nate Solder remains an intriguing prospect for many teams looking for help on the offensive line. The 6-9, 315-pounder noted that he is constantly working on his technique, as he has only played tackle for three years after converting from tight end. Although he is still more of a developmental tackle, his high ceiling could make him a late first-round pick.
Skinny posts
…The NCAA handed USC head coach Lane Kiffin a failure-to-monitor charge based off of his lone season at Tennessee. However, Kiffin can likely breathe easy because Rick Neuheisel incurred a similar charge at Washington for violations that occurred while he was head coach at Colorado.
How exactly will Kiffin be punished? It's likely that he'll have to sacrifice some time on the recruiting trail. But that won't affect USC too much because, as we discussed prior to National Signing Day, the Class of 2011 was the most important recruiting haul for the Kiffin era anyway — load up now, deal with the penalties (if the Trojans lose the appeal) later.
Additionally, head coaches are only allowed one off-campus visit per recruit anyway.
The fact that Kiffin was able to bring in star recruits given the current state of the program speaks to how powerful the USC brand really is, so Trojans fans shouldn't worry too much. As long as Kiffin stays out of further trouble, athletic director Pat Haden will continue to stand behind his head coach — unless, of course, winning doesn't occur on a consistent basis.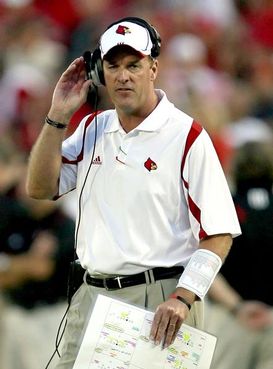 ICONNew LSU offensive coordinator Steve Kragthorpe is giving his unit a clean slate.
…New LSU offensive coordinator Steve Kragthorpe will make $700,000 during his first season in Baton Rouge, which is the same amount as defensive coordinator John Chavis. Former OC Gary Crowton made slightly below $500,000 last season, so the Tigers obviously are paying a high price to get better results on the offensive side of the ball. The biggest concern for Kragthorpe, who will be the second-highest-paid OC in the country behind Auburn's Gus Malzahn, is finding a consistent signal-caller under center. Earlier this week, Kragthorpe declared that there are no incumbents on offense, as he wants to see all of his players in live action this offseason before making any judgments.
…Another coordinator who will make pretty cash in 2011 is Greg Mattison, who left his post with the NFL's Baltimore Ravens to coach the defense at Michigan. Mattison will make $750,000 annually with a chance for a bonus of up to $150,000 if the Wolverines win the Big Ten. Athletic director Dave Brandon made it clear that the days of Michigan not paying a premium for coaches are over. Mattison's salary places him near the top five for all FBS assistants. Conversely, new offensive coordinator Al Borges will make $350,000. What are the terms of new head coach Brady Hoke's deal? Well, those details have not yet been released by university officials, but Brandon said Thursday the contract will be finalized soon.
…Miami will lose running backs Graig Cooper and Damien Berry to the draft, but new Hurricanes running back coach Terry Richardson still has plenty of depth to work with this spring. The 'Canes return four players who received carries last season, with rising sophomore Lamar Miller and rising junior Mike James leading the way. Miller may be atop the depth chart but James should at least split carries. Rising sophomores Storm Johnson and Eduardo Clements are also in the mix after returning kickoffs and getting limited duty in the backfield last season.
…Best wishes to former Arizona State quarterback Steven Threet, who will give up the sport due to head injuries after suffering two concussions last season. Brock Osweiler is now positioned to start under center for the Sun Devils in 2011. The rising junior threw four touchdowns in relief of Threet against UCLA late in the year before finishing the season as the starter. Osweiler, however, has battled injuries during his tenure in Tempe, so redshirt freshman Taylor Kelly or early enrollee Mike Bercovici could be pressed into action at some point. That may be a scary thought for head coach Dennis Erickson, though, as both youngsters weren't exactly highly recruited. Rising senior Samson Szakacsy announced earlier in the offseason that he would not return to the team, so keeping Osweiler healthy will be of primary importance.
Victory formation
Once the Combine festivities wrap up in Indy, I'll be back to providing spring practice reports. Texas has begun its preparations for the 2011 season, so I'll be rolling out a preview of the Longhorns this week.
Question of the Week
With the NFL Combine at the center of the football universe this weekend, which prospects are you most interested in seeing how they perform in their individual drills? I'm not the biggest 40-yard dash guy, but you can't teach speed. And it's one of the more popular — if not the most popular — tests of Combine week.
Drop your thoughts in the Comments section below or send me an email at dave.miller@nationalfootballpost.com.
When it comes to anything and everything related to college football, I will continually spread what I hear on Twitter throughout the day at Miller_Dave, so be sure to stay tuned if you're a frequent tweeter. Also, you can find my stories under my Against the Grain column.
Have a great weekend.