July 31, 2012 -
Dave Miller
NFP 2012 preseason All-America first team
The last of the major Media Days concludes today with the Big East, which means that we are getting close to the start of the 2012 college football season.
With that in mind, let's take a look at the National Football Post's 2012 preseason All-America first team.
Offense
Sr. QB Matt Barkley, USC, 6-2, 230
Sr. RB Montee Ball, Wisconsin, 5-11, 210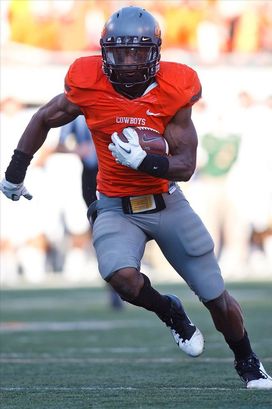 ICONRB Joseph Randle edged out Marcus Lattimore for first-team honors.
Jr. RB Joseph Randle, Oklahoma State, 6-1, 191
So. WR Marqise Lee, USC, 6-0, 195
Jr. WR Robert Woods, USC, 6-1, 190
So. WR Sammy Watkins, Clemson, 6-1, 180
Sr. TE Tyler Eifert, Notre Dame, 6-6, 251
Jr. T Luke Joeckel, Texas A&M, 6-6, 310
Jr. T D.J. Fluker, Alabama, 6-6, 335
Sr. G Jonathan Cooper, North Carolina, 6-3, 310
Jr. G Travis Frederick, Wisconsin, 6-4, 330
Sr. C Barrett Jones, Alabama, 6-5, 311
Defense
Jr. DE William Gholston, Michigan State, 6-7, 275
Jr. DE Sam Montgomery, LSU, 6-4, 245
Sr. DT Star Lotulelei, Utah, 6-4, 320
Sr. DT John Jenkins, Georgia, 6-3, 351
Jr. LB Jarvis Jones, Georgia, 6-3, 241
Sr. LB Manti Te'o, Notre Dame, 6-2, 255
Sr. LB Arthur Brown, Kansas State, 6-1, 223
Jr. CB David Amerson, N.C. State, 6-3, 194
Sr. CB Johnthan Banks, Mississippi State, 6-2, 185
Sr. S T.J. McDonald, USC, 6-3, 205
Jr. S Eric Reid, LSU, 6-2, 208
Special Teams
Sr. K Caleb Sturgis, Florida, 5-11, 187
So. P Brad Wing, LSU, 6-3, 184
So. KR De'Anthony Thomas, Oregon, 5-9, 173
Jr. PR Tyrann Mathieu, LSU, 5-9, 175
Email dave.miller@nationalfootballpost.com or follow me on Twitter at Miller_Dave