November 24, 2010 -
Dave Miller
NFP Heisman Watch
It's not just "Feast Week" for college basketball on ESPN. The world of college football has some monster matchups on tap, as well, as we head toward to the final weeks of the season.
Need your Cam Newton fix? Auburn looks to keep its BCS national championship hopes alive on the road in the Iron Bowl against Alabama.
Meanwhile, Oregon's LaMichael James will try to help the Ducks remain atop the BCS standings when they host Arizona.
And if it's a Friday, then Boise State must be in action. In fact, Kellen Moore and the Broncos face their stiffest test since September when they visit Nevada.
Stanford's Andrew Luck? Well, he's just the best pro prospect in the nation. And he'll be going up against an Oregon State team that showed last week that it continues to have USC's number.
As we get ready for this week's contests, here is how the National Football Post stacks up the top contenders to take home the Heisman Trophy.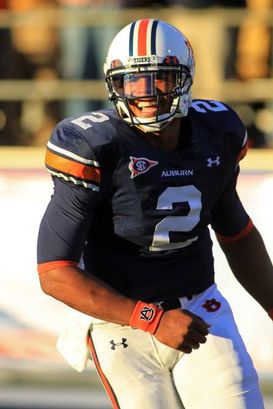 ICONCam Newton faces perhaps his stiffest test yet when the Tigers battle the Crimson Tide.
QB Cam Newton, Auburn: In a tribute to my favorite sports movie of all time, Field of Dreams: If you play him, they will win. As long as Newton is eligible, he remains the frontrunner to take home the Heisman hardware because there's no one better in the nation than the 6-6, 250-pound signal caller. Until the smoke around his recruitment out of junior college turns into an all-out fire, he stays atop the list. Newton and the Tigers were off this past weekend and now face perhaps their toughest test of the season in Tuscaloosa against Alabama in the Iron Bowl. They have already clinched a trip to the Georgia Dome and the SEC title game against South Carolina. But if the Tigers want a chance to play for the BCS national championship, they must get past Nick Saban and Alabama — a tough task despite the Tide's two losses. All eyes will continue to be on the dual-threat signal caller, who leads the SEC in rushing and passing efficiency.
Last week: IDLE
Season: 135/198, 2,038 yards, 21 TDs and 6 INTs. 206 rushes for 1,297 yards and 17 TDs
Next game: at Alabama Friday
QB Kellen Moore, Boise State: The competition for that No. 2 spot behind Newton — in case any developments occur in the NCAA investigation — has become very intriguing. After his performance last week against Fresno State, Moore remains second on the list this week. He had a shaky start against the Bulldogs — tossing an interception and fumbling in the first quarter — but settled in beautifully to pass for 333 yards and four touchdowns to lead the Broncos to a 51-0 thrashing last Friday night. Moore, who completed 27-of-38 passes, became the school's career leader in yards passing and could pass the 10,000-yard mark by the end of the regular season. The 6-foot, 187-pound junior has thrown 92 touchdowns for his career against just 18 interceptions and the Broncos extended their FBS longest winning streak to 24 games and their regular-season streak to 35 contests. Moore, however, will face a tough hurdle at Nevada this Friday — the toughest test for him and the Broncos since September. Knowing their pedigree, they should continue to roll.
Last week: 27/38, 333 yards, 4 TDs and 1 INT
Season: 201/280, 2,921 yards, 28 TDs and 5 INTs
Next game: at Nevada Friday
QB Andrew Luck, Stanford: Luck tossed two touchdowns and led Stanford to scores on all eight possessions he played — including touchdown drives of 95, 86, 90 and 61 yards in the first half — as the Cardinal beat Cal 48-14 last week for their most lopsided win in the rivalry in 80 years. The 6-4, 235-pound signal caller completed 16-of-20 passes for 235 yards and added 72 yards on the ground — including a powerful 58-yard gallop that set up Stanford's first touchdown — displaying his often-overlooked athleticism once again. This was a big game for Luck, who played terribly last year against the Golden Bears in a 34-28 loss. Even though NFL scouts and Stanford head coach Jim Harbaugh continually praised Luck heading into the season, I was concerned about the loss of Toby Gerhart and the effect on the offense. But Luck has proven that he can efficiently lead an offense down the field, seemingly at will. The most NFL-ready quarterback in the nation will be headed to New York at the very least.
Last week: 16/20, 235 yards, 2 TDs and 0 INT.
Season: 224/319, 2,740 yards, 24 TDs and 7 INTs.
Next game: vs. Oregon State Saturday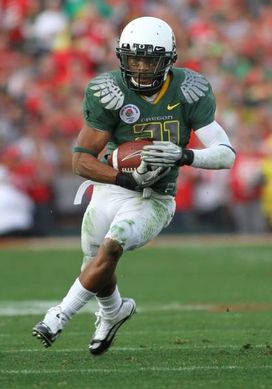 ICONLaMichael James and the Ducks hope to stay unbeaten when they host Mike Stoops and Arizona.
RB LaMichael James, Oregon: James could easily jump Luck and move back into the No. 3 spot and even surpass Moore if he puts on spectacular performances against Arizona and/or Oregon State in the Civil War. I don't like dropping players after a bye week, but Luck was just that good against Cal. James, though, has a big opportunity against Mike Stoops' Wildcats on Friday. The 5-9, 185-pounder was hampered by an ankle injury in the second half against Cal, so it will be interesting to see if he is back to 100 percent after the time off. If Oregon bounces back from its lackluster effort against Cal and is able to move the ball with ease, the numbers should be there for the sophomore because he's too talented to have many more subpar games.
Last week: IDLE
Season: 225 rushes for 1,422 yards and 17 TDs
Next game: vs. Arizona Friday
I am facing a real tough dilemma when it comes to the No. 5 spot on the list. I had Oklahoma State running back Kendall Hunter there last week, and he really did nothing this past weekend to lose the spot. However, despite throwing 10 interceptions, it's hard not to consider Cowboys quarterback Brandon Weeden. I think at some point we have to forget about him playing in a pass-happy attack. Wide receiver Justin Blackmon probably would be my pick for the Cowboys, but I do think the DUI arrest earlier in the season does taint his candidacy.
Arkansas quarterback Ryan Mallett has bounced back very well after his unimpressive performance against Alabama early in the season. The Razorbacks are one of the hottest teams in the nation, and Mallett is one of the driving forces. If Nevada beats Boise State on Friday, does quarterback Colin Kaepernick make an appearance on the list next week? No matter the competition, Kaepernick is certainly one of the best in the nation.
It's a big weekend for these players as they try to snag invites to New York for the Heisman festivities.
Email dave.miller@nationalfootballpost.com or follow me on Twitter at Miller_Dave