October 18, 2011 -
Dave Miller
NFP Heisman Watch
Compiling the weekly NFP Top 25 is difficult enough, but breaking down the Heisman Trophy race is giving that challenge a run for its money as it seemingly gets closer and closer as the weeks get knocked off the calendar.
However, a few candidates have started to separate themselves from the pack.
The NFP Heisman Watch will get cut down to the Top 5 favorites in the next few weeks, but here are the top contenders entering Week 8:
Andrew Luck, QB, Stanford: The prohibitive Heisman favorite threw an interception on his first pass against Washington State — and was nearly flawless the rest of the way after the early mistake. The junior threw for 336 yards and four touchdowns as the Cardinal extended the nation's longest winning streak to a school-record 14 games. Luck is now 26-5 as a starter after completing 23 of 36 passes, and he'll get his chance to have an even brighter spotlight when he faces off against two thriving squads, Oregon and Notre Dame.
2011: 129 of 181 passing for 1,719 yards, 18 TDs and 3 INTs
Russell Wilson, QB, Wisconsin: Wilson gained some extra traction in this race by catching a 25-yard touchdown pass from running back Montee Ball on a trick play in Wisconsin's 59-7 win over Indiana. The former three-year starter at N.C. State threw for 166 yards and a touchdown while recording 42 more yards on the ground before sitting out the fourth quarter. The dual-threat signal-caller, whose ability to make plays on the run both with his arm and his feet make Paul Chryst's offense virtually unstoppable, will get another chance on a big stage when the Badgers travel to East Lansing for a night game against Michigan State this weekend.
2011: 95 of 128 passing for 1,557 yards, 14 TDs and 1 INT; 24 rushes for 182 yards and 2 TDs; 1 catch for 25 yards and 1 TD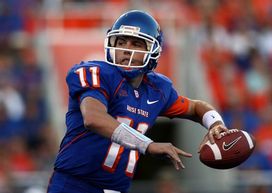 Does Kellen Moore have enough prime contests left to make a push for the Heisman hardware?
Kellen Moore, QB, Boise State: Moore threw for 338 yards and four touchdowns as Boise State thrashed Colorado State 63-13 in its Mountain West debut. The senior was 26 of 30 through the air, and he now has 120 career touchdowns and 44 career wins. He moved within a win of equaling Colt McCoy's all-time NCAA wins mark after recording his third game this season with at least four touchdown passes.
2011: 151 of 199 passing for 1,729 yards, 21 TDs and 4 INTs
Landry Jones, QB, Oklahoma: Jones threw for 363 yards and three touchdowns in Oklahoma's 47-17 win over Kansas this past weekend. The OU offense started off a little slow, but the veteran signal-caller ended up recording his fourth straight game with at least three scoring passes. He notched his fifth 350-plus yard game of the season, and Jones has a shot at the Heisman hardware with the Sooners' BCS national championship game aspirations intact.
2011: 171 of 253 passing for 2,177 yards, 16 TDs and 6 INTs
Trent Richardson, RB, Alabama: The junior workhorse had a monster day in a 52-7 rout of Ole Miss, setting career marks with 183 rushing yards and four touchdowns — including a 76-yard powerful scamper for a score. He averaged 10.8 yards per carry and continued to show his rare combination of power and speed against the Rebels. The tough-nosed runner finished with his sixth consecutive 100-yard game and will continue to put up numbers because he is a huge part of Alabama's offensive identity. He is positioned as the best non-QB in this race.
2011: 132 rushes for 912 yards and 15 TDs; 15 receptions for 179 yards and 1 TD
Robert Griffin III, QB, Baylor: RGIII suffered his second loss of the season as the Bears could not keep up with Texas A&M in a 55-28 loss. Still, he managed to record a school-record 430 yards on 28 of 40 passing, adding three scores against just one interception. Even with the loss, Griffin's play has been unbelievable this fall and he remain a household name on the national scene because of his standout performances. Baylor has to remain relevant in the Big 12, however, for Griffin to net serious consideration.
2011: 142 of 182 passing for 1,950 yards, 22 TDs and 2 INTs; 72 rushes for 295 yards and 2 TDs
Case Keenum, QB, Houston: Keenum is enjoying life in the Houston offense once again after putting last year's knee injury well behind him. The Cougars enjoyed a bye in Week 7 and will play Marshall this weekend. The sixth-year senior is 422 yards away from breaking Timmy Chang's NCAA career record for total offense (16,910), and he is a legit Heisman contender in Kevin Sumlin's offense.
2011: 170 of 238 passing for 2,309 yards, 17 TDs and 2 INTs
Others to watch
Tyrann Mathieu, CB/PR, LSU: Since 1950, only one non-quarterback, running back or wide receiver won the Heisman Trophy — Michigan's Charles Woodson in 1998. But Mathieu has a chance to at least make it to New York because the sophomore has incredible playmaking ability. He only had one tackle and one pass breakup this past week against Tennessee, as well as two punt returns for 22 yards. He was also called for a pass interference penalty that set up a Volunteers touchdown. But he's already broken LSU's career record for forced fumbles, and he'll have plenty of national hype because of LSU's No. 1 ranking. He needs to take advantage of each and every opportunity, however.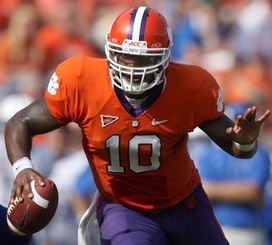 Tajh Boyd has helped lead Clemson to an undefeated mark.
Tajh Boyd, QB, Clemson: The dual-threat signal-caller remains in this race because of the way he is operating in coordinator Chad Morris' offense. Against Maryland, he threw four touchdown passes to help Clemson rally from deficits of 28-10 late in the first half and 35-17 in the third quarter. He went 26 of 38 for 270 yards with one interception as the Tigers remained unbeaten.
Geno Smith, QB, West Virginia: Smith could remain in the mix if he leads the Mountaineers to a Big East title. They were off this past week and will play at Syracuse on Friday night.
Justin Blackmon, WR, Oklahoma State: Last season's Biletnikoff Award winner remains in this race because of the prolific offense he is a part of in Stillwater. He caught 7 passes for 74 yards and a touchdown this past week in the Pokes' win over Texas.
Email dave.miller@nationalfootballpost.com or follow me on Twitter at Miller_Dave