November 15, 2011 -
Barry Dorey
NFP Heisman Watch
It's safe to say that the next few weeks are set up perfectly for one of the best Heisman Trophy races in recent memory.
Stanford's loss to Oregon this past weekend opened the door a little bit wider for contenders chasing Cardinal quarterback Andrew Luck, with Oklahoma State's Brandon Weeden perhaps best capitalizing on his opportunity. Meanwhile, Alabama's Trent Richardson remains in the hunt as does Houston's prolific quarterback Case Keenum, who is doing all he can to get the Cougars to their first BCS bowl game.
Week 11 is in the books, and the Heisman race has never been closer as we head deeper into November.
So which star players have the edge for the hardware after eleven weeks of the season?
Here are the names to monitor as we enter Week 12:
1. Andrew Luck, QB, Stanford: The prohibitive Heisman favorite's candidacy took a hit in Stanford's loss to Oregon, a defeat that most likely cost the Cardinal the Pac-12 North division title. The junior signal-caller threw for 271 yards and three touchdowns, but he tossed two interceptions and had a fumble — a rough outing against an attacking Ducks defense led by coordinator Nick Aliotti. His 29 touchdowns are three shy of the school record he set last year, but not being able to pull out a victory over the Ducks will certainly work against him. The loss shouldn't fall on Luck, however, as Stanford's inability to stop the high-powered Oregon attack was the difference in the contest. But because of the defeat Luck no longer is the clear-cut favorite. He'll have another spotlight game against Notre Dame to close the regular season, but he may possibly need some help to re-emerge as the player to beat.
2011: 2,695 yards, 70.6 %, 29 TDs and 7 INTs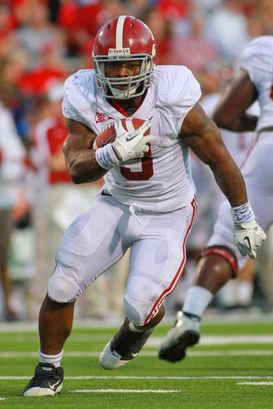 ICONAlabama's Trent Richardson is positioned as the best non-QB in this race.
2. Trent Richardson, RB, Alabama: The junior workhorse proved once again that he is the center of Alabama's offense in the Crimson Tide's win at Mississippi State. Richardson rushed for 127 yards and a touchdown on a season-high 32 carries, and he added 26 receiving yards against the Bulldogs' tough defense. While he started a bit slow, he ripped off a big 25-yard run early in the fourth quarter to Mississippi State's 4-yard line and scored a 2-yard touchdown two plays later to give the Crimson Tide a 17-0 lead. His rare combination of power and speed has helped the Tide's offense all season long when it was struggling to move the football, and the tough-nosed runner is positioned as the best non-QB in this race.
2011: 204 rushes for 1,205 yards and 18 TDs; 25 receptions for 318 yards and 1 TD
3. Case Keenum, QB, Houston: This fall, Keenum has become the FBS career leader in total offense, the all-time FBS leader in touchdown passes and the major college football career leader in passing yards. So his performance this past week against Tulane — 22-of-29 passing for 325 yards and three scores — seemed to go under the radar. But the Cougars certainly are not catching anybody by surprise anymore, as they are positioned to earn their first-ever BCS bid if they can win out. Kevin Sumlin's squad does face stiffer competition in the next two weeks, however: SMU and Tulsa. And then a C-USA conference championship game would await. The sixth-year senior Keenum is unquestionably a legitimate Heisman contender in this offense, which has produced five 400-plus-yard efforts from the signal-caller this fall.
2011: 3,951 yards, 74.2 %, 37 TDs and 3 INTs
4. Brandon Weeden, QB, Oklahoma State: Whatever the reason — early-season interceptions, the type of offense he's playing in, a plethora of other worthy contenders, etc. — I was reluctant to include Weeden on this list throughout the fall. But what he is doing in Stillwater this fall is ridiculous. In less than a full game, the 28-year-old signal-caller threw for 423 yards and five touchdowns on 31-of-37 passing as the Cowboys smoked Texas Tech this past weekend. The Pokes led at the half by 49 points, so Weeden wasn't needed too much after the break. If the Cowboys claim a Bedlam win over Oklahoma and Weeden is a big part of that victory, there's no question he would warrant an invite to New York at the very least.
2011: 3,635 yards, 73.1 %, 31 TDs and 9 INTs
5. David Wilson, RB, Virginia Tech: The one constant of the Hokies' offense this fall has been Wilson, who continued to produce at a prolific clip by rushing for a career-high 175 yards on just 23 carries in Virginia Tech's crucial ACC Coastal division win over Georgia Tech last Thursday night. The 5-10, 205-pound junior is the ACC's leading rusher, and he recorded his seventh straight 100-yard game — the longest such streak during Frank Beamer's tenure as head coach. Wilson has hit triple digits in yardage nine times this season and should net some serious consideration for this hardware.
2011: 210 rushes for 1,360 yards and 7 TDs; 16 receptions for 99 yards and 1 TD
Note: Boise State QB Kellen Moore isn't necessarily out of this race, but the loss to TCU really hurt. The Broncos signal-caller threw for 320 yards and two touchdowns against no interceptions on 28-of-38 passing, but he ultimately fell at home for the first time in his career. The senior, who is college football's winningest quarterback, already had the weaker schedule working against him. Thus, a loss really hurt his cause.
2011: 2,549 yards, 74.1 %, 31 TDs and 5 INTs
Email dave.miller@nationalfootballpost.com or follow me on Twitter at Miller_Dave