December 08, 2010 -
Dave Miller
NFP Heisman Watch
With the exception of the annual Army-Navy game, the regular season is over and all of the Heisman votes have been submitted. The race to take home college football's most prestigious award comes to an end Saturday evening, when four finalists will gather in New York for the announcement of the 2010 Heisman Trophy winner.
The National Football Post takes a closer look at the four finalists vying to take home the Heisman hardware.
QB Cam Newton, Auburn: If you have seen just one Auburn football game this season, you know that Newton is the best player in the nation and the most valuable player to his team. In terms of questions about his eligibility and whether the NCAA's investigation should be taken into account in this race, Newton will be eligible for the national championship game against Oregon. He isn't going anywhere.
As I've stated before, the only two questions I have regarding Newton are: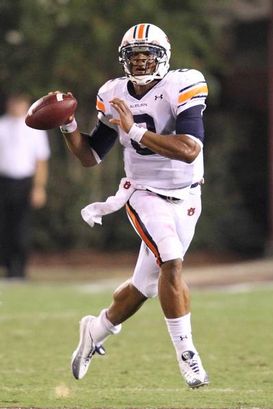 ICONCam Newton is the frontrunner to claim the Heisman Trophy Saturday night.
1) How come the NCAA, which is known for penalizing student-athletes for the tiniest of infractions, did not discipline Newton even the slightest bit for his relationship with a person essentially acting as his agent? Even if he truly was unaware of his father's actions, Newton should have been disciplined because his father was acting on his behalf. Rules are rules.
2) What happened to Newton's reported telephone conversation with a Mississippi State recruiter to express regret about not going to Starkville, admitting that "the money was too much" for his father not to choose Auburn? It's one thing if the ESPN.com report was untrue, but it was seemingly pushed aside and completely forgotten.
I'm lucky in that I don't have a Heisman vote this year. But if voters elected to leave Newton off their ballots, they really shouldn't be criticized. Every voter has the right to make an informed decision, and if invoking the "integrity" clause was deemed the best course of action, then we can't really take the voter to task. This award, contrary to what many believe, is not just about on-the-field play. And despite the ruling that Newton knew nothing of his father's pay-for-play plan, his association — right or wrong — give many reason to doubt. Throw in his Florida past, complete with the stolen laptop incident and reports of academic scandals, and any voter who didn't include Newton on the ballot should not come under fire.
Meanwhile, on the field, Newton showed once again in the SEC championship game that he is capable of anything — as long as that entails putting his team on his back. The dual-threat signal caller arguably played his best game of the season, accounting for six touchdowns — four through the air and two on the ground — and throwing for a career-best 335 yards in the win over the Gamecocks. His six touchdowns tied the SEC championship game record set by Florida's Danny Wuerffel in 1996. The 6-6, 250-pound signal caller became one of just three players in FBS history to both run and pass for 20 scores in a season. Just when you thought you had seen it all when Newton rescued the Tigers from a 24-point deficit in the Iron Bowl the week before, Newton showed once again why he has been the frontrunner to take home the Heisman hardware for many weeks.
The only question now is how wide the margin of victory will be when Newton is announced as the winner Saturday evening in New York City.
Last week: 17/28, 335 yards, 4 TDs and 0 INTs. 14 rushes for 73 yards and 2 TD
Season: 165/246, 2,589 yards, 28 TDs and 6 INTs. 242 rushes for 1,409 yards and 20 TDs
Next game: vs. Oregon Jan. 10 (BCS national championship game)
QB Andrew Luck, Stanford: It's really going to be interesting to see where all of the runner-ups fall after Newton. I'm keeping Luck at No. 2 after completing 70 percent of his passes and seemingly getting better and better as the season progressed. The 6-4, 235-pound signal caller broke John Elway and Steve Stenstrom's school record of 27 passing touchdowns in a season against Oregon State in the final week of the regular season, once again making leading an offense down the field look so easy at times. He threw for more than 3,000 yards with 28 touchdowns and just seven interceptions in 2010, and the most NFL-ready quarterback in the nation also rushed for 438 yards and three scores. He gets my vote for the No. 2 spot because of his body of work and the fact that he peaked toward the end of the year.
Last week: IDLE
Season: 245/349, 3,045 yards, 28 TDs and 7 INTs
Next game: vs. Virginia Tech Jan. 3 (Orange Bowl)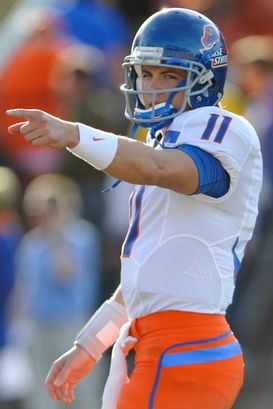 ICONWhere will Kellen Moore finish in the Heisman race?
QB Kellen Moore, Boise State: Moore tossed three touchdowns in the regular-season finale, helping Boise State ease the pain — maybe a little bit — of its crushing loss to Nevada the week before. Per usual, Moore was efficient and mistake-free in leading the Broncos offense. He completed 24-of-34 passes for 237 yards against Utah State and finished the season with 33 touchdowns against just five interceptions. Much has been made of Moore's uncharacteristic sloppy second half against Nevada. I still go back to his clutch 53-yard toss to Titus Young on the first play from scrimmage after the Wolf Pack tied the game with 13 seconds left that showed he's still one of the best quarterbacks in the nation. The 6-foot, 187-pound junior is in a crowded quarterback mix, but he should soak up and enjoy the Heisman environment Saturday night.
Last week: 24/34, 237 yards, 3 TDs and 0 INTs
Season: 245/345, 3,506 yards, 33 TDs and 5 INTs
Next game: vs. Utah Dec. 22 (Maaco Las Vegas Bowl)
RB LaMichael James, Oregon: There's no question that James has been the best running back in the nation this year, and he finished off his regular season in style with 134 yards and two touchdowns on the ground against Oregon State in the Civil War game. After his amazing debut season of 2009, James set a Pac-10 sophomore rushing record with 1,682 yards and surpassed LeGarrette Blount's school record for rushing touchdowns despite nursing a bum left ankle late in the year. In many circles, the sophomore seems to be a clear-cut No. 2 in the Heisman voting, but I placed the 5-9, 185-pounder at No. 4 only because I do believe that teammate Kenjon Barner, who had 133 yards and two scores against the Beavers last week, could put up similar numbers in Oregon's offense. That is NOT to take anything away from James' great 2010 season. I just think that the quarterbacks ranked No. 1-3 get the edge over James because of their greater impact on their respective teams.
Last week: 28 rushes for 134 yards and 2 TDs
Season: 281 rushes for 1,682 yards and 21 TDs
Next game: vs. Auburn Jan. 10 (BCS national championship game)
The invite was lost in the mail
WR Justin Blackmon, Oklahoma State: Blackmon had been on my radar all season long, but I withheld him from the list until last week because of the DUI arrest earlier in the season. And the Heisman, despite strong argument to the contrary, is not just about on-th e-field performance. But these are college kids, and everyone makes mistakes. By scoring a late touchdown against Oklahoma in the regular-season finale, the 6-1, 207-pound sophomore stretched his streak of games with at least 100 yards receiving and a touchdown to 11 — tying a national record. He had the best offensive season in the Big 12 — excluding quarterbacks — and he led the nation with 1,665 receiving yards and 18 touchdowns despite missing a game. He should have been in New York for the festivities.
Last week: IDLE
Season: 102 receptions for 1,665 yards and 18 TDs
Next game: vs. Arizona Dec. 29 (Alamo Bowl)
Email dave.miller@nationalfootballpost.com or follow me on Twitter at Miller_Dave