September 22, 2010 -
Dave Miller
NFP Heisman Watch
It's never too early to talk Heisman Trophy. Here is how the National Football Post stacks up the top contenders to take home the hardware.
QB Kellen Moore, Boise State: Moore threw for 370 yards and two touchdowns at Wyoming last week to help Boise State extend its winning streak to 16. The Broncos were not rusty after a 12-day layoff following their victory over Virginia Tech Labor Day night. They scored 37 straight points to start the game, and the junior signal caller watched the fourth quarter from the sideline. Next up for the Broncos? Perhaps their last major test in their quest for an undefeated season: Oregon State. The 6-foot, 187-pound Moore will be playing in front of a national audience once again, and ESPN's College GameDay will broadcast from campus, as well. It's another showcase opportunity for the Broncos quarterback.
Last week: 20/30, 370 yards, 2 TDs and 1 INT
Season: 43/68, 585 yards, 5 TDs and 1 INT
Next game: vs. Oregon State Saturday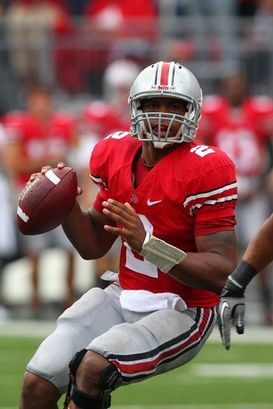 ICONTerrelle Pryor completed an Ohio State-record 16 throws in a row last Saturday against Ohio.
QB Terrelle Pryor, Ohio State: Pryor completed an Ohio State-record 16 throws in a row last Saturday against Ohio en route to throwing for 235 yards and two scores on 22-of-29 passing. He added 35 yards and another touchdown on the ground. However, the 6-6, 233-pounder also threw his first two interceptions of the year on poorly thrown footballs over the middle. With another cupcake on the schedule this week — Eastern Michigan — Pryor should be able to continue to pad his statistics. His toughest tests remain road games against Wisconsin and Iowa before the annual battle with Michigan at the end of the year. We'll continue to monitor his progression as a passer to go along with his elite running skills.
Last week: 22/29, 235 yards, 2 TDs and 2 INTs. 8 rushes for 35 yards and 1 TD
Season: 51/81, 715 yards, 6 TDs and 2 INTs. 36 rushes for 165 yards and 2 TDs
Next game: vs. Eastern Michigan Saturday
RB DeMarco Murray, Oklahoma: Murray once again powered the Sooners offense — just as he did in the sluggish opener against Utah State — by totaling 148 yards and scoring three touchdowns in OU's narrow victory over Air Force last week. It was a nice statistical bounce back effort after only gaining 51 yards on the ground against Florida State. However, he did score two early TDs against the Seminoles to help set the tone. The 6-1, 207-pounder will continue to be leaned on by head coach Bob Stoops, especially with backups Brennan Clay and Roy Finch out against Cincinnati this week. Keep in mind that senior Mossis Madu only has 14 carries, so the backfield is owned by Murray. Can the Bearcats handle the senior this week? Cincy hasn't allowed a 100-yard rusher this season despite being 1-2, although NC State's Mustafa Greene found running room last week in the Wolfpack's win over the Bearcats.
Last week: 26 rushes for 110 yards and 2 TDs
Season: 77 rushes for 369 yards and 6 TDs
Next game: at Cincinnati Saturday
QB Ryan Mallett, Arkansas: Mallett had his first Heisman moment of the season when he tossed a game-winning 40-yard touchdown to Greg Childs with 15 seconds remaining to beat Georgia last week. After the 6-6, 238-pounder padded his stats against inferior competition, the junior torched the Bulldogs for the second year in a row. He finished with 380 passing yards and three touchdowns to come out a winner after the Razorbacks blew a two-touchdown lead in the fourth quarter. Now, the Hogs have plenty of momentum heading into their showdown with Alabama this week. The Crimson Tide travel to Fayetteville in what should be a tremendous test for the Razorbacks offense — and an improving defense. Mallett can't afford too many losses if he wants to stay in the Heisman race, but all he needs to do is play well and not self-destruct and he'll be fine even if the Hogs come up short Saturday.
Last week: 21/33, 380 yards, 3 TDs and 0 INTs
Season: 70/100, 1,081 yards, 9 TDs and 2 INTs
Next game: vs. Alabama Saturday
QB Denard Robinson, Michigan: Robinson likely doesn't have a chance to win the award if Michigan's defense can't put up a better effort than it did last week in a 42-37 win over Massachusetts. But the Wolverines remained unbeaten, in large part because of their dual-threat quarterback, who led the offense to touchdowns on five straight drives from late in the second quarter to early in the fourth. Robinson accounted for 345 total yards and three scores against the Minutemen and continued his unbelievable start to the 2010 season. Expect some more big numbers this week against Bowling Green — especially if the defense turns in another subpar outing. Heck, Robinson and the Wolverines may find themselves in another shootout.
Last week: 10/14, 241 yards, 2 TDs and 1 INT. 17 rushes for 104 yards and 1 TD
Season: 53/76, 671 yards, 4 TDs and 1 INT. 74 rushes for 559 yards and 4 TDs.
Next game: vs. Bowling Green Saturday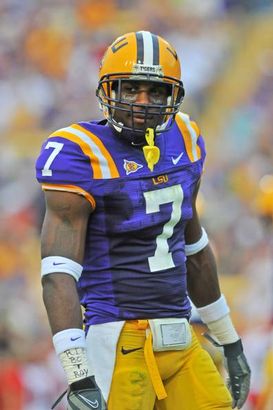 ICONPatrick Peterson had two interceptions last week against Mississippi State.
CB/KR Patrick Peterson, LSU: Peterson certainly didn't drop off the board this week after his two-interception performance last Saturday against Mississippi State — key turnovers that really seemed to ease the pressure on LSU's inconsistent offense. Peterson tipped the ball to himself on both of his interceptions, and his second one was caught with one hand as he fell to the ground. On the first pick, Peterson leapt from behind the receiver to break up the pass, catch it and return it 46 yards to set up a field goal. The 6-1, 222-pounder also returned a kickoff 39 yards and nearly took one to the house on his one chance to field a punt. However, the return was wiped out by a penalty. His impact on a football game and the explosiveness he brings on defense and special teams was clearly on display against the Bulldogs last week.
Last week: 2 INTs, 4 total tackles (4 solo), 41 return yards
Season: 2 INTs, 10 total tackles (8 solo), 357 return yards
Next game: vs. West Virginia Saturday
*As I mentioned last week, I don't like keeping the reigning Heisman winner Mark Ingram off the list because it's his award to lose. But the Alabama running back missed the first two weeks because of a knee injury and he will be held to a higher standard thus year by the voters. But the junior certainly made up for lost time against Duke last week, taking his first handoff of the year and darting 48 yards. He added another long rush of 50 and became the first running back from a BCS conference to gain over 150 yards on fewer than 10 carries in the last five seasons. The guy certainly has a knack for the dramatic. He finished with 151 rushing yards and two touchdowns against the Blue Devils and could still get back into this race with big games in SEC play.
Missed the new NFP Top 25? Check it out.
Follow me on Twitter at Miller_Dave or send your college football questions to dave.miller@nationalfootballpost.com
Click here to win cash today playing fantasy football with the NFP and FanDuel.