November 16, 2013 -
Dave Miller
NFP Heisman Watch
Subscribe to the "Against the Grain with Dave Miller" podcast in iTunes
Eleven weeks of the 2013 college football season are in the books, and the race for the Heisman Trophy remains quarterback-friendly — and closer than at any point this season.
Here is how the National Football Post stacked up its Heisman Watch heading into Week 12 action.
Note: Until we know more about the Jameis Winston investigation, the focus will remain on his on-field performance.
Note II: This Heisman Watch does NOT include the games already played this week (i.e. Jordan Lynch vs. Ball State, etc.)
Florida State QB Jameis Winston: The redshirt freshman didn't play too much last week against Wake Forest because the Seminoles were blowing the Demon Deacons away early. He finished with 159 passing yards and two touchdowns against one interception, but he was overshadowed by a dominant FSU defense. He has played with poise and conviction throughout his first season as the starter, and he has been particularly effective on third down all year. "Famous Jameis" and the 'Noles don't have a strong slate the rest of the way, so he won't have too many spotlight games. But the hardware could go to a redshirt freshman for the second year in a row — if the off-the-field matter is cleared.
2013: 166 of 240 passing for 2,661 yards, 26 TDs and 7 INTs; 53 rushes for 157 yards and 3 TDs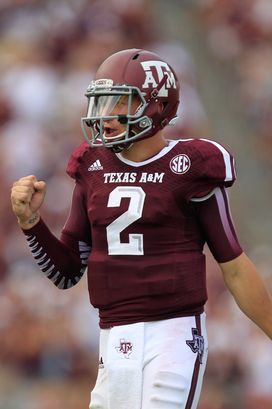 US PRESSWIREJohnny Manziel became the first Aggie with two 3,000-yard passing seasons.
Texas A&M QB Johnny Manziel: The defending Heisman Trophy winner likely played his final home game last week in a 51-41 win over Mississippi State. Manziel threw for 446 yards and tied a career-high with five touchdown passes, and he became the first Aggie with two 3,000-yard passing seasons. The dual-threat signal-caller is very much a top contender for this award once again, but he did throw three interceptions against the Bulldogs. However, taking chances is a big part of his game. And they pay off more than they hurt the team. The redshirt sophomore's 562 total yards and five touchdowns against two-time defending BCS national champion Alabama is arguably the best performance from a player all season (with the possible exception of what UCLA's Myles Jack did on Friday night against Washington). But will he have to contend with Johnny Football fatigue among some voters?
2013: 230 of 315 passing for 3,313 yards, 31 TDs and 11 INTs; 110 rushes for 605 yards and 8 TDs
Oregon QB Marcus Mariota: The dual-threat Ducks signal-caller had his worst performance of his once-sterling season last week against Stanford, as the Ducks' offense was thwarted by the Cardinal for the second year in a row. But he was clearly hampered by a left knee injury, which made him pretty much a passer only and took away his running ability. Still, it was a rough performance before he began a comeback in the fourth quarter that ultimately fell short. Mariota is still the only quarterback in the country to have yet to throw an interception this season, but the redshirt sophomore will need to have a huge surge in the season's final weeks to retake the lead in this race.
2013: 164 of 259 passing for 2,531 yards, 22 TDs and 0 INTs; 62 rushes for 495 yards and 9 TDs
Baylor QB Bryce Petty: The Bears passed their first big test of the season last week, but there are more to come. However, Petty will remain in this race as long as he continues to lead a prolific Bears offense that is a bit banged-up. Last week against Oklahoma Petty accounted for all five of the team's touchdowns and did not throw an interception. He has just been the latest in a long line of efficient signal-callers in Art Briles' system, but contests against Texas Tech, Oklahoma State, TCU and Texas remain. If Petty plays well against the tougher competition, he could at the very least net an invite to New York.
2013: 135 of 202 passing for 2,657 yards, 21 TDs and 1 INT; 44 rushes for 118 yards and 8 TDs
Others to watch
Alabama QB AJ McCarron
Fresno State QB Derek Carr
Northern Illinois QB Jordan Lynch
Texas A&M WR Mike Evans
Arizona RB Ka'Deem Carey
Louisville QB Teddy Bridgewater
Clemson QB Tajh Boyd
UCLA QB Brett Hundley
Dave Miller, the college football editor and writer for the National Football Post, is on Twitter @Miller_Dave.