October 11, 2011 -
Barry Dorey
NFP Heisman Watch
Compiling the weekly NFP Top 25 is difficult enough, but breaking down the Heisman Trophy race is giving that challenge a run for its money as it seemingly gets closer and closer as the weeks get knocked off the calendar.
However, a few candidates have started to separate themselves from the pack.
As I mentioned before, the NFP Heisman Watch will get leaner as we make our way through the season, and I will cut it down to the Top 5 favorites in the next few weeks.
For now, here are the top contenders entering Week 7:
Andrew Luck, QB, Stanford: The prohibitive Heisman favorite went 26 of 33 through the air for 370 yards and three touchdowns against one interception in Stanford's 48-7 win over Colorado. The Cardinal extended the nation's longest winning streak to 13 games, and Luck is now 25-5 as a starter. The winningest quarterback in school history will get his chance to have an even brighter spotlight when his squad faces Oregon and Notre Dame later in the year.
2011: 106 of 145 passing for 1,383 yards, 14 TDs and two INTs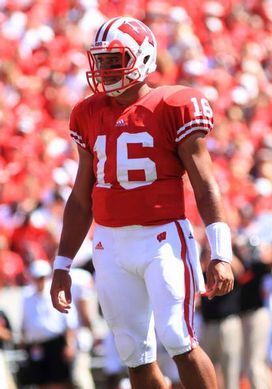 ICONRussell Wilson has been a dynamite fit for Paul Chryst's offense.
Russell Wilson, QB, Wisconsin: Wilson vaulted up my list after the former three-year starter at N.C. State starred in Wisconsin's win over Nebraska on a national stage two weeks ago. The dual-threat signal-caller and the Badgers had a bye this past weekend, but Wilson remains near the top of the list. His ability to make plays on the run both with his arm and his feet make Paul Chryst's offense virtually unstoppable.
2011: 83 of 111 passing for 1,391 yards, 13 TDs and one INT; 22 rushes for 140 yards and two TDs
Kellen Moore, QB, Boise State: Moore went 23 of 31 through the air for 254 yards and three touchdowns in Boise State's 57-5 win over Fresno State last Friday night. He rebounded from his rare subpar performance from the previous week. He now has 116 career touchdowns and 43 career wins, passing David Greene and Andy Dalton for sole possession of second on the all-time list.
2011: 102 of 138 passing for 1,137 yards, 14 TDs and four INTs
Landry Jones, QB, Oklahoma: Jones made the biggest move on my list, vaulting all the way up to fourth after his performance against Texas. In the first half alone, Jones recorded 305 passing yards and three touchdowns on 23 of 35 passing. He notched his fourth 350-plus yard game of the season and looked in cruise control against a good Longhorns defense. With the Sooners' BCS national championship game aspirations intact, Jones has a shot at the Heisman hardware.
2011: 142 of 205 passing for 1,814 yards, 13 TDs and five INTs
Robert Griffin III, QB, Baylor: RGIII not only was effective in the air against Iowa State, but he was productive on the ground as well. He went 22 of 30 for 212 yards and one touchdown, and he added 24 rushes for 107 yards and another score in a 49-26 win over the Cyclones. As long as the Bears remain competitive, Griffin will remain a household name on the national scene because of his standout performances. But Baylor has to remain relevant in the Big 12 for Griffin to net serious consideration.
2011: 93 of 113 passing for 1,308 yards, 18 TDs and one INT; 36 rushes for 173 yards and one TD
Trent Richardson, RB, Alabama: The junior workhorse had a pedestrian day in Alabama's win over Vanderbilt, rushing 19 times for 107 yards and a touchdown. The tough-nosed runner finished with his fifth consecutive 100-yard game and will continue to put up numbers because he is a huge part of Alabama's offensive identity. He is positioned as the best non-QB in this race.
2011: 96 rushes for 622 yards and 10 TDs; 11 receptions for 148 yards and one TD
Case Keenum, QB, Houston: Keenum is enjoying life in the Houston offense once again after putting last year's knee injury well behind him. He threw for 304 yards and three touchdowns on 30 of 37 passing in just over three quarters to lead Houston to a 56-3 win over East Carolina. He is poised to set the NCAA career record of 16,910 passing yards in his next game, and he is a legit Heisman contender in Kevin Sumlin's offense.
2011: 170 of 238 passing for 2,309 yards, 17 TDs and two INTs
Others to watch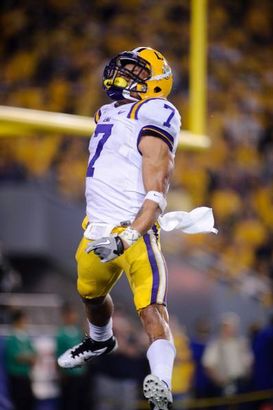 ICONTyrann Mathieu is the Honey Badger.
Tyrann Mathieu, CB/PR, LSU: Since 1950, only one non-quarterback, running back or wide receiver won the Heisman Trophy — Michigan's Charles Woodson in 1998. Could Mathieu break through this season? The sophomore has incredible playmaking ability, and he's already broken LSU's career record for forced fumbles just 18 games into his time on campus.
Tajh Boyd, QB, Clemson: As long as the dual-threat signal-caller's hip injury allows him to play pain-free, he can remain in this race because of the way he is operating in coordinator Chad Morris' offense.
Marcus Lattimore, RB, South Carolina: Lattimore will remain in this race because he is an integral part of the South Carolina offense, but he can't afford any more "off" games and the Gamecocks must continue to win football games.
Geno Smith, QB, West Virginia: Smith could remain in the mix if he leads the Mountaineers to a Big East title.
Justin Blackmon, WR, Oklahoma State: Last season's Biletnikoff Award winner remains in this race because of the prolific offense he is a part of in Stillwater.
Email dave.miller@nationalfootballpost.com or follow me on Twitter at Miller_Dave