October 04, 2011 -
Barry Dorey
NFP Heisman Watch
Compiling the weekly NFP Top 25 is difficult enough, but breaking down the early season Heisman Trophy race is giving that challenge a run for its money as it seemingly gets closer and closer as the weeks get knocked off the calendar.
But a few candidates are starting to separate themselves from the pack.
As I mentioned before, the early season NFP Heisman Watch is a more expansive compilation of some of the most eligible contenders. The list will dwindle as we make our way through the season, and around mid-October or so I will cut it down to the Top 5 favorites.
Here are the early contenders entering Week 6: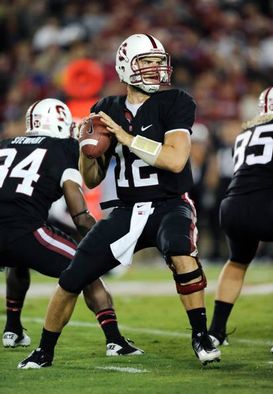 ICONStanford's Andrew Luck goes under the radar but remains consistent from week to week.
Andrew Luck, QB, Stanford: The prohibitive Heisman favorite threw for 227 yards and three touchdowns as he led the Cardinal past UCLA 45-19 this past weekend. Most impressive, however, was an acrobatic one-handed catch that the athletic signal-caller made along the far sideline. The quarterback tiptoed the sideline with his left foot for a 13-yard reception and at least has another Heisman moment to his resume, as unconventional as it may have been. He completed 23 of 27 passes as Stanford extended the nation's longest winning streak to 12 games. He is now 24-5 as a starter and needs only one more win to become the winningest quarterback in school history. He'll get his chance to have an even brighter spotlight when the Cardinal face Oregon and Notre Dame.
Russell Wilson, QB, Wisconsin: Wilson vaulted up my list after the former three-year starter at N.C. State had another huge game for the Badgers on a national stage. The dual-threat signal-caller threw for two touchdowns and ran for another as the Badgers walloped visiting Nebraska 48-17. His ability to make plays on the run both with his arm and his feet make Paul Chryst's offense virtually unstoppable. He went 14 of 20 through the air for 255 yards against the Cornhuskers, with scoring passes of 36 yards to Jared Abbrederis and 46 yards to Nick Toon. He also added 32 yards on the ground, including his score on a first-and-goal at the 10 in which he made the defense look silly after a play fake. We needed to see Wilson against better competition, and he passed the test.
Kellen Moore, QB, Boise State: Moore didn't have his usual accuracy Saturday in Boise State's 30-10 win over Nevada, but he was donning a knee brace for the second straight week and he didn't have great help from his receivers. Still, he only finished 19 of 33 for 142 yards — a career low — with two interceptions before wearing the visor in the fourth quarter. His two touchdown passes gave him 113 in his career, which moved him past Colt McCoy for eighth best all-time. Most importantly, the Broncos remained unbeaten despite Moore showing that he's actually human.
Robert Griffin III, QB, Baylor: RGIII put on another aerial show Saturday against Kansas State. Unfortunately for Baylor, it wasn't enough. And Griffin's interception — the first one he has tossed all season — helped set up the Wildcats' game-winning field goal as the Bears suffered their first loss of the season. Griffin finished 23 of 31 for 346 yards and five touchdowns, so his key interception can't overshadow another amazing day through the air. As long as the Bears remain competitive, Griffin will remain a household name on the national scene because of his standout performances. But Baylor has to remain relevant in the Big 12 for Griffin to net serious consideration.
Trent Richardson, RB, Alabama: The junior workhorse rushed for a career-high 181 yards and two touchdowns against Florida in a 38-10 beatdown in The Swamp. The tough-nosed runner showed his power throughout the night, breaking numerous tackles in his return to his home state. He finished with his fourth consecutive 100-yard game and will continue to put up numbers because he is a huge part of Alabama's offensive identity, and he is positioned as the best non-QB in this race.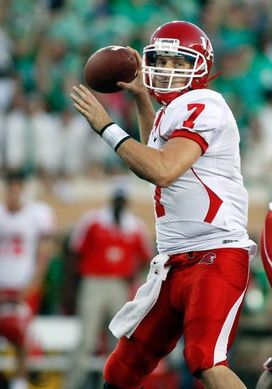 ICONHouston's Case Keenum is healthy and off to a 5-0 start with the Cougars.
Case Keenum, QB, Houston: Keenum is enjoying life in the Houston offense once again after putting last year's knee injury well behind him. He threw for 471 yards and two touchdowns in Houston's 49-42 victory over UTEP last Thursday night, completing 30 of 46 passes as the Cougars moved to 5-0. His 489 yards of total offense moved him within 421 yards of the NCAA career record of 16,910 set by Hawaii's Timmy Chang, and he is tied with former BYU star Ty Detmer for third place in NCAA history with 121 career touchdown passes. Houston may not play much defense, but Keenum is a legit Heisman contender in Kevin Sumlin's offense.
Others to watch
LaMichael James, RB, Oregon: James, a Heisman Trophy finalist last season, enjoyed Oregon's bye week after the junior had a school-record 288 yards on the ground and broke the Oregon mark for career rushing touchdowns with two scores in a win over Arizona in their Pac-12 opener two weeks ago. James will continue to put up huge numbers, and the Ducks host Cal on Thursday in another prime time national showdown.
Tyrann Mathieu, CB/PR, LSU: Since 1950, only one non-quarterback, running back or wide receiver won the Heisman Trophy — Michigan's Charles Woodson in 1998. Could Mathieu break through this season? The sophomore has incredible playmaking ability, and he's already broken LSU's career record for forced fumbles just 18 games into his time on campus. Against Kentucky this past weekend, he recorded five tackles, two forced fumbles (one of which was returned for a 23-yard score), a sack and two punt returns for 30 yards. On the season he has 35 tackles (4.5 for loss), 1.5 sacks, four forced fumbles (two returned for touchdowns), an interception and four pass break-ups. Don't let his small frame fool you because you'll get burned if you do so.
Tajh Boyd, QB, Clemson: Dabo Swinney's squad is the talk of the nation, and Boyd is a big reason for Clemson's 5-0 start. The dual-threat signal-caller's numbers weren't great this past week against Virginia Tech, but his efforts against Auburn and Florida State were outstanding, and the Tigers remain a dangerous ACC squad. While he only threw for 204 yards on 13 of 32 passing, he converted key third downs against a tough Hokies defense. He had a touchdown and an interception and now has 14 scores against just two picks on the year.
Marcus Lattimore, RB, South Carolina: Lattimore, the SEC's leading rusher, was shut down by Auburn in South Carolina's 16-13 loss this past weekend. He logged just 66 yards on a season-low 17 rushes, and he had a fumble as well. It's difficult, however, for any running back to carry a team on his back when the quarterback play has been subpar. Lattimore will remain in this race because he is an integral part of this offense, but he can't afford any more "off" games and the Gamecocks must get back to their wi nning ways.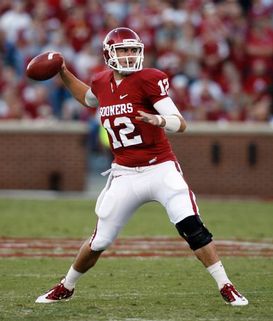 ICONOU's Landry Jones threw for 425 yards and five touchdowns against Ball State.
Landry Jones, QB, Oklahoma: Jones threw for 425 yards and five touchdowns — including scores of 64 yards to Ryan Broyles and 56 yards to Jaz Reynolds — as OU crushed Ball State 62-6. He was 23 of 33 through the air along with an interception. With the Sooners' BCS national championship game aspirations intact, Jones has a shot at the Heisman hardware.
Denard Robinson, QB, Michigan: The dual-threat signal-caller threw for two scores and ran for another on a season-low six carries to lead Michigan to a 58-0 win over Minnesota. "Shoelace" went 15 of 19 through the air for 169 yards and did not throw an interception for the first time since the season opener. No matter if he's doing it with his arm or his legs, the guy's simply a playmaker and one of the most valuable players in the country.
Justin Blackmon, WR, Oklahoma State: Blackmon and the Pokes were off this past week and are preparing to host Kansas on Saturday. Last season's Biletnikoff Award winner remains in this race because of the prolific offense he is a part of in Stillwater and his propensity for recording 100-yard games and finding the end zone.
Geno Smith, QB, West Virginia: Smith and the Mountaineers bounced back from their loss to LSU, as the junior signal-caller threw three touchdowns and completed 18 of 30 passes for 238 yards in their 55-10 win over Bowling Green. He was replaced by backup Paul Millard early in the fourth quarter, and he could still be in the mix if he can lead the Mountaineers to a Big East title.
Email dave.miller@nationalfootballpost.com or follow me on Twitter at Miller_Dave