September 20, 2011 -
Dave Miller
NFP Heisman Watch
I thought compiling a Top 25 each week was difficult. The only thing trickier could be monitoring a Heisman Trophy race that seemingly gets closer and closer as the weeks get knocked off the calendar.
As I mentioned the first few weeks, the early season NFP Heisman Watch will be a more expansive compilation of some of the most eligible contenders. As I did last year, the list will dwindle as we make our way through the season. And around mid-October or so, the list will get cut to the Top 5 favorites.
Here are the early contenders entering Week 4:
Andrew Luck, QB, Stanford: The prohibitive Heisman favorite had yet another stellar game this past weekend against Arizona, throwing for 325 yards and two second-half touchdowns as the Cardinal pulled away for a 37-10 victory in the team's Pac-12 opener. Luck improved to 23-5 as a starter and needs only two more wins to become the winningest quarterback in school history. The only possible factor working against him is the late starts for Stanford games. He'll get a chance to have the spotlight, though, when the Cardinal faces Oregon and Notre Dame.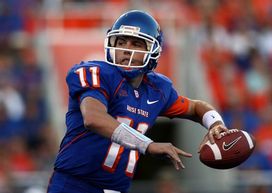 Did Kellen Moore have his best game as Boise State's QB in the win over Toledo?
Kellen Moore, QB, Boise State: Moore took advantage of yet another nationally televised game on Friday night against Toledo to put together arguably the best game of his career. The nation's top-rated passer last season threw for 455 yards and five touchdowns, connecting on 32 of 42 passes. He set a career high in completions and tied a career high in passing touchdowns, and he now has thrown 107 career touchdowns. The best in the college game — including Luck.
Marcus Lattimore, RB, South Carolina: Who knew the Gamecocks would need to rely so much on the bruising sophomore running back against Navy? But Steve Spurrier's squad was able to pull out the win over the Midshipmen because of Lattimore's career-high 246 yards on 37 carries — an average of 6.6 yards a run. In the second half of the contest, Lattimore touched the ball on 26 of South Carolina's 37 offensive plays, and he was three carries away from tying his career high. Oh, and he recorded all three touchdowns on the ground for the Gamecocks. Because of his effort this past weekend, he was the Heisman candidate that made the biggest move.
Robert Griffin III, QB, Baylor: The talented Baylor quarterback was 20 of 22 for 247 yards and three touchdowns in Baylor's 48-0 lightning-shortened victory over Stephen F. Austin on Saturday night. The dual-threat also ran for 78 yards in Baylor's first home game as a ranked team since November 1991. As long as the Bears remain competitive, Griffin will remain a household name on the national scene because of his amazing performance in Week 1 against TCU.
Case Keenum, QB, Houston: With his knee injury in the distant past, Keenum is enjoying life in the Houston offense once again. The senior quarterback completed 25 of 40 passes for 351 yards and three touchdowns as he led the Cougars to 28 unanswered points in a huge second-half rally after trailing 34-7 near the end of the third quarter to keep Kevin Sumlin's squad undefeated with a 35-34 win over Louisiana Tech. Not many people saw the comeback—which hurts Keenum's case—but it was unquestionably a Heisman moment. He now has 117 passing touchdowns for his career.
Russell Wilson, QB, Wisconsin: The former three-year starter at NC State continues to move up the board as he continues to roll with his new team. The dual-threat signal-caller led an offense that racked up more than 600 yards in a 49-7 rout of Northern Illinois at Chicago's Soldier Field. Wilson threw for 347 yards and three scores on 23 of 32 passing, and it doesn't look like he is going to slow down in Paul Chryst's offense.
Trent Richardson, RB, Alabama: The junior workhorse had a career-high 167 yards and three touchdowns — including a 58-yarder and a career-long 71-yarder — as the Crimson Tide shut out North Texas. He now has found the end zone eight times on the season and will continue to put up numbers because he is a huge part of Alabama's offensive identity.
Others to watch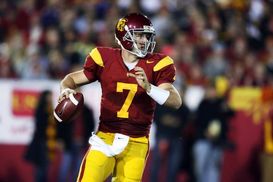 ICONQB Matt Barkley and the Trojans offense finally started to click last week against Syracuse.
Matt Barkley, QB, USC: Barkley finally was able to have a breakout performance with this Trojans offense, passing for 324 yards and a school record-tying five touchdowns to five different receivers in a 38-17 victory over previously unbeaten Syracuse. The junior completed 26 of 39 passes without being intercepted and has thrown nine scoring passes while being picked off just once this year. Barkley clearly is talented, so his numbers could continue to climb if he gets help from his skilled playmakers.
Landry Jones, QB, Oklahoma: Jones has been dogged for his subpar road record in his two seasons as the OU starter, but the Sooner came up big when it mattered this past weekend against Florida State. Despite throwing two interceptions, Jones finished 18 of 27 for 199 yards and became the school's career passing leader, moving past Heisman Trophy winner Sam Bradford. The big play was his 37-yard touchdown pass to Kenny Stills midway through the fourth quarter for the tiebreaking score. OU's BCS national championship game aspirations remain intact, as well as Jones' Heisman hopes.
Justin Blackmon, WR, Oklahoma State: Blackmon shockingly had a slow game in Oklahoma State's win at Tulsa. His streak of consecutive 100-yard receiving games ended at 14 — which was an NCAA record. Last season's Biletnikoff Award winner did have a 4-yard score in the fourth quarter, however, and he ended up with 57 receiving yards.
Geno Smith, QB, West Virginia: Smith threw for a career-high 388 yards and a touchdown as the Mountaineers survived a huge comeback by Maryland to pull out a 37-31 victory. The junior signal-caller, who had 232 yards passing in the first half to help the Mountaineers take a 17-point lead, will face a stiff test against LSU this weekend in Morgantown.
LaMichael James, RB, Oregon: James, a Heisman Trophy finalist last season, ran for 204 yards and three touchdowns on just 12 carries in the Ducks' 56-7 victory over Missouri State. He had a 90-yard dash that was Oregon's longest run since 1938 as the Ducks won their 18th straight at Autzen Stadium. James has 42 career touchdowns, matching the school record set by Derek Loville (1986-89).
Denard Robinson, QB, Michigan: Coming off his video game-like performance against Notre Dame, the dual-threat signal-caller ran for 198 yards and accounted for three touchdowns in Michigan's 31-3 win over Eastern Michigan. He threw for two touchdowns and ran for another while finishing 7 of 18 for 95 yards through the air with an interception. He rushed 26 times for 198 yards. He may not be a polished passer, but the guy's a playmaker, plain and simple.
Email dave.miller@nationalfootballpost.com or follow me on Twitter at Miller_Dave