October 20, 2010 -
Dave Miller
NFP Heisman Watch
Big moments on big stages win players the Heisman Trophy. Ohio State quarterback Terrelle Pryor stumbled last Saturday night in Madison, but Auburn's Cameron Newton certainly did not as the Tigers' signal caller helped propel his team to a shootout win over Arkansas.
As we enter Week 8 of the season, here is how the National Football Post stacks up the top contenders to take home the hardware.
QB Cameron Newton, Auburn: Newton has essentially stepped up to fill the void of Denard Robinson's ridiculousness. The 6-6, 250-pounder is running Gus Malzahn's offense at Auburn with such ease that you almost expect him to find the end zone at least four times a game — at the very least. The junior-college transfer ran for 188 yards and three touchdowns and passed for 140 more yards and one score as the Tigers outlasted Arkansas in a wild SEC showdown last week. Newton has more impact on a game than perhaps any other player in the nation. He has scored 25 touchdowns (13 passing and 12 rushing) on the year and put Auburn on his back numerous occasions. As long as he is under center, the Tigers keep getting it done.
Last week: 10/14, 140 yards, 1 TD and 0 INTs. 25 rushes for 188 yards and 3 TDs
Season: 80/122, 1,278 yards, 13 TDs and 5 INTs. 129 rushes for 860 yards and 12 TDs
Next game: vs. LSU Saturday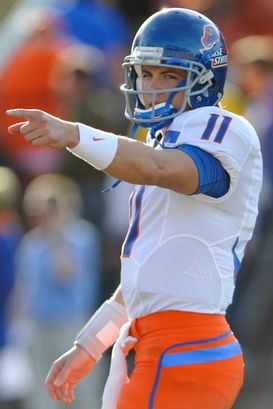 ICONWill getting pulled out of games early hurt Kellen Moore's case?
QB Kellen Moore, Boise State: Moore had as many incompletions — two — as touchdown passes as the Broncos shut out San Jose State 48-0 last Saturday. The 6-foot, 187-pounder finished 14 of 16 through the air for 231 yards before donning a baseball cap and a headset in the second half and enjoying the latest blowout for the Broncos. Because Boise may enjoy similar easy contests, Moore's numbers won't match those of Newton's. But it's clear that the junior is the best player on possibly the best team in the nation. He is now 32-1 as the Broncos' starting signal caller and has a touchdown-to-interception ratio of 16-to-1 and a completion percentage of 69.5 percent. Style points shouldn't be expected of Moore or Boise, but that's the state of the game we are in. His next game will be on national television, but it will be against Louisiana Tech.
Last week: 14/16, 231 yards, 2 TDs and 0 INTs
Season: 105/151, 1,567 yards, 16 TDs and 1 INT
Next game: vs. Louisiana Tech Tuesday, Oct. 26
RB LaMichael James, Oregon: James and the Ducks were off last week, but that did nothing to affect the running back's status on this list. The 5-9, 185-pounder leads the nation in rushing at 169.6 yards per game and has found the end zone 10 times. He plays on a team that will consistently move the chains and score points, so the numbers will be there at the end of the year. The sophomore is also a threat out of the backfield in the passing game. He's a workhorse and a big play waiting to happen, and he is poised to stay in this race all season long.
Last week: IDLE
Season: 114 rushes for 848 yards and 9 TDs
Next game: vs. UCLA Thursday
RB DeMarco Murray, Oklahoma: Murray passed 1969 Heisman Trophy winner Steve Owens for the most touchdowns in Oklahoma history this past Saturday when he scored three times against Iowa State, giving him 58 for his career. It's a scary thought when you consider that the senior battled injuries his entire career. But that's just how talented of a back he is, and he has center stage now that the Sooners are the No. 1 team in the BCS standings. The 6-1, 207-pounder will likely not finish the season with the best stats at the position, but all he does is score touchdowns and win games. As long as the Sooners remain unscathed, Murray will continue to be in the spotlight because he is their ground game. He has a showcase game this week at Missouri — a very tough defensive squad — but he can make a Heisman statement with a big game.
Last week: 20 rushes for 112 yards and 2 TDs. 2 catches for 28 yards and 1 TD.
Season: 150 rushes for 663 yards and 11 TDs. 22 catches for 170 yards and 2 TDs.
Next game: at Missouri Saturday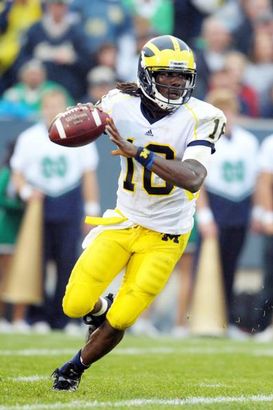 ICONDenard Robinson and the Wolverines now have two losses on the year.
QB Denard Robinson, Michigan: Robinson has had a tough past couple of weeks. After his three-interception game against Michigan State, the 6-foot, 193-pounder was knocked out of a game once again this past week during the third quarter against Iowa, aggravating a shoulder injury that bothered him the previous week. The sophomore managed to run for 105 yards against a very tough run defense and did toss a touchdown — but he also threw a bad pick. Because he has already passed for 1,000 yards and rushed for 1,000 yards, he can still put the Wolverines on his back in any game. The problem is that there are likely more losses in the team's future. He has a bye week to get healthy before playing Penn State, and he'll need to be the show-stopping "Shoelace" to have a chance.
Last week: 13/18, 96 yards, 1 TD and 1 INT. 18 rushes for 105 yards and 0 TDs
Season: 97/143, 1,319 yards, 9 TDs and 5 INT. 137 rushes for 1,096 yards and 9 TDs
Next game: IDLE
These quarterbacks are still in the race: Stanford's Andrew Luck makes his first appearance of the season in the NFP Heisman Watch. I've been tracking him throughout the season, and it's clear that he is the best pro prospect in the country from the quarterback position. He didn't look outstanding against Notre Dame and he suffered the road loss to Oregon, but Stanford is a talented football team that is still in contention for a Pac-10 championship. Luck has 16 touchdown passes against just 4 interceptions on the season and is completing 65.7 percent of his passes. He could still make a move up the board…Meanwhile, Ohio State's Terrelle Pryor moves down the board this week after the Buckeyes' loss to Wisconsin in Madison. As mentioned throughout the season, that was the first of two games I was worried about for Pryor — Iowa on the road is the other. The dual-threat signal caller tends to revert to his bad throwing habits a little too often, but he will always have his rushing skills in his back pocket for broken plays. If the 6-6, 233-pounder can put up some strong games — including in a big spot in Iowa City — he will be invited to New York.
Note: Oklahoma State sophomore wide receiver Justin Blackmon is putting up ridiculous numbers, which will occur in a system like Dana Holgorsen's Air Raid offense. But if Blackmon is able to put up a respectable game against Nebraska cornerback Prince Amukamara this week, he makes my list for sure.
Follow me on Twitter at Miller_Dave or send your college football questions to dave.miller@nationalfootballpost.com
Want to work in the NFL? Click here to register for the NFP's &ldquo ;Chalk Talk" seminar in Chicago this Friday.