December 03, 2011 -
Barry Dorey
NFP Heisman Watch
With the exception of the annual Army-Navy game next Saturday, this is the final weekend of the regular season in college football. And that means the Heisman Trophy race has reached its final stage.
This has been one of the best Heisman races in recent memory, with a different name seemingly leading the race each week.
With all of the coaching news this past week, I was unable to post my list on Tuesday after the Week 13 games, so before the games start today I wanted to publish my second-to-last list of the season.
Which star players have the edge for the hardware after thirteen weeks of the season?
Here are the names to monitor as we enter Week 14:
Andrew Luck, QB, Stanford: The prohibitive Heisman favorite had the benefit of playing Notre Dame in his team's regular season finale — and playing the Irish still helps a candidate's cause. The junior signal-caller set the school record for the most career touchdown passes and eclipsed his own single-season mark, throwing for 233 yards and four scores in a 28-14 win. He topped John Elway's record of 77 career touchdown passes and finished the 2011 regular season with 35. He went 20 of 30 through the air and threw one pick. He's essentially playing with tight ends as his best pass-catching options, so we can only wonder how Luck would fare with receivers such as USC's Robert Woods and Marqise Lee.
2011: 3,170 yards, 70.0 %, 35 TDs and 9 INTs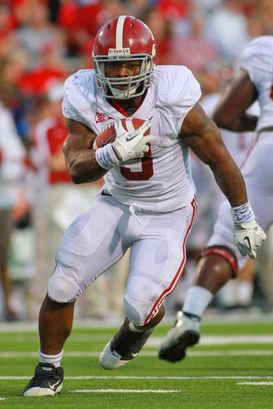 ICONTrent Richardson stated his case with a career day against Auburn.
Trent Richardson, RB, Alabama: The junior workhorse helped carry Alabama past in-state rival Auburn in the Iron Bowl, rushing for a career-high 203 yards in the 42-14 victory. He carried the ball 27 times, had runs of 35 and 57 yards to set up second-half scores, and he caught a 5-yard touchdown pass in a complete performance against the Tigers. He's proved his value to this Crimson Tide offense all season, proving time and again that he is the center of Alabama's offense. His rare combination of power and speed has helped 'Bama whenever it had problems moving the football, and the tough-nosed runner has closed the gap on Luck each week.
2011: 263 rushes for 1,583 yards and 20 TDs; 27 receptions for 327 yards and 3 TDs
Case Keenum, QB, Houston: This fall, Keenum has become the FBS career leader in total offense, the all-time FBS leader in touchdown passes, the major college football career leader in passing yards and the FBS career record-holder for completions. Last week against Tulsa, he set the FBS record for most career games throwing for 300-plus yards, as he passed for 457 yards and five touchdowns in Houston's 48-16 win. The Cougars are positioned to earn their first-ever BCS bid, needing a win in the C-USA title game over Southern Miss, and the sixth-year senior Keenum is unquestionably a legitimate Heisman contender in this offense, which has produced six 400-plus-yard efforts from the signal-caller this fall.
2011: 4,726 yards, 73.2 %, 43 TDs and 3 INTs
Robert Griffin III, QB, Baylor: Griffin III may have taken a slight hit in the Heisman race because he was knocked out of last week's win over Texas Tech with an apparent concussion late in the first half. However, before he was injured, the junior dual-threat accounted for three touchdowns — two on the ground and one through the air — as he completed 7 of 11 passes for 106 yards and ran the ball 14 times for 62 yards. RG III has played outstanding all season long, and his play has never been the reason the Bears lost a game.
2011: 3,678 yards, 72.6 %, 34 TDs and 5 INTs; 149 rushes for 612 yards and 7 TDs
Matt Barkley, QB, USC: If Matt Barkley played in his last USC-UCLA game, he certainly went out in style. The junior threw six touchdown passes and passed for 423 yards in a 50-0 laugher over the Bruins. Barkley's season is done, so he doesn't have an opportunity to win over voters this weekend. But he certainly is deserving of a spot in New York. He wasn't the reason that 'SC lost to Stanford, and his only "off" game was the road loss at Arizona State. While the Trojans aren't going to the postseason because of NCAA sanctions, Barkley led a BCS-level squad this fall.
2011: 3,528 yards, 69.1 %, 39 TDs and 7 INTs
Just missing the cut
Montee Ball, RB, Wisconsin
2011: 248 rushes for 1,622 yards and 29 TDs; 17 receptions for 248 yards and 5 TDs
Kellen Moore, QB, Boise State
2011: 3,194 yards, 73.1 %, 38 TDs and 7 INTs
David Wilson, RB, Virginia Tech
2011: 255 rushes for 1,595 yards and 9 TDs; 18 receptions for 112 yards and 1 TD
Email dave.miller@nationalfootballpost.com or follow me on Twitter at Miller_Dave