October 06, 2010 -
Dave Miller
NFP Heisman Watch
As we enter the second weekend of October (how crazy is that?), the Heisman race is shaping up to be a real dandy. Here is how the National Football Post stacks up the top contenders to take home the hardware.
QB Denard Robinson, Michigan: At some point, you just admit that Denard Robinson is the best player in college football. While I still think Michigan's defense costs the Wolverines a few games and Robinson does slow down a bit as we get deeper into conference action, the fact of the matter is that he jumps Boise State quarterback Kellen Moore in my rankings — for now. Against Indiana last week, the 6-foot, 193-pounder looked as if he never even bruised his left knee against Bowling Green the previous game. Robinson torched the Hoosiers for 217 yards and two touchdowns on the ground and 277 yards and three scores through the air — including a 42-yard pass with 21 seconds left to set up his own 4-yard scoring run to lift the Wolverines to victory. These shootouts are giving Robinson the opportunity to put up big numbers, and he's certainly taking advantage. I'm a believer now. But I still worry about the wear and tear — he left briefly in the third quarter after hurting the knee again.
Last week: 10/16, 277 yards, 3 TDs and 0 INTs. 19 rushes for 217 yards and 2 TDs
Season: 67/96, 1,008 yards, 7 TDs and 1 INT. 98 rushes for 905 yards and 8 TDs
Next game: vs. Michigan State Saturday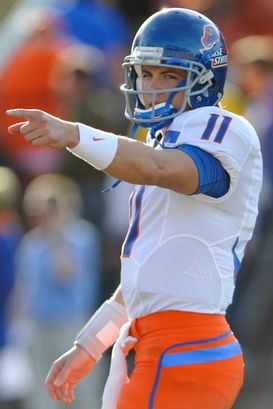 ICONKellen Moore tossed three more TDs last week against New Mexico State.
QB Kellen Moore, Boise State: I was hesitant to drop Moore behind Robinson because I think at the end of the year Moore will have a stronger case (I know it sounds crazy to state that at this point), but Moore has to play second fiddle at least for now because of what Robinson is doing on a weekly basis. Last week against New Mexico State, Moore completed 13 of 18 passes for 196 yards and three touchdowns, including two scoring tosses to tight end Kyle Efaw. He then headed for the sideline after the opening scoring drive of the second half. The 6-foot, 187-pound junior helped extend Boise's winning streak to 18 and now has an 11-to-1 touchdown-to-interception ratio on the season. Boise won't play another ranked opponent until November, so Moore will be expected to rack up big numbers. The Broncos signal caller is now 30-1 as a starter, and the Broncos schedule should no longer matter. Moore and his teammates certainly pass the eye test when evaluating their talent.
Last week: 13/18, 196 yards, 3 TDs and 0 INTs
Season: 75/113, 1,069 yards, 11 TDs and 1 INT
Next game: vs. Toledo Saturday
QB Terrelle Pryor, Ohio State: Pryor was temporarily knocked out of the game against Illinois this past week with an injury to his left quadriceps, but he returned to lead the Buckeyes on two key drives that helped deliver a victory over the Illini. While the dual-threat signal caller mostly handed the ball off to Dan Herron and relied on his defense the rest of the way, the most important thing for Pryor is that the injury isn't serious. The 6-6, 233-pounder rushed for 104 yards on the ground — including a 66-yard burst — and threw for two scores, and he should be able to rack up big numbers this week against the same Indiana defense that couldn't stop Denard Robinson and Michigan last week. I'm still eager to see Pryor in road environments at Wisconsin and Iowa.
Last week: 9/16, 76 yards, 2 TDs and 1 INT. 11 rushes for 104 yards and 0 TDs
Season: 80/123, 1,015 yards, 12 TDs and 3 INTs. 54 rushes for 373 yards and 3 TDs
Next game: vs. Indiana Saturday
RB LaMichael James, Oregon: What a way to insert yourself squarely into the Heisman conversation. James was a workhorse and a big-play producer against Stanford last week as Oregon battled back from a big early deficit. He rushed for a career-high 257 yards and three touchdowns against the Cardinal — including a 76-yard score in the waning minutes of the fourth quarter. The sophomore didn't have a single rush for no gain or negative yards, which is amazing considering he carried the rock 31 times. The 5-9, 185-pounder missed the first game of the season due to suspension, but he has not missed a beat since his incredible freshman campaign. He will stay in this crowded race all season long.
Last week: 31 rushes for 257 yards and 3 TDs
Season: 89 rushes for 712 yards and 7 TDs
Next game: at Washington State Saturday
RB DeMarco Murray, Oklahoma: Murray likely won't have the best statistics from the running back position at the end of the season. But all he does is score touchdowns — and win games. In the Red River Rivalry last week against Texas, the 6-1, 207-pounder finished with 115 yards and two touchdowns — including scores from 19 and 20 yards out — on 25 carries. As long as the Sooners remain unscathed, Murray will continue to be in the spotlight because he will be fed the rock. The senior is idle this week, but he'll have plenty of chances to have a Heisman moment.
Last week: 25 rushes for 115 yards and 2 TDs. 4 catches for 31 yards and 0 TDs.
Season: 130 rushes for 551 yards and 9 TDs. 20 catches for 142 yards and 1 TD.
Next game: IDLE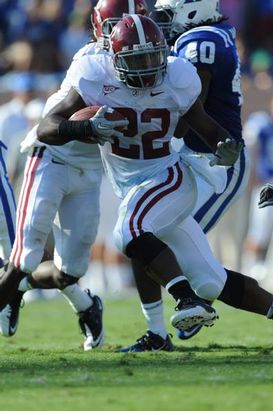 ICONMark Ingram found the end zone twice against Florida.
RB Mark Ingram, Alabama: Ingram didn't put up huge numbers against Florida last weekend, but it wasn't necessary as the Crimson Tide struck early and often against the Gators. Still, Ingram scored two touchdowns and ran for 47 yards on just 12 carries to help set the tone and he will continue to be in the spotlight as the Tide remained unbeaten. The reigning award winner continues to run with authority, and as long as he stays healthy he will be leaned upon by head coach Nick Saban. I've stressed that Ingram will be held to a higher standard after taking home the hardware last season, but he actually may be helped by the fact that he has looked so good despite missing the first two weeks of the season. Another big contest is on tap when 'Bama heads to South Carolina this week.
Last week: 12 rushes for 47 yards and 2 TDs
Season: 45 rushes for 355 yards and 6 TDs
Next game: at South Carolina Saturday
CB/KR Patrick Peterson, LSU: After having the Heisman moment of 2010 against West Virginia — he struck the pose after a touchdown return — Peterson had a quiet week against Tennessee. But that's how the junior's season is going to be because teams are petrified to throw his way. Because he often takes away one side of the field, his name is typically only mentioned on broadcasts when he breaks off a long return on special teams. Peterson leads the SEC with a 23.6 yards per punt return average and has broken two for scores this season. It would certainly help the 6-1, 222-pounder's chances if he played a little offense — something Tigers coaches have hinted in the past. But he still is a legitimate candidate because he's one of the best players in America.
Last week: 0 INTs, 4 total tackles (1 solo), 94 return yards and 0 TDs
Season: 2 INTs, 15 total tackles (10 solo), 537 return yards and 2 TDs, blocked FG
Next game: at Florida Saturday
Note: Auburn fans, don't fret. Quarterback Cameron Newton is on the watch list, but he just misses the final cut this week.
Follow me on Twitter at Miller_Dave or send your college football questions to dave.miller@nationalfootballpost.com
Want to work in the NFL? Click here to register for the NFP's "Chalk Talk" seminar in Chicago on October 22nd.