December 01, 2010 -
Dave Miller
NFP Heisman Watch
As we get ready for the final week of the regular season, here is how the National Football Post stacks up the top contenders to take home the Heisman Trophy.
QB Cam Newton, Auburn: If you watched the first half of the Iron Bowl last Friday afternoon, you were likely wondering whether Newton was letting the award slip through his hands. Au contraire. Trailing 24-0 in the second quarter, Newton showed why he has been the frontrunner to take home the Heisman hardware for many weeks. The 6-6, 250-pound signal caller led the Tigers to their largest comeback win with his arm, going 13-of-20 for 216 yards and three touchdowns. The questions about his passing ability? Let's just say those were answered. The dual-threat quarterback has simply been the best player in the nation week in and week out. Even with an extra week to prepare, it doesn't look like the Head Ball Coach and the Gamecocks will be able to stop him in the SEC championship game this Saturday. Newton leads the SEC with 1,336 rushing yards and could become just the second player in NCAA history to rush for 20 touchdowns and pass for 20 touchdowns in the same season.
Last week: 13/20, 216 yards, 3 TDs and 0 INTs. 22 rushes for 39 yards and 1 TD
Season: 148/218, 2,254 yards, 24 TDs and 6 INTs. 228 rushes for 1,336 yards and 18 TDs
Next game: vs. South Carolina (at Georgia Dome)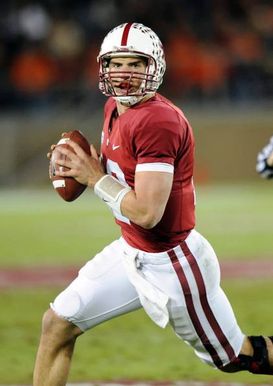 ICONQB Andrew Luck broke John Elway and Steve Stenstrom's Stanford record of 27 touchdown passes in a season.
QB Andrew Luck, Stanford: Luck tossed four touchdowns to set a single-season school record as Stanford shut out Oregon State 38-0 last week. The 6-4, 235-pound signal caller broke John Elway and Steve Stenstrom's record of 27 scores in a season when he found Tyler Gaffney on a 52-yard strike on the opening play of the fourth quarter. He finished 21-of-30 for 305 yards and once again made consistently leading an offense down the field look easy. The most NFL-ready quarterback in the nation, who has also rushed for 438 yards and three scores, will certainly be headed to New York for the Heisman festivities.
Last week: 21/30, 305 yards, 4 TDs and 0 INT
Season: 245/349, 3,045 yards, 28 TDs and 7 INTs
Next game: Regular season over
RB LaMichael James, Oregon: James rushed 28 times for 126 yards with two touchdowns in the Ducks' win over Arizona last week while still battling what looked to be a bum left ankle. He also caught three passes for 20 yards and surpassed LeGarrette Blount's school record for rushing touchdowns by scoring his 18th and 19th on the season. The 5-9, 185-pounder leads the nation with 154.8 rushing yards per game and his 19 rushing scores rank second. In most circles, the sophomore seems to be a clear-cut No. 2 in the Heisman voting. He'll have a chance this weekend against Oregon State in the Civil War to make one final impression, but it looks like this is Newton's to lose — and that likely won't happen.
Last week: 28 rushes for 126 yards and 2 TDs
Season: 253 rushes for 1,548 yards and 19 TDs
Next game: at Oregon State Saturday
QB Kellen Moore, Boise State: Despite the 34-31 overtime loss to Nevada last Friday night and the struggles he endured in the second half, Moore is deserving of an invite to New York. You only need to look at his clutch 53-yard toss to Titus Young on the first play from scrimmage after the Wolf Pack tied the game with 13 seconds left to know that he's still one of the best quarterbacks in the nation. Despite falling short, Moore and the Broncos raced out to a 24-7 halftime lead before the 6-foot, 187-pounder struggled with his accuracy. Still, the junior finished 21-of-30 for 348 yards and a touchdown, and he has thrown 30 scores to just five interceptions on the year. One game — albeit the biggest one of the year — doesn't damage his candidacy.
Last week: 20/31, 348 yards, 2 TDs and 0 INTs
Season: 221/311, 3,269 yards, 30 TDs and 5 INTs
Next game: vs. Utah State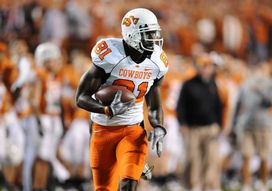 ICONOklahoma State WR Justin Blackmon leads the nation with 1,665 receiving yards and 18 touchdowns.
WR Justin Blackmon, Oklahoma State: Blackmon has been on my radar all season long, but I withheld him because of the DUI arrest earlier in the season. And the Heisman, despite strong argument to the contrary, is just not about on-the-field performance. But these are college kids, and everyone makes mistakes. By scoring a late touchdown last week against Oklahoma, the 6-1, 207-pound sophomore stretched his streak of games with at least 100 yards receiving and a touchdown to 11 — tying a national record. He had the best offensive season in the Big 12 — excluding quarterbacks — and he leads the nation with 1,665 receiving yards and 18 touchdowns despite missing a game. He should be in New York for the Heisman festivities.
Last week: 8 receptions for 105 yards and 1 TD
Season: 102 receptions for 1,665 yards and 18 TDs
Next game: Regular season over
Email dave.miller@nationalfootballpost.com or follow me on Twitter at Miller_Dave