November 17, 2010 -
Dave Miller
NFP Heisman Watch
Cam Newton is still eligible at Auburn — for now — and the Tigers continued to roll as they clinched the SEC West with their win over Georgia last Saturday. Meanwhile, Oregon's LaMichael James couldn't find much room to run against an inspired Cal defense in the Ducks' squeaker on the road. And out west in Boise, Kellen Moore continued to lead the Broncos' charge.
As we get ready for this weekend's contests, here is how the National Football Post stacks up the top contenders to take home the Heisman Trophy.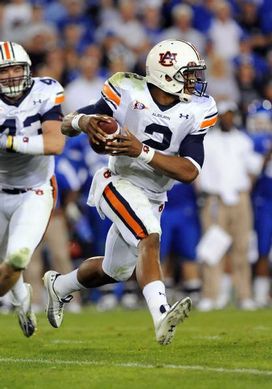 ICONAuburn QB Cam Newton leads the SEC in rushing and passing efficiency.
QB Cam Newton, Auburn: If he's on the field, there's no one better in the nation than Newton. While I still think that there's plenty of thick smoke billowing around Newton as the NCAA investigation continues into his recruitment out of junior college, he remains the frontrunner for the Heisman hardware. Last week in the Tigers' SEC West-clinching victory over Georgia, the 6-6, 250-pounder passed for two touchdowns and ran for two more to help Auburn clinch a trip to the Georgia Dome as the Tigers continue their journey toward playing for the national title. The dual-threat signal caller leads the SEC in rushing and passing efficiency, has been responsible for 39 touchdowns in 11 games and once again showed that the Tigers would be nowhere near national title contention without him. He also became the first player in SEC history to pass for 2,000 yards and rush for 1,000 yards in a season. As long as he remains under center for the Tigers, he is the man to beat. It's just a shame that the NCAA probe will continue to loom over Newton and the Auburn program.
Last week: 12/15, 148 yards, 2 TDs and 1 INT. 30 rushes for 151 yards and 2 TDs.
Season: 135/198, 2,038 yards, 21 TDs and 6 INTs. 206 rushes for 1,297 yards and 17 TDs
Next game: at Alabama, Friday Nov. 26
QB Kellen Moore, Boise State: Moore remains in the No. 2 spot this week after his 19-of-26, 216-yard and 3 touchdown performance in the Broncos' 52-14 thrashing of rival Idaho. A week after throwing for a career-best 507 yards in just three quarters against Hawaii, the 6-foot, 187-pounder gave the Broncos a 52-7 lead midway through the third quarter after his final scoring pass, and he wore an orange baseball cap the rest of the way. The junior has thrown 88 touchdowns for his career against just 17 interceptions and the Broncos extended their FBS longest winning streak to 23 games and their regular-season streak to 34 games. Moore will be showcased for the second of three straight Friday nationally televised games when the Broncos host Fresno State this week before their big test against Nevada the day after Thanksgiving.
Last week: 19/26, 216 yards, 3 TDs and 0 INTs
Season: 174/242, 2,588 yards, 24 TDs and 4 INTs
Next game: vs. Fresno State Friday
RB LaMichael James, Oregon: James failed to rush for 100 yards for the first time in six games in the two-point win at Cal last week (he had 91 yards), but it didn't help that his offensive line was outplayed by the Golden Bears. He also was hampered by an ankle injury in the second half. The sophomore still leads the country in rushing yards per game at 158 and has found the end zone 18 times in nine games (including a touchdown reception). The 5-9, 185-pounder should be able to bounce back if his ankle heals up, and he should get the opportunity to put up numbers in the Ducks' final two regular-season games against Arizona and Oregon State because he's too talented to have many more subpar games.
Last week: 29 rushes for 91 yards and 0 TDs
Season: 225 rushes for 1,422 yards and 17 TDs
Next game: vs. Arizona, Friday Nov. 26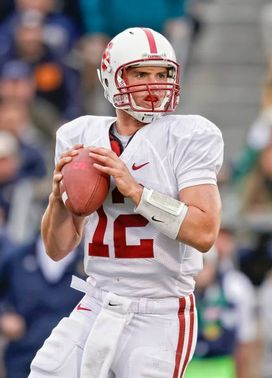 ICONThe most NFL-ready QB in the nation, Stanford's Andrew Luck, should receive an invite to New York.
QB Andrew Luck, Stanford: Luck and the Cardinal ran into a tricky Arizona State defense last weekend, and the 6-4, 235-pound signal caller still managed to throw for 292 yards and lead the team on a long, clutch fourth-quarter scoring drive to help Stanford beat the Sun Devils 17-13. Luck tossed an interception and had a fumble, but he carried an offense that failed to generate any momentum on the ground against the speedy Sun Devils. There's a possibility that Stanford could get shut out of a BCS bowl game even if it wins out — which would be a shame, but it could be the Cardinal's fate. However, the most NFL-ready quarterback in the nation should receive an invite to New York.
Last week: 33/41, 292 yards, 0 TDs and 1 INT.
Season: 208/299, 2,505 yards, 22 TDs and 7 INTs.
Next game: at Cal Saturday
RB Kendall Hunter, Oklahoma State: Hunter makes his first appearance in the Top 5 after his 116-yard, 2-touchdown effort helped Oklahoma State end a 12-year losing streak to Texas with a 33-16 victory last Saturday. It was also the Cowboys' first win in Austin since 1944. Behind Hunter, quarterback Brandon Weeden and wide receiver Justin Blackmon, the Pokes scored 23 straight points in the second quarter to pull away from the Longhorns. The 5-8, 197-pound senior has hit the century mark in eight of his 10 contests — including over 200 yards in one game and 250 in another — and he's had six contests with multiple scores. He's clearly recovered from his injury last season and is a big part of what Oklahoma State does — even with the success of the passing game in Dana Holgorsen's scheme.
Last week: 23 rushes for 116 yards and 2 TDs
Season: 226 rushes for 1,356 yards and 16 TDs
Next game: at Kansas Saturday
Email dave.miller@nationalfootballpost.com or follow me on Twitter at Miller_Dave