September 13, 2011 -
Barry Dorey
NFP Heisman Watch
As I mentioned last week, I will be monitoring the Heisman Trophy Watch at the National Football Post this fall for the second consecutive season.
Because we have just completed two weeks of action, however, the early season NFP Heisman Watch will be a more expansive compilation of some of the most eligible contenders. As I did last year, the list will dwindle as we make our way through the season. And around mid-October or so, the list will get cut to the Top 5 favorites.
Here are the early contenders:
Andrew Luck, QB, Stanford: The prohibitive Heisman favorite matched a career high by throwing four touchdown passes in Stanford's 44-14 rout of Duke on Saturday. He completed 20 of 28 passes for 290 yards to help the Cardinal overcome a sluggish start. Luck improved to 22-5 as a starter and needs only three more wins to become the winningest quarterback in school history.
Kellen Moore, QB, Boise State: Boise State was off this past week, but Moore will get another national televised game this Friday against Toledo to state his case in the Heisman race. In the opener against Georgia, he tossed three touchdown passes as the Broncos chalked up another big season-opening victory. The nation's top-rated passer last season completed 28 of 34 passes for 261 yards, and he now has 102 career touchdown passes.
Robert Griffin III, QB, Baylor: The talented Baylor quarterback had the week off and the Bears will take a step back in competition as they host Stephen F. Austin this Saturday. In a Friday night showcase in Week 1, however, Griffin showed America what many in Waco already knew -- that he's one of the most dynamic players in the nation. He can stay in this race as long as Baylor doesn't start getting blown out and losing games.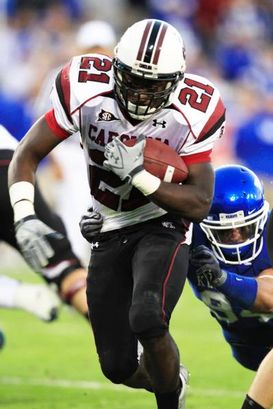 ICONMarcus Lattimore helped South Carolina get an early lead in the SEC East.
Marcus Lattimore, RB, South Carolina: The bruising sophomore running back rushed for 176 yards on 27 carries to help South Carolina win its SEC opener against East foe Georgia. His touchdown from three yards out put the Gamecocks ahead for good at 38-35 with less than four minutes left. As long as Steve Spurrier keeps feeding him the rock, the yards and touchdowns will follow.
Case Keenum, QB, Houston: With his knee injury in the distant past, Keenum threw for 458 yards and five touchdowns -- three in a nine-minute span of the third quarter -- as Houston spoiled North Texas' first game in its new stadium. Keenum went 26 of 41 through the air, and he has already thrown for 768 yards and seven scores in two games this season. He is now fourth on the FBS career list for passing yards at 14,354 and matched Danny Weurffel for sixth with 114 touchdowns. In Kevin Sumlin's offense, Keenum will continue to put up big numbers.
Landry Jones, QB, Oklahoma: Oklahoma had the week off in preparation of its road test Saturday at Tallahassee against Florida State. The Sooners signal-caller went 35 of 47 for 375 yards through the air in the opener to help OU extend the nation's longest home winning streak to 37. He had just one touchdown but was efficient as ever and will be in this race as OU seeks a BCS national championship.
Justin Blackmon, WR, Oklahoma State: Blackmon caught two touchdowns in the Cowboys' easy win over Arizona in a rematch of last year's Alamo Bowl. He recorded his 14th straight 100-plus receiving yard game, recording 128 yards on 12 catches. All he does is rack up numbers, and it's going to continue whenever quarterback Brandon Weeden looks in his direction.
Trent Richardson, RB, Alabama: The junior was a workhorse for the Crimson Tide in their win over Penn State in Happy Valley this past Saturday, logging 26 carries for 111 yards and two touchdowns, including a 13-yarder with 6:14 left in the fourth quarter to ice the game. He found the end zone three times in the team's opener and is a huge part of 'Bama's offense.
Others to watch
Russell Wilson, QB, Wisconsin: The former three-year starter at NC State continued to roll with his new team as he completed 17 of 21 passes for 189 yards and three touchdowns in a win over Oregon State. The dual-threat signal-caller stepped up early when the Beavers grounded the Badgers' usually dominant running game.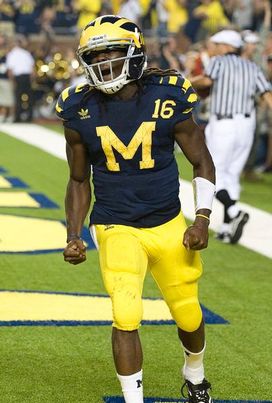 ICONDenard Robinson was clutch when it mattered most against Notre Dame.
Denard Robinson, QB, Michigan: I don't care what kind of offense is being run in Ann Arbor, "Shoelace" is the truth. The dual-threat signal-caller was the face of the game of the year -- and that game against Notre Dame could be the first of many special performances from Robinson in 2011. He had the three interceptions, but he threw for 338 yards on just 11 completions and finished with four touchdowns through the air. He also ran 11 times for 108 yards and a score. The guy's a playmaker, plain and simple.
David Wilson, RB, Virginia Tech: The Hokies relied on their defense and running back David Wilson in their too-close-for-comfort win over East Carolina this past Saturday. Wilson ran for 138 yards on 26 carries to pace the offense as quarterback Logan Thomas struggled in his second start. With a soft schedule, the Hokies can rack up victories -- if Thomas bounces back from his rough outing against the Pirates -- and Wilson can stay in this race.
Vick Ballard, RB, Mississippi State: Ballard rushed 21 times for 135 yards and a touchdown in Mississippi State's loss to Auburn. He added 64 receiving yards on five catches. While the Bulldogs already have a loss, Ballard can make a statement on a national stage Thursday night against LSU.
Geno Smith, QB, West Virginia: Smith threw for 371 yards and four scores as the Mountaineers used a big second half to beat Norfolk State after a rough start. The signal-caller will have nice tests against Maryland and LSU in the next few weeks to rise up the board.
Nick Foles, QB, Arizona: Despite putting up huge numbers, Foles needs to lead his team to a couple of standout victories this season to remain a contender for the Heisman hardware. A week after throwing for 412 yards and five touchdowns in the opener, he completed 37 of 51 passes for 398 yards and a score in the lackluster loss to Oklahoma State.
LaMichael James, RB, Oregon: James may have run for just 67 yards and a touchdown last week, but he also caught a long scoring pass from quarterback Darron Thomas and returned a punt for a score to help the Ducks win their 17th straight at Autzen Stadium. Thomas also can be in this mix, though this offense runs best with the running game as the focal point.
Email dave.miller@nationalfootballpost.com or follow me on Twitter at Miller_Dave