September 29, 2010 -
Dave Miller
NFP Heisman Watch
It's never too early to talk Heisman. Here is how the National Football Post stacks up the top contenders to take home the hardware.
QB Kellen Moore, Boise State: Moore helped lead the Broncos past their toughest remaining test — no disrespect to Nevada or Fresno State — by completing 19 of 27 passes for 288 yards and three touchdowns against Oregon State Saturday night. On a national stage with all the pressure on the Broncos, the 6-foot, 187-pound junior helped extend Boise's winning streak to 17. Moore threw for 235 yards in the first half and now has an 8-to-1 touchdown-to-interception ratio on the season. With Boise likely not playing another ranked opponent until November, Moore will be expected to rack up big numbers. But so far, so good for the Broncos signal caller. All he does is win and toss touchdowns.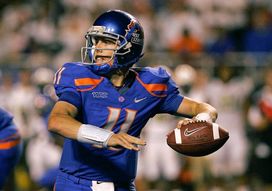 ICONBoise State QB Kellen Moore threw for 288 yards and three TDs against Oregon State last week.
Last week: 19/27, 288 yards, 3 TDs and 0 INTs
Season: 62/95, 873 yards, 8 TDs and 1 INT
Next game: at New Mexico State Saturday
QB Terrelle Pryor, Ohio State: Pryor led a Buckeyes rout of Eastern Michigan by accounting for six touchdowns last week — including a touchdown catch. There's no question that the dual-threat signal caller has feasted on inferior opponents, with the exception being the Miami game. The 6-6, 233-pounder's toughest tests remain road games against Wisconsin and Iowa before the annual tilt with Michigan at the end of the year. He hasn't had his defining Heisman moment yet, but he's squarely in the middle of the conversation.
Last week: 20/26, 224 yards, 4 TDs and 0 INTs. 7 rushes for 104 yards and 1 TD
Season: 71/107, 939 yards, 10 TDs and 2 INTs. 43 rushes for 269 yards and 3 TDs
Next game: at Illinois Saturday
QB Denard Robinson, Michigan: Robinson was injured last week against Bowling Green, so he wasn't able to put up eye-popping numbers. So all the 6-foot, 193-pounder did was rush for 129 yards and two scores in less than a quarter of action. The country's leading rusher is expected to play this week at Indiana and looks like he is primed to continue to put up huge numbers no matter the competition. I still feel that he may not be able to win the award if Michigan's defense doesn't play well in tough Big Ten contests. But then again, he may have a chance to put up even bigger numbers if the Wolverines get involved in shootouts.
Last week: 4/4, 60 yards, 0 TDs and 0 INTs. 5 rushes for 129 yards and 2 TDs
Season: 57/80, 731 yards, 4 TDs and 1 INT. 79 rushes for 688 yards and 6 TDs
Next game: at Indiana Saturday
CB/KR Patrick Peterson, LSU: Peterson had the Heisman moment of 2010 last week against West Virginia — he struck the famous pose to prove it. Certainly against the Mountaineers, the junior showed his worth to the Tigers on a big stage. Peterson blocked a field goal attempt, returned a punt 60 yards for a touchdown and made things very difficult for WVU quarterback Geno Smith by essentially taking away one side of the field. The performance followed his two-interception effort the week before against Mississippi State, and the 6-1, 222-pounder also has his opening performance against North Carolina in his back pocket. Against the Mountaineers, the explosiveness he consistently brings on defense and special teams was once again on display.
Last week: 0 INTs, 1 total tackle (1 solo), 86 return yards and 1 TD, blocked FG
Season: 2 INTs, 11 total tackles (9 solo), 443 return yards and 2 TDs, blocked FG
Next game: vs. Tennessee Saturday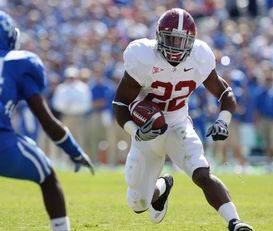 ICONAlabama RB Mark Ingram is right back in the Heisman conversation.
RB Mark Ingram, Alabama: What a way to get back into the Heisman race. The reigning award winner is running with such authority that it's amazing he was even hurt and missed the first two weeks of the season because of a knee injury. But after making up for lost time with a stellar 2010 debut against Duke, the junior racked up 157 yards and two touchdowns in the SEC West showdown last week against Arkansas. As I've mentioned before, Ingram will be held to a higher standard after taking home the hardware last season. But when you're averaging 9.3 yards per carry, you're going to be in good shape. The Crimson Tide get Florida this week, and we all know what happened last year in the SEC championship game.
Last week: 24 rushes for 157 yards and 2 TDs
Season: 33 rushes for 308 yards and 4 TDs
Next game: vs. Florida Saturday
RB DeMarco Murray, Oklahoma: Murray has now had two statistical subpar efforts — against Florida State when he rushed for 51 yards and this past week when he only gained 67 against Cincinnati. However, he did score twice against the Seminoles and found the end zone once against the Bearcats. The Sooners may have played some too-close-for-comfort games, but they remain undefeated. And as long as they remain unscathed, the 6-1, 207-pounder will continue to be in the spotlight. He will continue to be leaned on by head coach Bob Stoops, and the senior has a big opportunity for a Heisman moment this week with the Red River Rivalry taking place against Texas. Murray drops in the rankings for now, but he'll have plenty of opportunities to state his case.
Last week: </strong>28 rushes for 67 yards and 1 TD. 7 catches for 21 yards and 0 TDs.
Season: 105 rushes for 436 yards and 7 TDs. 16 catches for 111 yards and 1 TD.
Next game: vs. Texas Saturday
Dropping out this week: Arkansas QB Ryan Mallett
Note: Stanford QB Andrew Luck certainly is on the cusp of this list, but I want to see how he fares against Oregon this week. He has been impressive overall this season, but I think the defense of the Cardinal has had a lot to do with the team's success — perhaps even more so than Luck.
Follow me on Twitter at Miller_Dave or send your college football questions to dave.miller@nationalfootballpost.com
Click here to win cash today playing fantasy football with the NFP and FanDuel.