October 10, 2013 -
Dave Miller
NFP Heisman Watch
Six weeks of action are in the book, and the race for the Heisman Trophy remains quarterback heavy.
Here is how the National Football Post stacks up its Heisman Watch heading into Week 7.
Oregon QB Marcus Mariota: The dual-threat Ducks signal-caller threw five touchdown passes (two each to Josh Huff and Bralon Addison) and ran for two scores as Mark Helfrich's squad blasted Colorado 57-16 last Saturday. Mariota went 16 of 27 passing for 355 yards in only 2.5 quarters, so he still has yet to play a full game this season. The redshirt sophomore should remain in the spotlight all year long, so a trip to New York is well within Mariota's reach if he continues on this pace. And an undefeated mark could mean a whole lot more.
2013: 76 of 134 passing for 1,358 yards, 14 TDs and 0 INTs; 28 rushes for 338 yards and 7 TDs
Texas A&M QB Johnny Manziel: The defending Heisman Trophy winner had a bye last week, so his Aggies have had extra time to prepare for Ole Miss, which held a 10-point fourth-quarter lead last year in its contest with A&M before Manziel led an Aggies rally. The redshirt sophomore has to contend with Johnny Football fatigue among some voters in all likelihood, but his 562 total yards and five touchdowns against two-time defending BCS national champion Alabama is arguably the best performance from a player all season.
2013: 100 of 140 passing for 1,489 yards, 14 TDs and 4 INTs; 48 rushes for 314 yards and 3 TDs
Clemson QB Tajh Boyd: The senior rudely welcomed Syracuse to the ACC, as he threw for 455 yards and five touchdowns in three quarters of play in a 49-14 win last Saturday. However, he did throw his first two interceptions of the season. But he was near-perfect in the first half against the Orange, completing 15 of his first 17 passes for 317 yards and four scores. The second ACC quarterback to account for 100 career scores, Boyd's five-touchdown, zero-turnover performance in the season opener against Georgia still carries a lot of weight. The Tigers play Jameis Winston and Florida State as well as South Carolina and a potential ACC title game, so Boyd will continue to be in the spotlight. The dual-threat signal-caller's numbers should be there at the end of the year.
2013: 93 of 141 passing for 1,449 yards, 14 TDs and 2 INTs; 57 rushes for 154 yards and 4 TDs
Florida State QB Jameis Winston: The redshirt freshman could be positioning himself as the frontrunner after yet another strong performance last weekend. The Seminoles' signal-caller had a career day against Maryland in Tallahassee, throwing for 393 yards and five touchdowns on 23 of 32 passing in the team's 63-0 shutout. Included in his incredible effort was a touchdown pass after a scramble that will be replayed throughout the season on various college football shows. Through five games this season, "Famous Jameis" has thrown for 1,441 yards with 17 scores against just two interceptions. In all three ACC games this year, he has at least 300 passing yards and four touchdowns. He has played with poise and conviction throughout the early part of his career, and he'll have national showcase games against Clemson and Florida. It will be interesting to see if a redshirt freshman can win the hardware two years in a row.
2013: 90 of 123 passing for 1,441 yards, 17 TDs and 2 INTs; 36 rushes for 135 yards and 2 TDs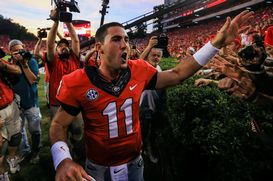 US PRESSWIREAaron Murray is now the SEC's all-time leader in career passing yards.
Georgia QB Aaron Murray: The longtime starting quarterback in Athens threw a game-tying touchdown pass with five seconds remaining in regulation to force overtime as the Bulldogs overcame a slew of injuries in a 34-31 win at Tennessee. He went 19 of 35 passing for 196 yards with three touchdowns and became the SEC's all-time leader in career passing yards. But it was his 57-yard scamper late that symbolized the position the Georgia offense was in for a lot of the game against the Vols. He no longer is dogged for not winning the "big games" after he tossed eight touchdowns and just one interception in his last two games against Top 10 teams, South Carolina and LSU. He has one huge regular-season task remaining, and that's when he goes up against Florida's nasty defense. But he is without some of his best playmakers heading into the game against Missouri this week. He may need to put the team on his back once again.
2013: 98 of 151 passing for 1,534 yards, 14 TDs and 3 INTs
Louisville QB Teddy Bridgewater: The junior quarterback looked comfortable on the road against Temple, throwing for 348 yards and two touchdowns to keep the Cardinals unbeaten with a 30-7 victory over winless Temple last week. He threw for 228 yards in the first half to help the Cards build a 24-0 lead. Bridgewater will not have a ton of chances to perform on a big stage because the league that he plays in (American Athletic) is not elite, but he does have a Thursday night spotlight this week and a few Friday night contests down the road. If the Cards go undefeated, it would be hard to not at least see Bridgewater in New York. To win, he needs to put up huge numbers in the process.
2013: 104 of 145 passing for 1,562 yards, 16 TDs and 1 INT
UCLA QB Brett Hundley: The redshirt sophomore did it all last Thursday night in Salt Lake City. Hundley had a touchdown each passing, rushing and receiving to lead the Bruins to a 34-27 win over Utah. He went 17 of 27 passing for 211 yards, though he did have a bad interception that was returned for a touchdown. But he did lead a drive late that set up the go-ahead field goal. He already has a strong performance against Nebraska on the road in his back pocket, and he has high-profile games against Oregon and Stanford. Hundley will have a chance to be in the mix for the hardware.
2013: 78 of 119 passing for 1,059 yards, 9 TDs and 4 INTs; 52 rushes for 242 yards and 3 TDs
Others to watch
Baylor RB Lache Seastrunk
Oregon State QB Sean Mannion
Fresno State QB Derek Carr
Washington RB Bishop Sankey
Alabama QB AJ McCarron
Baylor QB Bryce Petty
Northern Illinois QB Jordan Lynch
Dave Miller, the college football editor and writer for the National Football Post, is on Twitter @Miller_Dave.