October 27, 2010 -
Dave Miller
NFP Heisman Watch
Week 9 of the college football season kicked off Tuesday night with Boise State's methodical victory over Louisiana Tech. As we get ready for this weekend's contests, here is how the National Football Post stacks up the top contenders to take home the Heisman Trophy.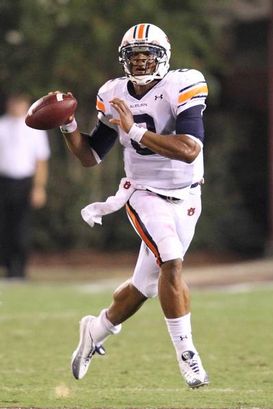 ICONCam Newton's 1,077 rushing yards are the most in a single season by a QB in SEC history.
QB Cam Newton, Auburn: Newton's 49-yard touchdown run in Auburn's 24-17 win over LSU last Saturday likely will be the most replayed highlight of the season if he ultimately takes home the Heisman. On the run, he showed his power, balance, shiftiness and speed — proving that he is indeed the complete package at the quarterback position. The 6-6, 250-pounder rushed for a career-high 217 yards and two touchdowns against the team's SEC West rivals, and his 1,077 yards on the ground are already the most in a single season by a signal caller in league history. He averages 305 yards of total offense per game and consistently puts the Auburn offense on his back in close contests. Where would the Tigers be without him? They have five wins by eight points or less, and he has been the X-factor in every one of those close contests. He continued to have more impact on a game than any other player in the nation.
Last week: 10/16, 86 yards, 0 TDs and 0 INTs. 28 rushes for 217 yards and 2 TDs
Season: 90/138, 1,364 yards, 13 TDs and 5 INTs. 157 rushes for 1,077 yards and 14 TDs
Next game: at Ole Miss Saturday
QB Kellen Moore, Boise State: Moore was not in action this past weekend, as Boise State had a bye week in preparation for its tilt Tuesday night with Louisiana Tech. I debated about factoring in his performance against the Bulldogs into this week's Heisman Watch, but I decided against it because LaMichael James' performance against USC and Newton's game against Ole Miss will definitely affect whether or not Moore stays at No. 2. So this list is still based off of the performances through eight weeks — and does not include the 6-foot, 187-pound junior's numbers from last night: 20 of 29 passing for 299 yards and two touchdowns.
Last week: IDLE
*Season: 105/151, 1,567 yards, 16 TDs and 1 INT
Next game: vs. Hawaii Saturday, Nov. 6
*Does NOT include Tuesday night's game against Louisiana Tech
RB LaMichael James, Oregon: James rushed for 123 yards and two touchdowns last Thursday night in the thrashing of UCLA after spending part of the first quarter on the sideline with an injury. Because the Ducks had a comfortable lead, James' night was done after carrying the rock 20 times. The nation's leading rusher at 161.8 yards per game has found the end zone 12 times in just six games, and the 5-9, 185-pounder will continue to put up gaudy numbers because the Ducks consistently move the chains and score points. The sophomore, who is averaging 7.3 yards per carry and needs just 29 more yards for 1,000 on the year, has a big stage this Saturday night when Oregon travels to Los Angeles to play USC, so he'll have an opportunity to make people forget — at least while the game is going on — about Newton's performance last week against LSU.
Last week: 20 rushes for 123 yards and 2 TDs
Season: 134 rushes for 971 yards and 11 TDs. 4 catches for 121 yards and 1 TD.
Next game: at USC Saturday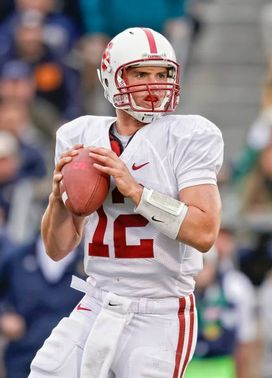 ICONAndrew Luck has 19 TDs against just 5 INTs on the season.
QB Andrew Luck, Stanford: Luck makes his first appearance of the season in the top five. It's clear that he is the best pro prospect in the country from the quarterback position. He didn't look outstanding against Notre Dame and he suffered the road loss to Oregon, but he didn't cost his team the victory against the Ducks. Last week against Washington State, he went 20 of 28 through the air for 190 yards and three touchdowns — the fourth time this season he's thrown at least three scores. Despite throwing one interception, Luck has 19 touchdowns against just 5 interceptions on the season and he's completing 66.5 percent of his throws. He is the leader of a Stanford team that is still in contention for a Pac-10 championship.
Last week: 20/28, 190 yards, 3 TDs and 1 INT.
Season: 133/200, 1,728 yards, 19 TDs and 5 INTs.
Next game: at Washington Saturday
QB Denard Robinson, Michigan: Robinson remains in the race because he is still one of the most exciting — and best — players in the nation. He has had a tough past couple of games, as the 6-foot, 193-pounder was knocked out of the game during the third quarter against Iowa when he re-aggravated a shoulder injury. The previous week he endured a three-interception performance against rival Michigan State. But the sophomore still managed to run for 105 yards and toss a touchdown against the Hawkeyes. Because he has already passed for 1,000 yards and rushed for 1,000 yards, he can still put the Wolverines on his back in any game. He had the bye week to get healthy, but he'll need a very strong "Shoelace" performance this week against Penn State to remain in the conversation.
Last week: IDLE
Season: 97/143, 1,319 yards, 9 TDs and 5 INT. 137 rushes for 1,096 yards and 9 TDs
Next game: at Penn State Saturday
This Buckeye is still lurking: Ohio State's Terrelle Pryor bounced back from his team's loss to Wisconsin with a strong performance against Purdue last week. The 6-6, 233-pounder threw for 270 yards and three scores after his ineffective outing in Madison. He did toss two interceptions against the Boilermakers and wasn't a factor on the ground, but the dual-threat signal caller has a chance to remain in the Heisman conversation with a big game in Iowa City against the Hawkeyes and in his duel at the end of the year with Michigan's Robinson.
Note: Oklahoma running back DeMarco Murray took a big step back last week in the Sooners' loss to Missouri. It's not so much that OU lost, but the Tigers held Murray to a season-low 49 yards on 12 carries. He did, however, catch eight passes for 48 yards and a touchdown — and was an important option for Landry Jones. But it's going to take some monstrous games for the 6-1, 207-pounder to enter the conversation again.
Email dave.miller@nationalfootballpost.com or follow me on Twitter at Miller_Dave