November 10, 2010 -
Dave Miller
NFP Heisman Watch
There's really no avoiding the multiple reports discussing the recruitment of Auburn's Cam Newton while he was still in junior college and the recent story about his academic standing while at Florida. So let's get right into this…
As we get ready for this weekend's contests, here is how the National Football Post stacks up the top contenders to take home the Heisman Trophy.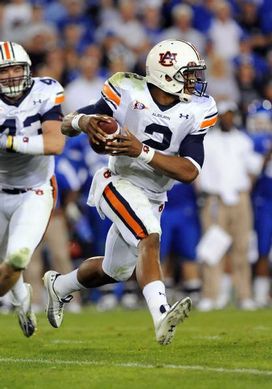 ICONHow will the Heisman voters react toward Cam Newton in light of the current NCAA investigation?
QB Cam Newton, Auburn: Everyone is innocent until proven guilty. And if Newton and his family maintain their innocence in the whole Mississippi State recruiting saga and Auburn's administration and coaching staff firmly believe that the team's quarterback is eligible to play, then one would be inclined to believe both parties and continue to enjoy this season. The NCAA investigation, however, will continue — a probe that will only get uglier and likely won't resolve anything until after the season. We also have the reported academic issue from Newton's days at Florida. And I know that it is in the past and has nothing to do with Auburn and the recruitment reports, but I keep coming back to the word "integrity," which is used quite often on the Heisman Trophy's official website. I'm still trying to determine how that fits into the Newton equation. For now, I will stick to what the dual-threat signal caller does well on the football field — which is seemingly everything. A week after lining up as a receiver and catching a touchdown against Ole Miss, the 6-6, 250-pounder passed for a career-high 317 yards and four touchdowns and ran for a fifth against Chattanooga, all in the first half. He has now been responsible for 35 touchdowns in ten games, and he once again continues to show that the Tigers would be nowhere near national title contention without him. But with new reports emerging on a daily basis, how viable of a candidate is Newton? And how long will he remain under center for the Tigers?
Last week: 15/21, 317 yards, 4 TDs and 0 INTs. 8 rushes for 24 yards and 1 TD
Season: 123/183, 1,890 yards, 19 TDs and 5 INTs. 176 rushes for 1,146 yards and 15 TDs
Next game: vs. Georgia Saturday
QB Kellen Moore, Boise State: Moore moves back into the No. 2 spot this week after his career-best 507 passing yards and three touchdowns against Hawaii, including an 83-yarder — the longest of his career. The junior, who like Newton also caught a touchdown pass last week, easily picked apart the Warriors' secondary and led a no-huddle offense that amassed a school-record 737 total yards. He completed 19 straight passes at one point, and his three scores gave him 85 for his career, which broke yet another school mark. The Broncos won their 22nd straight game, and the 6-foot, 187-pound Moore will be showcased in the first of three straight Friday night nationally televised games when the Broncos battle Idaho this week. A big opportunity for Moore to get some more Heisman love.
Last week: 30/37, 507 yards, 3 TDs and 2 INTs
Season: 155/216, 2,372 yards, 21 TDs and 4 INTs
Next game: at Idaho Friday
RB LaMichael James, Oregon: James rushed for 121 yards and three touchdowns in the blowout win over Washington last week after the Ducks looked lethargic throughout the first quarter. The sophomore has 30 scores on the ground in his short career in Eugene, along with 16 games of at least 100 rushing yards. The nation's leading rusher has found the end zone 18 times in eight games (including a touchdown reception), and the 5-9, 185-pounder will continue to put up gaudy numbers because the Ducks consistently move the chains and score points. I dropped him back behind Moore this week only because of a) Moore's big game against Hawaii and b) the fact that a lot of backs could be productive in this Ducks offense — but that's not to take anything away from James' talent.
Last week: 26 rushes for 121 yards and 3 TDs
Season: 196 rushes for 1,331 yards and 17 TDs
Next game: at California Saturday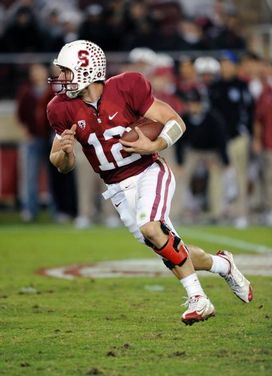 ICONSteady as always, Andrew Luck led Stanford past Arizona last week.
QB Andrew Luck, Stanford: Luck threw for 293 yards and two touchdowns in the Cardinal's surprisingly easy 42-17 victory last week against Arizona. The 6-4, 235-pounder has helped Stanford enjoy its best season in 40 years, and all eyes are now on a potential spot in Pasadena, depending on Oregon's situation and if the Rose Bowl would need to take a non-AQ team. Against the Wildcats — the toughest defense in the Pac-10 coming into the contest — Luck directed an offense that scored six touchdowns and netted 516 yards. He finished 23 of 32 through the air and has completed 75 percent of his passes the past four games with nine touchdowns and only two interceptions. The most NFL-ready quarterback in the nation, he has 22 touchdowns against just 6 picks on the season. An invite to New York is very likely.
Last week: 23/32, 293 yards, 2 TDs and 0 INTs.
Season: 175/258, 2,213 yards, 22 TDs and 6 INTs.
Next game: at Arizona State Saturday
QB Terrelle Pryor, Ohio State: Pryor has bounced back nicely from the loss on the road to Wisconsin. He put together back-to-back stellar performances against Purdue and Minnesota, and now the 6-6, 233-pounder has a nice three-game stretch where he can potentially seal his invite to New York. The dual-threat signal caller has a home game with Penn State this week, followed by a tough road game in Iowa City — a big spot after the debacle in Madison — and the finale at home against Michigan.
Last week: IDLE
Season: 152/225, 1,997 yards, 20 TDs and 7 INTs. 84 rushes for 463 yards and 4 TDs.
Next game: vs. Penn State Saturday
Note: There's a quarterback in Iowa City that is knocking on the door. I'll be able to see him in action this weekend, and a big game against Northwestern could get him onto this list next week.
Email dave.miller@nationalfootballpost.com or follow me on Twitter at Miller_Dave