October 13, 2010 -
Dave Miller
NFP Heisman Watch
As we enter the third weekend of October, the field in the race for the Heisman has never been more crowded. Here is how the National Football Post stacks up the top contenders to take home the hardware.
QB Kellen Moore, Boise State: Moore threw for 267 yards and three touchdowns in Boise State's 57-14 rout of Toledo on Saturday — a game that was never close despite some wondering if the Rockets could give Boise a scare. The Broncos closed out nonconference play with the victory and will now focus on their WAC schedule. The 6-foot, 187-pound junior spent much of the second half on the sideline as Boise's winning streak hit 19. With a touchdown-to-interception ratio of 14-to-1 and a completion percentage of 67 percent, Moore is on a roll. Boise won't play another ranked opponent until November, so Moore will be expected to rack up big numbers. The Broncos signal caller is now 31-1 as a starter, and certainly he and his teammates pass the eye test when evaluating their talent level — no matter the competition.
Last week: 16/22, 267 yards, 3 TDs and 0 INTs
Season: 91/135, 1,336 yards, 14 TDs and 1 INT
Next game: at San Jose State Saturday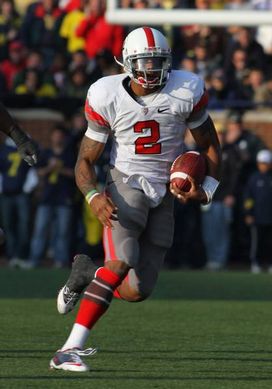 ICONOhio State QB Terrelle Pryor has a tough road test against Wisconsin on Saturday.
QB Terrelle Pryor, Ohio State: Pryor took it to the air on Saturday against Indiana's porous secondary, passing for a career-high 334 yards and three touchdowns. Pryor, the nation's sixth-rated passer, had his sixth straight game of at least 300 yards of total offense — tying the school record held by Joe Germaine. The dual-threat signal caller clearly has made strides this season as a passer, and he always has his rushing skills in his back pocket for broken plays. Pryor now faces one of the bigger tests of the season when he leads the Buckeyes into Madison. It's a big showcase spot for the 6-6, 233-pounder, as he has a chance to make a real lasting national impression against better competition in a tough environment.
Last week: 24/30, 334 yards, 3 TDs and 0 INTs. 3 rushes for -19 yards and 0 TDs
Season: 104/153, 1,349 yards, 15 TDs and 3 INTs. 57 rushes for 354 yards and 3 TDs
Next game: at Wisconsin Saturday
RB LaMichael James, Oregon: A week after entering the Heisman conversation with his career-high 257 rushing yards and three touchdowns against Stanford, James logged 223 total yards and three touchdowns on Saturday at Washington State. The sophomore only had two receptions, but one of the catches went for an 84-yard score. Not only is he a workhorse, but he's a big play waiting to happen. The 5-9, 185-pounder has 10 touchdowns on the year despite missing the first game, and the nation's leading rusher (169.6 yards per game) is poised to stay in this race all season long.
Last week: 25 rushes for 136 yards and 2 TDs
Season: 114 rushes for 848 yards and 9 TDs
Next game: vs. UCLA Thursday, Oct. 21
QB Cameron Newton, Auburn: Before the season began, I was excited to see how Newton would run Gus Malzahn's offense at Auburn. While I thought the former Florida Gator and junior-college transfer would be a great fit, I never expected Newton to have such a dramatic impact on the Tigers' offense. The 6-6, 250-pounder is averaging 112 rushing yards per game and has nine TDs on the ground. Through the air? He has tossed 12 touchdowns and is the second-rated signal caller in the nation. Auburn is on a roll and the Tigers keep getting it done week after week with Newton often carrying the offense on his back.
Last week: 13/21, 210 yards, 0 TDs and 1 INT. 28 rushes for 198 yards and 4 TDs
Season: 70/108, 1,138 yards, 12 TDs and 5 INTs. 104 rushes for 672 yards and 9 TDs
Next game: vs. Arkansas Saturday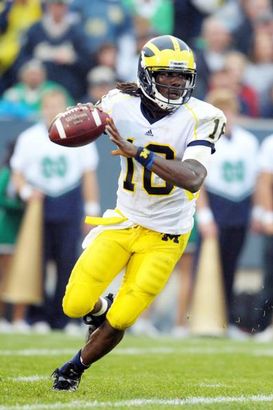 ICONMichigan QB Denard Robinson tossed three interceptions last week against Michigan State.
QB Denard Robinson, Michigan: Every player has an off game, and Robinson had one this past Saturday against rival Michigan State. He drops on the list, but he stays in the race because he is still one of the best players in the nation. The 6-foot, 193-pounder had 86 yards and a touchdown on the ground, but he threw three interceptions — including one inside the end zone and one just outside of it — and the Wolverines fell to the Spartans for the third straight season. Another tough test awaits the sophomore sensation in the form of Iowa. But a strong effort against such a sound defensive team could really make up for the lackluster effort last week.
Last week: 17/29, 215 yards, 1 TD and 3 INTs. 21 rushes for 86 yards and 1 TD
Season: 84/125, 1,223 yards, 8 TDs and 4 INT. 119 rushes for 991 yards and 9 TDs
Next game: vs. Iowa Saturday
RB DeMarco Murray, Oklahoma: Murray and the Sooners had the week off this past Saturday. OU is getting set to host Iowa State this Saturday. The 6-1, 207-pounder won't put up the best statistics from the running back position by the end of the season, but all he does is score touchdowns and win games. As long as the Sooners remain unscathed, Murray will continue to be in the spotlight because he will be fed the rock. The senior still has some chances to have a Heisman moment, but he does need to pick up the pace to even be in the same conversation as fellow running back James. He'll face one of the Big 12's worst run defenses in the Cyclones' unit this week.
Last week: IDLE
Season: 130 rushes for 551 yards and 9 TDs. 20 catches for 142 yards and 1 TD.
Next game: vs. Iowa State Saturday
Dropping out this week: LSU CB/KR Patrick Peterson and Alabama RB Mark Ingram
Note: I promised Auburn fans last week that I had Cameron Newton waiting in the wings. To my Nebraska readers out there: I haven't forgotten about "T-Magic." And to Stanford fans: Andrew Luck is right behind him.
Follow me on Twitter at Miller_Dave or send your college football questions to dave.miller@nationalfootballpost.com
Want to work in the NFL? Click here to register for the NFP's "Chalk Talk" seminar in Chicago on October 22nd.