October 02, 2013 -
Dave Miller
NFP Heisman Watch
The race for the Heisman Trophy remains very quarterback heavy after five weeks of action, and it doesn't look like it will change anytime soon.
Here is how the National Football Post stacks up its Heisman Watch heading into Week 6.
Oregon QB Marcus Mariota: The leader of the Ducks' up-tempo, high-octane offense withstood driving rain to toss two touchdowns and run for another in a 55-16 win over Cal in the team's Pac-12 opener last week. Because of the soggy conditions, the dual-threat signal-caller completed just 11 of 25 passes for 114 yards and ran for 33 yards before exiting the blowout early, which has been the norm in the second half of Oregon's lopsided wins. The redshirt sophomore should remain in the spotlight all season long, so a trip to New York is well within Mariota's reach if he continues on this pace.
2013: 60 of 107 passing for 1,003 yards, 9 TDs and 0 INTs; 21 rushes for 295 yards and 5 TDs
Texas A&M QB Johnny Manziel: The defending Heisman Trophy winner recorded 253 of his 320 total yards in the first half, including two touchdown passes to Mike Evans, as the Aggies beat Arkansas 45-33 in Fayetteville last week. The redshirt sophomore finished 23-of-30 passing for 261 yards and added 59 more yards on the ground. He still has to battle Johnny Football fatigue in some voters, but his 562 total yards and five touchdowns against two-time defending BCS national champion Alabama still stands out.
2013: 100 of 140 passing for 1,489 yards, 14 TDs and 4 INTs; 48 rushes for 314 yards and 3 TDs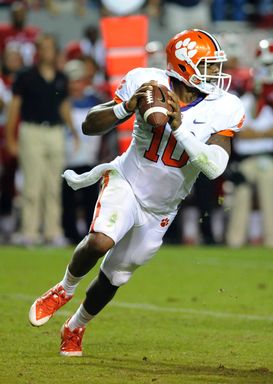 US PRESSWIRETajh Boyd became the second ACC quarterback to account for 100 career TDs.
Clemson QB Tajh Boyd: The senior tossed three touchdowns and rushed for another score to lead the Tigers to a 56-7 victory over Wake Forest on Saturday, becoming the second ACC quarterback to account for 100 career scores. Boyd put behind a shortened performance against South Carolina State and a rough start to his game at NC State with an efficient effort against the Demon Deacons. His performance in the season opener against Georgia still carries a lot of weight, as he recorded five touchdowns and played turnover-free. The Tigers still play Florida State and South Carolina, and they could have another contest in the ACC title game for Boyd to be in the spotlight. So the dual-threat signal-caller's numbers should be there at the end of the year.
2013: 73 of 114 passing for 994 yards, 9 TDs and 0 INTs; 49 rushes for 159 yards and 4 TDs
Louisville QB Teddy Bridgewater: The Cardinals were off last week, so the junior quarterback will head back to action this week at Temple. The major issue for Bridgewater is he will not have a ton of chances to perform on a big stage because the league that he plays in (American Athletic) is not elite. If the Cards go undefeated, it would be hard to not at least see Bridgewater in New York. To win, he needs to put up huge numbers in the process.
2013: 79 of 110 passing for 1,214 yards, 14 TDs and 1 INT
UCLA QB Brett Hundley: The redshirt sophomore was not in action last week as the Bruins enjoyed an open date. They return to the field on Thursday night against Utah in Salt Lake City, so Hundley will be able to enjoy a national weeknight stage. He already has a strong performance against Nebraska on the road in his back pocket, and he has high-profile games against Oregon and Stanford later this month. Hundley will have a chance to be in the mix for the hardware.
2013: 61 of 92 passing for 848 yards, 8 TDs and 3 INTs; 32 rushes for 157 yards and 2 TDs
Georgia QB Aaron Murray: The longtime starting quarterback in Athens has been dogged for not winning the "big games" for the 'Dawgs, but that claim can no longer be made after he tossed eight touchdowns and just one interception in his last two games against Top 10 teams, South Carolina and LSU. He has one huge regular-season task remaining, and that's when he goes up against Florida's nasty defense.
2013: 79 of 116 passing for 1,338 yards, 11 TDs and 3 INTs
Florida State QB Jameis Winston: The redshirt freshman has played with poise and conviction throughout the early part of his career, and his touchdown to end the first half of last week's game against Boston College could stick in a lot of voters' minds throughout the season. He'll have national showcase games against Clemson and Florida, so it'll be interesting to see if a redshirt freshman can win the hardware two years in a row.
2013: 67 of 91 passing for 1,048 yards, 12 TDs and 2 INTs; 29 rushes for 111 yards and 2 TDs
Others to watch
Baylor RB Lache Seastrunk
Colorado WR Paul Richardson
Northern Illinois QB Jordan Lynch
Oregon State QB Sean Mannion
Fresno State QB Derek Carr
Alabama QB AJ McCarron
Georgia RB Todd Gurley
Dave Miller, the college football editor and writer for the National Football Post, is on Twitter @Miller_Dave.