October 24, 2013 -
Dave Miller
NFP Heisman Watch
Eight weeks of the 2013 college football season are in the books, and the race for the Heisman Trophy has essentially become a three-player race.
Here is how the National Football Post stacks up its Heisman Watch heading into Week 9.
Oregon QB Marcus Mariota: The dual-threat Ducks signal-caller overcame a pair of fumbles (which led to touchdowns) to toss two touchdowns and run for a 57-yard score in a 62-38 win over Washington State. The fumbles were his first turnovers of the year, and he has yet to throw an interception. Mariota, who completed 23 of 32 passes and topped 300 yards passing for the seventh time in his college career, is playing nearly flawless football this season. The redshirt sophomore should remain in the spotlight all year long, so a trip to New York is well within his reach if he continues on this pace. And an undefeated mark could win him the hardware because he is performing like the best player in America.
2013: 123 of 197 passing for 2,051 yards, 19 TDs and 0 INTs; 49 rushes for 493 yards and 9 TDs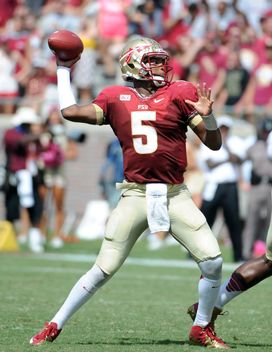 US PRESSWIREJameis Winston has thrown for at least 300 yards and three touchdowns in all four ACC games this year.
Florida State QB Jameis Winston: The redshirt freshman put on an absolute show in a primetime game in Death Valley, torching the Clemson defense for 444 passing yards and three touchdowns as well as a rushing score in a 51-14 destruction of the Tigers. He especially excelled against the blitz, and not even Johnny Manziel has looked this good through six games of a college career. "Famous Jameis" has thrown for at least 300 yards and three touchdowns in all four ACC games this year, and his poise and conviction have been remarkable. The Seminoles have games against Miami (FL) and Florida as well as a likely conference title game, so Winston will remain in the spotlight. Can a redshirt freshman win the hardware two years in a row?
2013: 112 of 157 passing for 1,885 yards, 20 TDs and 3 INTs; 43 rushes for 137 yards and 3 TDs
Texas A&M QB Johnny Manziel: The defending Heisman Trophy winner may have slid down a spot in this week's rankings, but he's very much alive in this race despite a second Aggies loss. Manziel threw for 454 yards and four touchdowns (all to Mike Evans) and rushed for 48 more yards and a score in the Aggies' 45-41 loss to Auburn. He left in the fourth quarter with a shoulder injury only to return and drive A&M to the Auburn 21 in the final moments before being sacked on fourth down. The redshirt sophomore may have to contend with Johnny Football fatigue among some voters, but his 562 total yards and five touchdowns against two-time defending BCS national champion Alabama is arguably the best performance from a player all season.
2013: 159 of 217 passing for 2,289 yards, 18 TDs and 7 INTs; 85 rushes for 486 yards and 6 TDs
Oregon State QB Sean Mannion: The Beavers have been on quite a roll since their season-opening loss to Eastern Washington, a game that was lost not because of Mannion's play. The 6-5, 220-pound junior has played exceptionally well all season long, and his team is now on a six-game winning streak after he threw for 481 yards and four touchdowns in a 49-17 win over Cal. Mannion leads the nation in passing yards and touchdowns, and he is averaging 427.4 yards per game. But the real test now begins. Mike Riley's team has games coming up against Stanford, USC, Arizona State, Washington and Oregon. Will Mannion shine in those higher-profile contests?
2013: 229 of 334 passing for 2,992 yards, 29 TDs and 3 INTs
Baylor QB Bryce Petty: Bears head coach Art Briles continues to get phenomenal production out of the quarterback position, as Petty has been the latest in a long line of efficient signal-callers in his system. Petty is completing over 70 percent of his passes after yet another strong performance in a 71-7 win over Iowa State. He threw for 343 yards and two touchdowns as the Bears tied a school record with their 10th straight win in the victory over the Cyclones. However, the team's toughest opponents remain, as the Bears still have to play Oklahoma, Texas Tech, Oklahoma State, TCU and Texas.
2013: 102 of 144 passing for 2,023 yards, 15 TDs and 1 INT; 24 rushes for 51 yards and 5 TDs
Others to watch
Fresno State QB Derek Carr
Alabama QB AJ McCarron
Northern Illinois QB Jordan Lynch
Oregon State WR Brandin Cooks
Texas A&M WR Mike Evans
Wisconsin RB Melvin Gordon
Louisville QB Teddy Bridgewater
UCLA QB Brett Hundley
LSU QB Zach Mettenberger
Clemson QB Tajh Boyd
Dave Miller, the college football editor and writer for the National Football Post, is on Twitter @Miller_Dave.