November 03, 2010 -
Dave Miller
NFP Heisman Watch
Is it really Week 10 of the college football season?
Time really does fly when you are having fun, and no one is having more fun than Auburn's Cam Newton and Oregon's LaMichael James. It's becoming more and more evident that these two studs are on a collision course to New York City. Question is, which candidate has the more impressive resume thus far?
As we get ready for this weekend's contests, here is how the National Football Post stacks up the top contenders to take home the Heisman Trophy.
QB Cam Newton, Auburn: Just when you thought you had seen it all with Newton, the dual-threat signal caller lined up as a receiver and caught a touchdown against Ole Miss last week. That's just how well things have been going for the 6-6, 250-pounder. Newton hauled in a 20-yard touchdown pass on the Tigers' opening series and threw for two more to lead Auburn to a 51-31 win over the Rebels. He also added a potential touchdown-saving tackle after Auburn lost a fumble, so he pretty much proved that he can do it all on the football field. He has now been responsible for 30 touchdowns in nine games, and he became the third Auburn player to have touchdowns passing, rushing and receiving in the same season. He already has the most rushing yards by a quarterback in a single-season in league history, and he continues to have more impact on a game than any other player in the nation. While Auburn would be pretty good without him, the Tigers would be nowhere near national title contention.
Last week: 18/24, 209 yards, 2 TDs and 0 INTs. 11 rushes for 45 yards and 0 TDs
Season: 108/162, 1,573 yards, 15 TDs and 5 INTs. 168 rushes for 1,122 yards and 14 TDs
Next game: vs. Chattanooga Saturday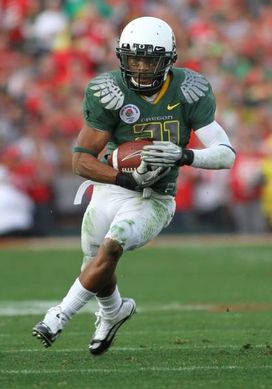 ICONLaMichael James was money against USC in the Ducks' showcase game.
RB LaMichael James, Oregon: James rushed for 239 yards and three touchdowns at USC — a performance that moves him ahead of Kellen Moore this week. The nation's leading rusher has found the end zone 15 times in seven games, and the 5-9, 185-pounder turned in his third 200-plus-yard rushing performance of the season in the 53-32 win over the Trojans. The sophomore will continue to put up gaudy numbers because the Ducks consistently move the chains and score points, and he is positioned to be Newton's toughest competition in the final weeks of the season.
Last week: 36 rushes for 239 yards and 3 TDs
Season: 170 rushes for 1,210 yards and 14 TDs
Next game: vs. Washington Saturday
QB Kellen Moore, Boise State: Moore continued to engineer the Boise train, completing 20 of 29 passes for 299 yards and two touchdowns as the Broncos won their 21st straight game last Tuesday night against Louisiana Tech. Although I believe that Kenjon Barner could put up sick numbers if he was Oregon's lead back, you can't overlook the numbers James is putting up — and that's why Moore drops behind the Duck this week. Still, the 6-foot, 187-pound Moore is in the thick of this race. Perhaps Newton watched the Broncos last week because Moore caught a touchdown pass himself, and the junior will have a big opportunity this week to put up points as the Broncos will host Hawaii — and we know about how the Warriors like to engage in track meets.
Last week: 20/28, 298 yards, 2 TDs and 1 INT
Season: 125/179, 1,865 yards, 18 TDs and 2 INTs
Next game: vs. Hawaii Saturday, Nov. 6
QB Andrew Luck, Stanford: Luck may not have put up eye-popping numbers in Stanford's 41-0 shutout at Washington, but he showed why he is the most NFL-ready quarterback in the nation. The 6-4, 235-pounder ran for a 51-yard score, threw for another touchdown and directed Stanford to the end zone on its first four possessions in a shockingly easy victory. He's thrown at least three touchdowns in a game four times this season, and despite throwing one interception he has 20 touchdowns against just 6 picks on the season. The team's only loss was at Oregon, and Luck has proven every week that he is one of the best players in the nation. An invite to New York is likely.
Last week: 19/26, 192 yards, 1 TD and 1 INT.
Season: 152/226, 1,920 yards, 20 TDs and 6 INTs.
Next game: vs. Arizona Saturday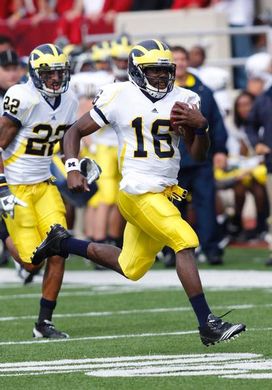 ICONDenard Robinson nearly rescued the Wolverines against Penn State last week.
QB Denard Robinson, Michigan: Even three straight losses can't knock Robinson off of this list. As long as Michigan's defense remains atrocious, the won-loss record won't matter. The dual-threat star came up short in his second-half rally last week against Penn State, but Robinson displayed once again that he is one of the best players in the nation. The 6-foot, 193-pounder was a one-man show once again, rushing for 191 yards and three touchdowns on 27 carries while throwing for 190 and a score. An admirable performance indeed, especially after head coach Rich Rodriguez said after the game that his shoulder still wasn't 100 percent. The sophomore can and will put the Wolverines on his back in any game, so "Shoelace" remains on this list.
Last week: 11/23, 190 yards, 1 TD and 0 INTs. 27 rushes for 191 yards and 3 TDs
Season: 108/166, 1,509 yards, 10 TDs and 5 INTs. 164 rushes for 1,287 yards and 12 TDs
Next game: vs. Illinois Saturday
And the other Big Ten QB?: Ohio State's Terrelle Pryor is pretty much in a zone right now. After bouncing back from the loss to Wisconsin with a strong performance against Purdue last week, the 6-6, 233-pounder threw for 222 yards and two touchdowns to lead the Buckeyes to a 52-10 victory over Minnesota last week. The dual-threat signal caller completed 18 of 22 passes and added 55 yards and a touchdown on the ground, and he likely would sew up an invite to New York with solid games in Iowa City against the Hawkeyes and in his duel at the end of the year with Michigan's Robinson.
Note: Don't worry Baylor fans. Quarterback Robert Griffin III is knocking on the door. The rushing totals in losses to TCU and Texas Tech have him on the outside looking in — for now.
Email dave.miller@nationalfootballpost.com or follow me on Twitter at Miller_Dave