September 08, 2011 -
Barry Dorey
NFP Heisman Watch
Just like last season, I will be monitoring the Heisman Trophy Watch at the National Football Post this fall.
Because we have just completed one week of action, however, the first NFP Heisman Watch is just a compilation of some of the most eligible contenders. As I did last year, the list will dwindle as we make our way through the season. And around mid-October or so, the list will get cut to the Top 5 contenders.
Here are the early contenders:
Andrew Luck, QB, Stanford: The prohibitive favorite had a pedestrian day against San Jose State, throwing for two touchdowns and running for another in a 57-3 laugher. The Heisman runner-up to Auburn's Cam Newton last year, Luck completed 17 of 26 passes for 171 yards, connecting with seven different receivers before donning the visor after a short day. He stands atop all contenders.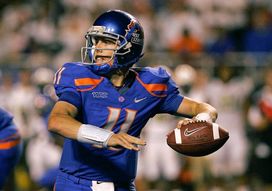 ICONIs Kellen Moore destined for another trip to New York?
Kellen Moore, QB, Boise State: All he does is win, plain and simple. Moore tossed three touchdown passes, giving him 102 in his career, as the Broncos chalked up another big season-opening victory against Georgia. The nation's top-rated passer last season completed 28 of 34 passes for 261 yards to help Boise State claim its first-ever win over an SEC squad. And Moore is well on his way to New York for another Heisman ceremony.
Robert Griffin III, QB, Baylor: The talented Baylor quarterback has been playing well throughout his career -- it's just that no one really noticed because he plays in Waco. But that all changed last Friday night as the Bears took it to TCU's vaunted defense. RG III is one of the most dynamic and exciting players in America, and he can stay in this race as long as Baylor doesn't start getting blown out.
Marcus Lattimore, RB, South Carolina: The bruising sophomore tailback rushed for 112 yards and scored three touchdowns on 23 carries to help South Carolina pull away from East Carolina last weekend. He also caught three passes for 33 yards, so it'll be interesting to see if his role expands slightly in the passing game this fall. He did, however, have a fumble -- only the second of his college career.
Case Keenum, QB, Houston: Healthy again, Keenum threw for 310 yards and two touchdowns in his return from reconstructive knee surgery as Houston beat UCLA 38-34 last Saturday. He completed 30 of 40 passes without an interception, and he is primed to resume his quest for several NCAA records. In Kevin Sumlin's offense, Keenum will continue to put up big numbers.
Landry Jones, QB, Oklahoma: The OU signal-caller went 35 of 47 for 375 yards through the air to help the Sooners extend the nation's longest home winning streak to 37. He had just one touchdown but looked as efficient as ever and will be in this race as OU seeks a BCS national championship.
David Wilson, RB, Virginia Tech: The Hokies have a favorable schedule, and Wilson began his 2011 campaign by rushing for 162 yards on just 16 carries against Appalachian State. Wilson scored three times -- before halftime -- and he'll have a chance to put up more big numbers at East Carolina this weekend.
Others to watch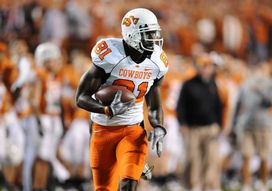 ICONJustin Blackmon is one of the best receivers in the nation.
Justin Blackmon, WR, Oklahoma State: Blackmon recorded his 13th straight 100-plus receiving yard game in Oklahoma State's opener against Louisiana-Lafayette.
Trent Richardon, RB, Alabama: The junior averaged only 2.8 yards per carry in Alabama's opener, but he did find the end zone three times.
Vick Ballard, RB, Mississippi State: Ballard had 19 rushing scores last season, and he began his 2011 campaign by rushing for 166 yards and three touchdowns on just 10 carries in the Bulldogs' win over Memphis last week.
Nick Foles, QB, Arizona: Foles threw for 412 yards and five touchdowns in a 41-10 win over Northern Arizona. But can the Wildcats stay in Pac-12 contention, thus keep Foles in this race, with their defense?
Geno Smith, QB, West Virginia: Smith completed 26 of 35 passes for 249 yards and two scores in the Mountaineers' win over Marshall.
LaMichael James, RB, Oregon: The Ducks running back has enough name recognition to stay in this race despite his subpar contest against LSU. James didn't have any room to run against the Tigers because of the Ducks' overwhelmed offensive line. That unit will play better as the year progresses.
Email dave.miller@nationalfootballpost.com or follow me on Twitter at Miller_Dave