September 15, 2010 -
Dave Miller
NFP Heisman Watch
It's never too early to talk Heisman. Here is how the National Football Post stacks up the top contenders to take home the hardware.
QB Kellen Moore, Boise State: Moore and the Broncos were idle this past weekend, but the junior was likely still enjoying the buzz from his three-touchdown performance in the team's win over Virginia Tech on Labor Day night. However, with the Hokies' loss to James Madison, Boise unquestionably will get hurt in the BCS rankings. Still, if the Broncos are able to get past Oregon State, an undefeated season could be there for the taking. Whether or not that is enough to get into the BCS title game remains to be seen, but the 6-foot, 187-pounder likely would have a Heisman-worthy resume if he plays up to his talents and the team goes undefeated. He'll look to build off of his game-winning drive in the opener when the Broncos take on Wyoming Saturday.
Last week: IDLE
Season: 23/38, 215 yards, 3 TDs and 0 INTs
Next game: at Wyoming Saturday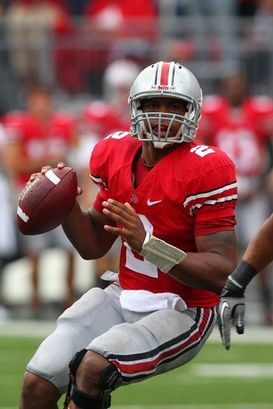 ICONTerrelle Pryor won his showdown with Jacory Harris and the Hurricanes.
QB Terrelle Pryor, Ohio State: Pryor won the showdown with Miami's Jacory Harris Saturday by a wide margin. The Hurricanes signal caller turned the ball over four times while Pryor had no giveaways. The Buckeye will have two difficult tests in road games at Madison and Iowa City before the battle with Michigan at the end of the year. But the dual-threat quarterback is poised to show the nation that his Rose Bowl performance last season was legit. The only question is whether he will continue to make strides as a passer to go along with his elite running skills.
Last week: 12/27, 233 yards, 1 TD and 0 INTs. 20 rushes for 113 yards and 1 TD
Season: 29/52, 480 yards, 4 TDs and 0 INTs. 28 rushes for 130 yards and 1 TD
Next game: vs. Ohio Saturday
RB DeMarco Murray, Oklahoma: You don't have to have monster games every week to take home the Heisman. You just have to do your part and contribute to your team's winning ways — and that's exactly what Murray did Saturday against Florida State. He may have only had 51 yards on the ground, but he scored two big TDs — the game's first and another just before halftime to put the nail in the coffin. The 6-1, 207-pound senior played second fiddle to quarterback Landry Jones against the 'Noles, but he will remain a top Heisman candidate because the Sooners will lean on him throughout conference play.
Last week: 16 rushes for 51 yards and 2 TDs
Season: 51 rushes for 259 yards and 4 TDs
Next game: vs. Air Force Saturday
QB Ryan Mallett, Arkansas: Mallett had a nice opportunity to pad his stats Saturday against Louisiana-Monroe, and he took full advantage of it. The 6-6, 238-pound junior passed for 400 yards and three touchdowns while adding a score on the ground — bouncing back from a rough first half in which he didn't seem to be in sync with his receivers. This week, the Razorbacks enter SEC play when they travel to Athens to face Georgia. Last year against the Bulldogs, Mallett set Arkansas school records with 408 yards and five touchdowns in a losing effort. He can't afford too many losses if he wants to stay in the Heisman race, so this is an SEC game — like most others — worth keeping an eye on.
Last week: 28/43, 400 yards, 3 TDs and 1 INT
Season: 49/67, 701 yards, 6 TDs and 2 INTs
Next game: at Georgia Saturday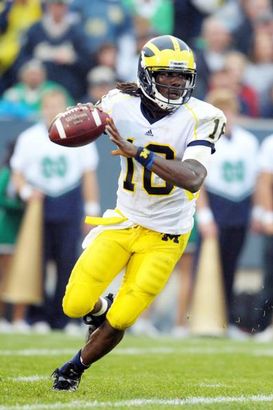 ICONCan Denard Robinson keep up his incredible pace?
QB Denard Robinson, Michigan: Once Tim Tebow broke through and won the Heisman as a sophomore, second-year players taking home the hardware became the norm. Is Robinson next in line? He's had probably the best start possible, beginning with the opener against Connecticut, when he set a school record for rushing yards by a quarterback with 197 while showing much-improved accuracy and poise from the pocket. Robinson followed that up by logging the longest run in Notre Dame Stadium history — an 87-yarder for a touchdown — en route to setting a school record for a quarterback with 502 yards of total offense and directing the game-winning drive against the Fighting Irish. He has been the most electrifying player in the nation this young season. I still have my doubts about the Wolverines' defense over the course of a season, so losing games won't help his cause. The other concern is whether he can keep this up week in and week out. But how can Robinson not be on this list? By the way, expect some more big numbers Saturday against Massachusetts.
Last week: 24/40, 244 yards, 1 TD and 0 INTs. 28 rushes for 258 yards and 2 TDs
Season: 43/62, 430 yards, 2 TDs and 0 INTs. 57 rushes for 455 yards and 3 TDs.
Next game: vs. Massachusetts Saturday
CB/KR Patrick Peterson, LSU: Peterson may drop off the board in the next few weeks, but he makes the grade for now because of his potential impact on a football game and the fact that he is one of the best overall players in the nation. We saw the 6-1, 222-pounder bring his explosiveness to the LSU return game in the opener when he set a Tigers record with 257 combined yards on kickoff- and punt-returns. Currently, Peterson is fourth in the nation in punt returns with a 27.5-yard average and 17th in the nation on kickoffs at 30.2 yards per return. Against Vanderbilt last week he recorded just one tackle, but he is a lockdown cornerback who will have a chance to show his skills against tough SEC competition. To be the Charles Woodson of 2010, however, he will have to have some more special performances on special teams — and avoid his penchant for cramping up during games.
Last week: 59 return yards, 1 total tackle (1 solo)
Season: 316 return yards, 6 total tackles (4 solo)
Next game: vs. Mississippi State Saturday
*I don't like keeping the reigning Heisman winner Mark Ingram off the list because it's his award to lose. But the Alabama running back missed the last two weeks because of a knee injury, and that alone may be too much to overcome. He will play this week against Duke and is said to be looking healthy in practice, but I don't see the junior getting enough carries to make a huge impact — at least in the next couple of weeks. If he goes nuts in some of 'Bama's biggest SEC games, then perhaps he can sneak back onto this list. But Ingram will be held to a higher standard this year by the voters, so he had a bigger hill to climb even if he was healthy.
Missed the new NFP Top 25? Check it out.
Follow me on Twitter at Miller_Dave or send your college football questions to dave.miller@nationalfootballpost.com
Click here to win cash today playing fantasy football with the NFP and FanDuel.