September 08, 2010 -
Dave Miller
NFP Heisman Watch
After one week of action, here is how the NFP stacks up the 2010 Heisman race.
QB Kellen Moore, Boise State: The junior seized the day during his stellar three-touchdown performance in the Broncos' showcase game against Virginia Tech Monday night at FedEx Field. If Boise is able to get past Oregon State, an undefeated season is there for the taking. That likely means a slot in the BCS title game, and the 6-foot, 187-pounder would have a whole lot to do with that success. Simply put, that spells out a Heisman Trophy winner. It also doesn't hurt that he led the Broncos' game-winning drive in the final two minutes in a tough environment.
Last week: 23/38, 215 yards, 3 TDs and 0 INTs
Next game: at Wyoming Sept. 18
RB DeMarco Murray, Oklahoma: Since he stepped foot in Norman, Murray had the talent to bring home the Heisman hardware. But too many trips to the trainer's room have derailed any possible visits to New York for Heisman weekend. Now, the 6-1, 207-pounder is poised for a career year. He began his senior campaign with a career-best 218 yards and two touchdowns — including a 63-yard score — on 35 carries against Utah State.
Last week: 35 rushes for 208 yards and 2 TDs
Next game: vs. Florida State Saturday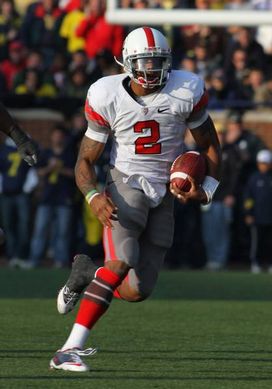 ICONOhio State QB Terrelle Pryor has a showcase game against Miami on Saturday.
QB Terrelle Pryor, Ohio State: The junior is poised to use his strong Rose Bowl performance as a springboard to a Heisman-winning season. While the Buckeyes do get Miami at home this week, they do have to travel to Madison and Iowa City to battle Wisconsin and Iowa, respectively. Those will be tough environments for Pryor. On the flip side, if he is able to deliver victories in those road contests and play well, he could be positioned to win the award. The dual-threat signal caller is expected to continue to make strides as a passer to go along with his elite running skills.
Last week: 17/25, 247 yards, 3 TDs and 0 INTs. 8 rushes for 17 yards
Next game: vs. Miami Saturday
QB Ryan Mallett, Arkansas: The 6-6, 238-pound junior had an elite '09 campaign as he threw for over 3,600 yards, 30 TDs and just 7 INTs. He will need to be a more accurate passer this season, as he completed just above 55 percent of his passes last year. And it will be worth monitoring his ankle to see if he is fully recovered from his offseason injury. But the likely future top-five pick in the NFL draft began his 2010 campaign in style, and he has the best set of receivers, along with a great tight end, to throw to in the SEC. If the Hogs play better defensively and the team's record is solid at the end of the year, the award could be coming to Fayetteville.
Last week: 21/24, 301 yards, 3 TDs and 1 INT
Next game: vs. Louisiana-Monroe Saturday
RB Mark Ingram, Alabama: If the reigning Heisman winner had not missed Alabama's opener, he would top this list — no matter how he fared against San Jose State. That's just the respect you have to give to the previous year's winner. Plus, missing a game is equivalent to having an off day — and you can still win the award by having a subpar game. But with the junior running back missing another practice with a left knee injury in preparation for the team's game against Penn State, sitting out another contest could be too much to overcome — unless, of course, he just goes nuts in some of 'Bama's biggest games. Still, I think Ingram will be held to a higher standard this year by the voters. So he has a bigger hill to climb even if he was healthy. He makes this list for now because he's still the man, but it may be tough to rise in the rankings — or even stay in them.
Last week: Did not play
Next game: vs. Penn State Saturday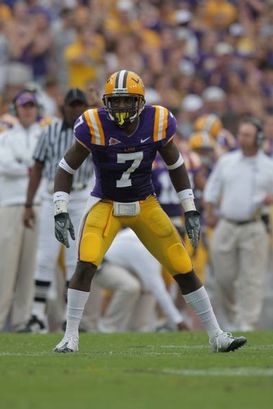 ICONCan LSU CB/KR Patrick Peterson stay in the Heisman race all season?
CB/KR Patrick Peterson, LSU: Perhaps Peterson drops off the board in the next few weeks. But for now, he makes the grade because of his potential impact on a football game and because he's one of the best players in the nation. The 6-1, 222-pounder brings explosiveness to the LSU return game, setting a Tigers record with 257 combined yards on kickoff- and punt-return yards in the opener against North Carolina. The yardage was the second-highest total in SEC history — a great feat in a league with such rich history. In addition, he is one of the best cornerbacks in the nation. Can he be the Charles Woodson of 2010? He's been hindered by cramps throughout his career, which is why coaches have held off on using him on offense. But if they did, he certainly could showcase his versatility even more.
Last week: 257 return yards, 5 total tackles (3 solo)
Next game: at Vanderbilt Saturday
Missed the new NFP Top 25? Check it out.
Follow me on Twitter at Miller_Dave or send your college football questions to dave.miller@nationalfootballpost.com
Click here to purchase the Total Access Pass / Fantasy Draft Guide from the NFP.