February 18, 2012 -
Dave Miller
NFP On Campus
Let's open up this weekend's notebook and see what's happening on campuses across the country.
The Danny O'Brien saga
Vanderbilt head coach James Franklin has denied tampering allegations regarding Danny O'Brien's scholarship release request from Maryland. When the former Terps starting quarterback decided he wanted to leave College Park, it was reported that Terps head coach Randy Edsall stipulated that O'Brien could not accept financial aid if he decided to transfer to Vanderbilt despite the fact that the Commodores are not on any future schedules for the Terps. Of course, O'Brien and Franklin have a close relationship from their days in College Park and the QB had his best season under Franklin in 2010, when O'Brien was named ACC newcomer of the year with Franklin calling the plays. While the Terps have not explained the block of Vandy, Franklin's presence in Nashville is the logical explanation. The second-year Vandy head coach, however, addressed the allegations regarding his involvement in O'Brien's departure and denied any wrongdoing between him and the QB.
"I don't like innuendos and comments being made about tampering and things like that," Franklin told 104.5 The Zone in Nashville. "You guys know me. I'm the type of guy, I'm going to have relationships with my players. I hope to have relationships with the guys that play for me for the rest of my life. But the fact that people would make accusations that we tampered or did this or did that, again, I'm just going to defend our program and defend our character and how we do things. But I think it's ridiculous to think that I'm not going to have relationships with these kids after I leave places."
On Thursday, CBSSports.com's Bruce Feldman reported that Todd Willert, O'Brien's high school coach, expects the signal-caller's family to appeal Edsall's restriction so he could have the option to transfer to Vanderbilt. O'Brien is on pace to receive his undergraduate degree this spring and will be eligible to play right away so long as he enrolls in a graduate program not offered at Maryland. He will have two full years of eligibility remaining. Besides Vanderbilt, Stanford, Michigan State and Wisconsin reportedly are on O'Brien's short list, while East Carolina and Ole Miss reportedly have expressed interest on their end.
The sad part about this story is O'Brien needing to even petition the NCAA. Edsall has had a rough start to his Maryland tenure -- a stint that could be shorter than anyone could have expected after last season's disastrous 2-10 campaign. All of the positive vibes from hometown recruit Stefon Diggs signing with the Terps last Friday went out the window with O'Brien's impending transfer. But the way his former head coach is handling it is making the situation even worse.
Skinny posts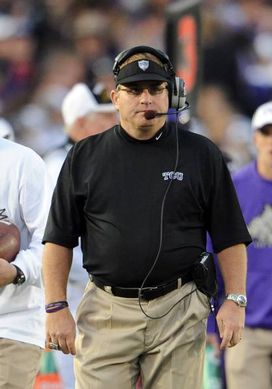 ICONGary Patterson has raised the profile of TCU football since becoming head coach.
...According to the Fort Worth Star Telegram, five TCU players failed a pop drug test given by head coach Gary Patterson on Feb. 1 while 11 more had trace amounts of drugs that were within the margin of error. This is actually considered good news for the Horned Frogs after affidavits were released that hinted that the football program might have a widespread drug problem. But the fact that Patterson was told by a upper-tier recruit that he wouldn't play at TCU because of drug use by players is a major problem in itself. For any school. If you look at Patterson's track record in Fort Worth, however, this would seem to be an isolated incident. And kudos to him for testing his team at an appropriate time. But the TCU incident just raises questions as to how many other institutions are dealing with a similar problem. It's naive to think that TCU as an institution is in the minority on drug use -- this happens at colleges, high schools and even middle schools across the country. Hopefully this negative can be spinned into a positive not just at TCU but at every other program and school across the country, no matter the level of education.
...This past week at the NFP I wrote about the top defensive and offensive prospects in the Class of 2013. One of the players who made the list of offensive recruits was Tyrone Swoopes, a 6-5, 220-pound quarterback from Whitewright High School in Whitewright, Texas. The dual-threat signal-caller had a fantastic junior season, throwing for 1,394 yards and 15 touchdowns while adding 2,267 yards and 29 more scores on the ground -- just amazing rushing statistics for a QB. While he had many offers, Swoopes was being heavily recruited by Nick Saban and Alabama after the Crimson Tide missed out on their top quarterback targets in the 2012 class. But according to Geoff Ketchum of Orangebloods.com, Swoopes may have committed to Texas, his homestate school. As arguably the state's No.1 prospect, Swoopes would give the Longhorns yet another potential longterm solution at QB. However, the 'Horns are hoping that Class of 2012 star Connor Brewer works out if Case McCoy and David Ash can't separate themselves. It makes sense that Swoopes would choose to play in Austin though after earlier telling OrangeBloods.com that he wanted to either stay in Texas or not go further than Oklahoma.
...Auburn fans expecting the Tigers' defense to make a huge jump under new coordinator Brian VanGorder can at least expect a different-looking unit, according to Charles Goldberg of the Auburn Bureau. The Tigers' linebackers will be bigger instead of the small and fast 'backers they have had recently, VanGorder stated Thursday. The former Atlanta Falcons DC, who is replacing Ted Roof, wants the heart of the defense to be bigger as he looks to improve a unit that finished 11th in total defense in the SEC. Auburn fans should also expect a more aggressive defense featuring more pressure from different angles.
Email dave.miller@nationalfootballpost.com or follow me on Twitter at Miller_Dave